ALBUM REVIEW: Ashe rehashes the moral of the story on 'Ashlyn'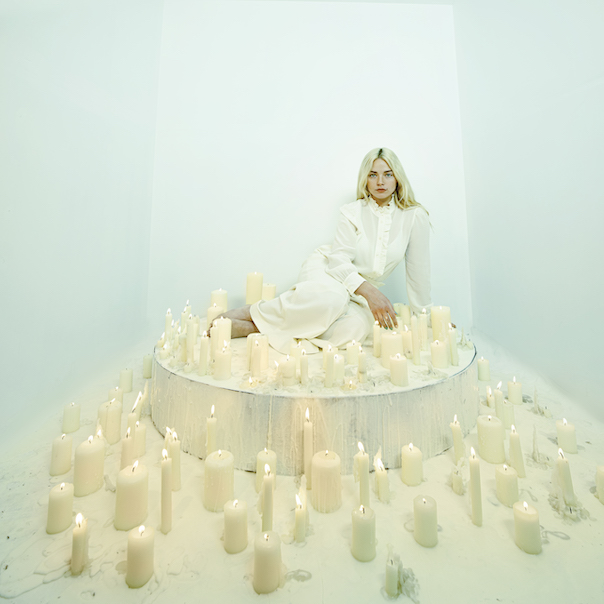 Ashe (Ashlyn Rae Willson) has had a pretty eventful last few years. A graduate of the Berklee School of Music, her career formally began in 2015 as one of the many female vocalists who've offered their talents to dance music, collaborating with the likes of Louis the Child and Whethan. She broke into pop in 2018, assisting co-writing Demi Lovato's "You Don't Do it For Me Anymore." After releasing EPs Moral of the Story: Chapter 1 and 2, in 2019, she exploded in popularity when her single "Moral of the Story" was featured in the Netflix film, "To All The Boys: P.S. I Still Love You." These successes have culminated in her debut album, Ashlyn.
Ashlyn
Ashe
Mom + Pop, May 7
6/10
Unfortunately, Ashe's first full-length foray falls a bit flat.
The 28-year-old filed for divorce in 2018, and the aftershocks of her heartbreak are evident on this album—where nine of the 14 songs are about how breaking up really is hard to do. Her saga of loving a man disliked by both her mother and her divorce attorney is told, and retold to near-excess, in a voice that at times sounds like a helium-filled version of Billie Eilish. In fact, Eilish's brother Finneas executive-produced Ashe's EPs and is featured on "Till Forever Falls Apart," which feels a bit like if Julia Michaels and JP Saxe's "If The World Was Ending" were instead written for a Super Bowl halftime show.
The subject matter of the album comes across as redundant, and the actual structure of each song is equally repetitive—hovering in the generic, genre-less world of stripped-back electro-pop. The verses are filled with the all-too-popular trend of singing a few soprano notes in an overly-crisp, nasally whisper over piano or violins. The choruses consist of an overwhelming number of guitars, bells, choir vocals and keyboards over repetitive stomp-clapping beats. "Moral of the Story," which is included on the LP as well, falls into the same category of melodies and instrumentation that sound like Meghan Trainor B-sides. The final track on the album is another version of the song, this time with former One Direction member Niall Horan, who sings one of the existing verses and half-heartedly chants along to the melody during the chorus.
One positive differentiating factor here is Ashe's poetic lyrics. On "I'm Not Mad Anymore," another formulaic arrangement, Ashe playfully muses, "That's life/ Nobody makes it out alive/ Not even Jesus Christ." And on "Moral of the Story," Ashe forgoes singing on one of the verses to quickly remark on specific memories that very aptly and succinctly illustrate her experience with heartbreak. "Remember when we painted my house/ Just like my grandparents did/ We fought the whole time/ I should have seen the signs," she sings. Regretfully, some of these otherwise thought-provoking details are lost in the constant rehashing of post-breakup sadness, anger and even some happiness.
The exceptions to this somewhat derivative album come in the latter half. After enduring a painfully kitschy beginning, listeners are graced with songs filled with more potential like the animated, mid-tempo "Kansas," the scratchy beat of "Serial Monogamist," the minimalistic "Taylor" and the heartbreaking "Ryne's Song." The latter, about the passing of a friend, is a truly thoughtful tribute featuring a voicemail from him in the final few seconds of the song. Her soft voice fits well with the devastating subject and her lyrics delicately capture a portrait of mortality. "Always" earns an honorable mention as well for its authenticity, and though the verses are full of the same tonal whispers, the chorus features an impressive bit of belting by Ashe about letting her lover go.
On "Kansas," the tiresome step-clap beat is enlivened with a jazzy chorus and an instrumental backing worthy of a concert closer. "Serial Monogamist" is similar, but the melody is interesting enough to pique your curiosity among an otherwise relatively pedestrian effort where melodies occasionally sound more like beat poetry than singing. The main issue with even Ashe's best songs is extraneous effects used on her voice. They range from multiple tracks singing the same melody ("Ryne's Song") to an oddly remixed, choppy effect ("Kansas"). Given her surprisingly powerful vocals on "Always," it begs the question: Did the excessive production on the rest of her vocals help or her this album?
Follow writer Sara London at Facebook.com/slondogbusiness and Twitter.com/sjessielondon.