REVIEW: AWOLNATION mines personal experience on 'Angel Miners and Lightning Riders'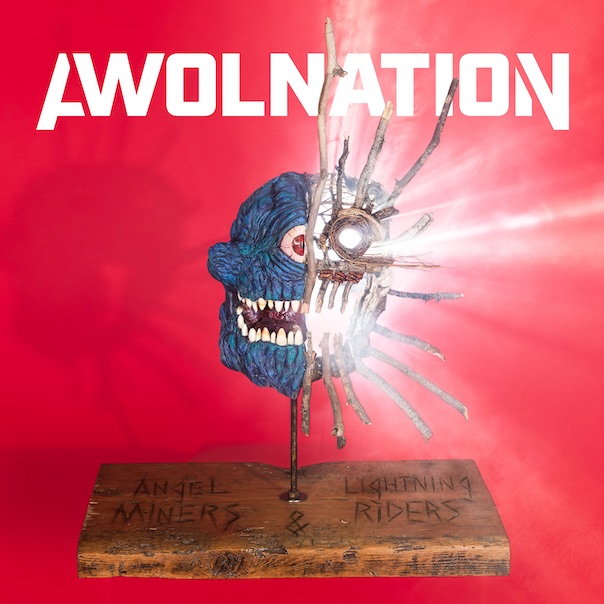 While it hasn't been long since AWOLNATION released its last album, a lot has changed for Aaron Bruno and his revolving supporting cast leading up to Angel Miners and Lightning Riders. It's been a while since the days of breakout alt-rock hit "Sail," but Bruno has shown no signs of slowing down on the band's fourth LP. Full of sonically diverse pieces and songs inspired by deeply personal moments, AWOLNATION is back and baring its soul.
Angel Miners and Lightning Riders
AWOLNATION
Better Noise Music, April 24
One thing AWOLNATION has never shied away from is creating music to which Bruno and his bandmates, currently drummer Isaac Carpenter, guitarist Zach Irons, keyboardist Daniel Saslow –and bassist Michael Goldman want to listen. This is true once again on Angel Miners and Lightning Riders as the band has a number of songs that explore stylistically the multiple sounds that can fit into a single track in ways others might not have considered.
For example, the genre-complex "Mayday!!! Fiesta Fever" blends kick-drum-heavy screamo with trumpets and Bee-Gee's-esque falsetto provided by none other than Alex Ebert of Edward Sharpe and the Magnetic Zeros during the bridge. Another song that experiments with expectations is "Battered, Black and Blue (Hole In My Heart)," which opens with a AC/DC-like blues rock with dark minor chords and screamed vocals. But it  quickly switches at each chorus to synth-pop in the vein of Modern English with whispered vocals and bright major chords.
Neither song fits into a singular genre box, nor do those switches feel natural. Yet neither one feels out of place or randomly placed on this album. Somehow the different styles get interwoven in such a way that a cohesive piece comes together, whether it fits expectations or not.
AWOLNATION's Bruno also takes every opportunity to use his personal experiences in his songs. 
"Slam (Angel Miners)," at about five minutes, is an ode to the pressures that come with fame and expectations. The whole song has a slightly haunting vibe with airy, echoing vocals. "
Always someone watching," he repeats over and over, with the pressure building to the last repetition, where lyrics change to "Always someone watching over you," which given the context is less than comforting.
"California Halo Blue" mines Bruno's inspiration directly, detailing the how his studio and house burned to the ground in the 2018 Woolsey Fire in Malibu while AWOLNATION was on tour. Bruno uses phone calls with his wife, feelings of shock and spiritual connections to discuss the tragedy of the devastating wildfire.
Angel Miners and Lightning Riders is bookended with songs that at first glance seem like total opposites but run thematically parallel to each other.
Opener "The Best," also the lead single, is an easy singalong about the desire to reach the pinnacle of achievement no matter the circumstances  alongside the fear that the best will never quite be good enough. Closer "I'm A Wreck," meanwhile, returns to that pressure and dives into how that pressure can ruin someone. To express this, the sound changes halfway through, from slow, quiet and haunting to an explosion of uncontrollable emotion
The two songs complement each other by addressing the precarious cycle of chasing dreams that can do more harm than good and begin the drive to dig oneself out again.
AWOLNATION packs a lot into these 10 songs. Using both bravery and experimentation, Bruno has crafted an album that touches upon not only mental health struggles but the broader human experience, as well.
Follow writer Piper Westrom at Twitter.com/plwestrom.