Album Review: Baio's stress over world events fills Man of the World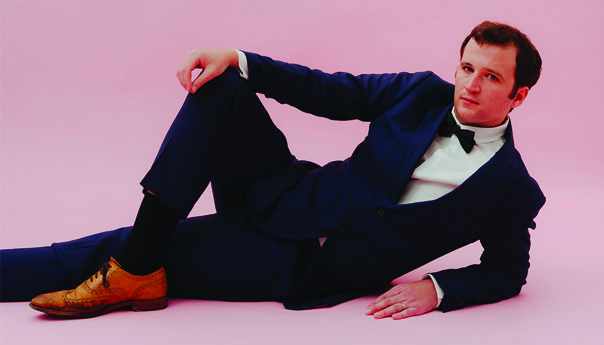 Quirky is certainly one way to describe Chris Baio's Man of the World, his second released under the name Baio. You've likely heard him previously playing bass and providing background vocals for Vampire Weekend, of which he's a founding member.
Man of the World
Baio
June 30
Baio (yes, a cousin of '80s heartthrob Scott Baio) was born in Brooklyn, but now calls London home. He says Man of the World primarily addresses the two high-profile events that rocked his original home and his new one: the Brexit vote and the election of Donald Trump.
"In early September, when the spectre of a Trump presidency seemed like a real possibility, I found that the only way I could give my mind a break from that scary prospect was to work on music," Baio said. "The songs I began to write were an attempt to understand how the world had gotten to a place I found so shocking."
That theme of fear and confusion is evident from the outset with album-opener "Vin Mariani," a throwback to the mid-1800s drink that consisted of mixing red wine and cocaine. Popular in its era, time has cast a different view on the concoction. Baio seems to suggest the same eventual fate for actions and beliefs held by some today. "Learning to live with a decision/ When it's not the one I would've made/ Learning to live with a decision/ When the consequence is rather grave," he sings before the song ends with a rapidly-increasing beat, intentionally creating tension that resonates throughout the rest of the album.
Baio's stress about current events is especially palpable on "Dangeroue Anamal." With synth notes that sound like sirens and moments that harken back to Massive Attack's "Teardrop," the song builds slowly, not unlike a horror movie. Lyrics like "Try as I may I can't quite seem to change my life" point to Baio's fight to do what he thinks is right, while being complicit in other activities he knows are wrong.
Only a few songs bear any resemblance to Baio's primary project, Vampire Weekend: "The Key Is Under the Mat," which features a near-constant frenetic bass line and distinct Vampire Weekend-esque sounds, as well as "Sensitive Guy."
Part electro pop, part indie rock, Baio's second album is an acquired taste. However, once you start liking it, there is no going back. It may also be a cathartic tool for those like Baio, who are still struggling to understand the decisions and beliefs of others that have led to significant policy changes here in the U.S. and abroad.
Follow journalist Brandi Smith on Twitter, Facebook and BrandiSmith.me.