ALBUM REVIEW: Björk's glimpse into Utopia swarms the senses with yet another masterpiece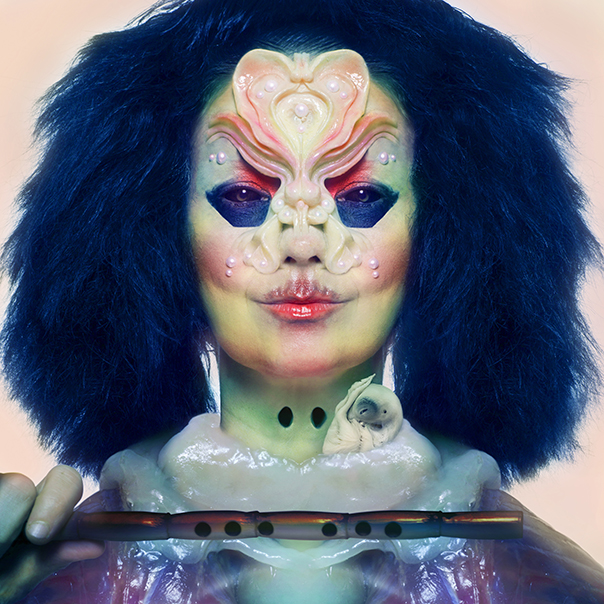 If we as listeners have anything to learn from Björk's decades-spanning career, it's that her music is not something you can punctuate or spin simply as background music—that would be a slight against her prestigious artistry. In fact, her music mandates a complete surrender of the senses in order to truly experience and appreciate it.
The same approach must be at hand with her  latest project, Utopia. Across 14 tracks, the Icelandic singer delves into her search for love and elucidates a dream-like utopia the Von Triers and Weinsteins of the world fear, a utopia devoid of the male dominance that continues to plague society. Along the way, Björk gifts listeners with a wave of woodwind euphoria and Arca's dizzying production that allows for an otherworldly experience.
Per usual. Björk's latest is an avant-garde opera—a multi-sensed, theatrical display that can be visually manifested as vivid as it is sonically.
Before really delving into Utopia, It's important to note that Björk's last album Vulnicura was an expressive shot into secluded darkness. Its musical elements danced and writhed their way through intangible time and place, and the album was extremely reflective and ambitious in its intentions. While the album came from a devastating place in Björk's life, Vulnicura managed to be an exhaustingly distressed expression of sadness. With a rewarding, throb of hope that managed to claw its way out of Vulnicura's pain, it was a masterpiece that transported the Icelandic queen to an uncharted realm in relation to any other pop artist.
With tragedy in mind, the first single off Utopia, "The Gate" is both the tonal and lyrical connective tissue between the melancholic Vulnicura and the elation-filled Utopia. The kaleidoscopic first single is shrouded in glitchy, tumbling production, yet is somehow aromatic as well. Here, Björk chants away about the healing of a metaphorical chest wound jarred open on Vulnicura. That same gash visible through her prior album's artwork has now become a gateway pouring forth love, as the track explodes into a frenzied refrain: "I care for you, care for you."
As Björk diffuses from pain and suffering into unhinged love and happiness, each track on Utopia brims with flourishes of metaphysical pleasure and robust romance. In "Blissing Me," Björk purrs and hums about "two music nerds" falling in love through the binding capabilities of music. In "Courtship," the art pop icon croons over delicate chords spruced by flutes and splintering percussion, all while building upon the motif of romance by hinting at internet dating culture, "He turned me down/ I then downturned another/ who then downturned her."
With unfettered optimism driving Utopia's atmosphere, there remains hostility and pain left behind by Vulnicura. With tracks such as the determined "Body Memory" and the reflective "Loss," mournful undertones reveal themselves but are redeemed through spirited drum patterns and soaring woodwinds—thus presenting the 52-year-old at a renewed stage in her life.
It was silly to ever think that Björk's storied musical career was going to be left in the dark, dictated by heartbreak. With Utopia, Björk is instead looking ahead with a revitalized heartbeat. As Vulnicura closed the book on a caustic era in Björk's life, Utopia is her blank slate, a new chapter per se, most notably expressed on the track "Tabula Rasa," "No more repeating the fuck-ups of our fathers/ Make your own fresh mistakes/ Break the chains of the fuck-ups of our fathers/ For us women to rise and not just take it lying down."
Throughout Utopia, Björk weaves a common lyrical thread, a thread held taught by her vision of a possible future, emancipated from her personal demons and the ghosts that continue to haunt society. Whether Björk is playing off beautifully serene production ("Saint," "Future Forever," "Utopia") or the few instances of brooding and mysterious composition ("Claimstaker," "Sue Me," "Body Memory"), Bjork's singularity and uncanny voice, once again, serves as the light guiding listeners through heavy subject matter as radiant than ever before.
With shimmering chords at the forefront and Björk's voice piercingly placating the silence throughout; she invokes a confidence not just lyrically, but sonically as well. Whether it be the abundant use of strings on Vulnicura or the peculiar voice affectations on Medulla, Björk has been one to attribute a nuanced sonic palette for each of her records.
With Utopia, Björk experiments with a breathtaking amount of woodwind instrumentation. In hindsight of this, Björk's latest is often textural and surreal, awash with dancing elements of vocals, percussion, flutes and animalistic samples vying for prominence.
With masterful electronic production at hand, each glitch, ping and thud experienced on Utopia contributes to the project's overwhelming semblance to springtime jubilation, which only furthers Björk's sprite-like nature. Accordingly, there's a celebrational aura that cannot be fully grasped no matter how many listens.
At the end of the day, Björk's latest may very well divide audiences. Utopia is a daring and risky project, yet is a synthesis of everything that Bjork has released thus far. From the cascading string arrangements that helped define Vespertine, to the rapturous IDM nature of Homogenic, and the tenderness encountered on Debut, Utopia feels like the zenith of a prolific career forging ahead into experimental waters.
If you ever wanted to know what a Björk-scored Disney film would sound like, look no further than Utopia—an incredibly playful record comparable to a nocturnal wanderlust through rainforest euphoria.
As Utopia witnesses Björk's personal development expressed through newfound love, an overarching warmth elicits identical emotions within its listeners—a sense of hope that there is love that you can believe in some shape or form. With all this to say, Björk's Utopia yields enchanting results and punctuates a dismal 2017 with arguably the best and most necessary listening experience of the year.
Follow writer Kyle Kohner at Twitter.com/kylejkohner.