QUICK TAKE: Brian Posehn and friends seamlessly mix metal and comedy on 'Grandpa Metal'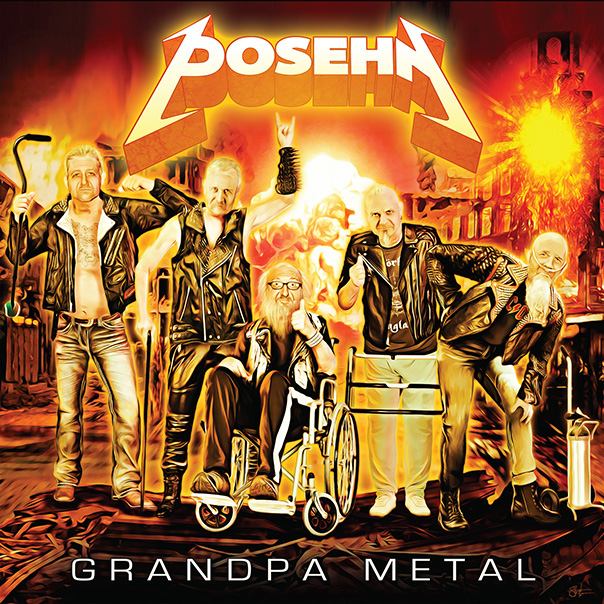 Grandpa Metal is Brian Posehn's first metal album. It's not his first album. The actor, writer and comedian has released numerous comedy albums. He's also released a few metal songs by himself, though for this album, Posehn didn't go it alone.
Grandpa Metal
Brian Posehn
Megaforce Records, Feb. 13
Anthrax frontman Scott Ian and Joe Trohman of Fall Out Boy helped write the songs, while an all-star of metal juggernauts like Kim Thayil of Soundgarden, Alex Skolnick and Chuck Billy of Testament, Corey Taylor of Slipknot and Weird Al Yankovic joined in on the fun.
The first single, a metal cover of A-Ha's "Take On Me," is something you didn't know you needed in your life, but it definitely is. It's hard to make a bad song with a lineup of legends and a legendarily catchy hook, but the result is even better than you expect.
It's also as hilarious as you'd expect from a comedian of Posehn's pedigree, and also because Posehn and Ian doesn't take themselves seriously.
The title track, "Grandpa Metal," is the perfect example. It's just a series of old man jokes directed at Ian by Posehn and Trohman. If you like metal, you'll absolutely see someone you know in the jokes—or possibly yourself, which makes it all the funnier.
That same theme continues on "New Music Sucks," a bunch of jokes about, well, how much new music sucks. It's immediately followed by a reprise where Trohman points out that none of the bands he mentioned are particularly new anymore, so they go over some actual new music. It's a master class in musical roasting.
Grandpa Metal also pokes fun at a variety of subgenres. "One Quarter Viking, Three Quarters Pussy," for example, is an Amon-Amarth-style Scandinavian metal song, but from the perspective of a Viking grandma disappointed in her grandson because of two generations of dilution of the Viking genes.
Likewise, "Big Fat Rock" is a version of '70s and '80s hair metal songs that are just thinly veiled odes to the singer's genitalia, a-la Aerosmith's "Big Ten Inch Record" or more than half of AC/DC's entire musical output.
Posehn's version isn't thinly veiled. Or veiled at all. He actually shouts "THIS SONG IS ABOUT MY PENIS!" at one point.
Comedy metal albums are extremely rare. Comedy music albums that sacrifice neither the comedy nor the music are also extremely rare. Oh, and gets metal culture in a way few things do while lovingly taking it down a peg. Because of that, Posehn's Grandpa Metal may be the rarest album in the world.
Follow editor Daniel J. Willis at Twitter.com/BayAreaData.