REVIEW: Bright Eyes ends hiatus, brightens corners on 'Down In The Weeds, Where The World Once Was'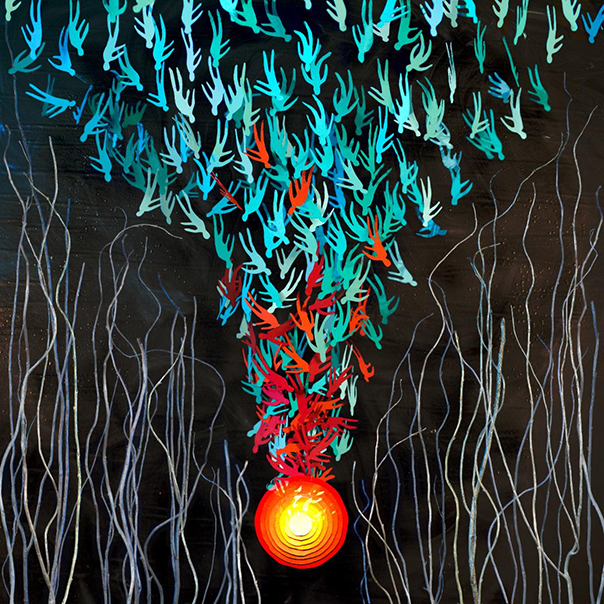 If you were to ask a record-store-frequenting college student, circa 2005, about Conor Oberst, the response would be invariably the same: "Isn't that the dude from The Faint?" Err, well, yes but no; and good job being a hipster. Though these disparate Omahans did collaborate briefly in the mid-1990s, Oberst's largest fame is his pet project, Bright Eyes. Oberst has owned the lucid moniker since the knobbly young age of 14, and has released nine Bright Eyes albums employing various lineups. Returning with their full-blooded 10th album, Down In The Weeds, Where The World Once Was, Bright Eyes breaks a nearly nine-year silence.
Down In The Weeds, Where The World Once Was
Bright Eyes
Dead Oceans, Aug. 21
5/10
As has been a theme with Bright Eyes, the album opens with a lengthy spoken-word intro over musical accompaniment, this time in Spanish over old-timey lounge trombone. The first proper song, "Dance And Sing," shambles into being with tremolo-rich guitar, halting piano, and rolling percussion. Oberst's resolute vocals soon provide the glue, comprising a stoic incantation. "Got to keep on going like it ain't the end/ Got to change like your life is dependin' on it," he sings, stirring the dregs of passion from his tired heart. An emphasis on meter and a conversational lilt instantly reestablish Oberst as the natural songwriter he is. Ardent string arrangements, with new vehemence, intensify the drama and recall other works of critically acclaimed chamber pop.
Viscerally, Oberst's melodies have habitually resided in the uplifting space between joyous and stirring. Yet the harmonious tones house deceptively bummed-out sentiments. Single "Mariana Trench" brings Oberst's deep, dark impulses to the glassy surface of vast, synthesizer-induced melancholy. "A coward is as a coward does," the narrator sings of himself, aching to grow away from bad habits. Nevertheless, even in the act of expurgation, he can't resist spelling out the possible downfall: "The cowboy drinks himself to death fresh out of rehab/ While they're loading all the rifles on the range." Oberst invokes these extremes of aspiration and dejection lyrically, contrasting Everest's height with Mariana's bottomlessness.
Where The People's Key, Bright Eyes' most recent long-player, retained a hint of Casio-fueled lo-fi compulsion, Down In The Weeds… signals a shift to a more produced sound. Any residue of the rustic charm that was evident on 2005's well-received I'm Wide Awake, It's Morning is mostly swallowed up in layered instrumentation that surprises with its anthemic lushness, as on the strong "Calais To Dover." Many moments jump out sounding like a higher-pH Neutral Milk Hotel.
Oberst's astute lyrics however, delivered in an unassuming quiver, consistently bring substance to the arrangements. Occasionally tacky vintage sounds get their legs from rhythmic nuance and spacey sustain. Oberst's effortless poetry underpins shouted choral jubilance and symphonic passages that swell with tension and release.
Album highlight "Stairwell Song" begins as a ballad approaching heartland rock, and gathers steam for an affecting chorus that recalls the chilly exhilaration of early The Promise Ring. Oberst's voice is rife with longing as he examines a loving relationship that could not be. "You were smart, but so foolish with your heart, at the exit from the start," he sings, and the song arcs toward a cinematic climax. The result is a positively beautiful movement halfway through the record.
"Persona Non Grata," which borrows its title from the Latin phrase meaning "person not appreciated," represents the moody, brooding flip side to "Stairwell Song's" elegant letting-go. The latter's grace is submerged as the former tracks the displaced limbo of a passion on the rocks. Without an emotional payoff, the song might be a flop, another trembling shot at love from a disgruntled guy. But uncertainty gives way to plaintive assertion, ending the song on a powerful moment of wounded trust.
Down In The Weeds… suffers measurably from overly clean production and a limited range. Bright Eyes are experts in the field of yearning, pure-hearted indie rock, yet somehow this doesn't consistently translate to a compelling listening experience. Oberst's voice, seasoned here to maturity, still verges on cloying at times.
Wisely, Oberst tempers this tendency with refreshing emotional urgency, borne on the wings of tunes that can usually handle the thematic weight of his words. At his haggard fringes, Oberst jangles his indie rock spurs with tales of hard living, disguising his boasts as misguided pleas. His lyrics are characteristically disarming, meticulously insightful, at times poignant.
Down In The Weeds, Where the World Once Was frequents a sweet sonic plane, venturing not at all into discordant territory or informal boogie-lands. For some listeners, Bright Eyes may come across as stiff or overly well-behaved—see the Sinatra-esque waltz breakdown on closer "Comet Song." Those listeners will have to decide if Oberst's sincere penmanship resonates sufficiently to inspire a personal bond with the content. Fans of the band will appreciate Oberst's symphonic turn and emergent sense of the grandiose. Aficionados of mid-2000s indie rock will recognize the work of a gifted songwriter.
Follow writer Alexander Baechle at Instagram.com/writheinsmoke.