BROCKHAMPTON begins final act with 'Roadrunner: New Light, New Machine'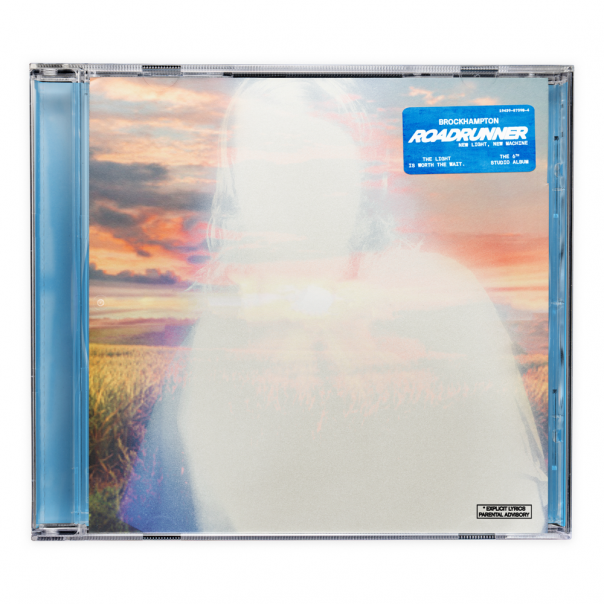 Hip-hop's favorite boy band, BROCKHAMPTON, has announced it is on the way out. The band's newest release, Roadrunner: New Light, New Machine, is the first of two albums set to drop this year as a swan song. The group's catalog grows its legendary status, as BROCKHAMPTON touches on everything from the sociopolitical to incredibly intimate.
Roadrunner: New Light, New Machine
BROCKHAMPTON
RCA, April 9
8/10
Opener "BUZZCUT" kicks things off with rumbling bass and warping vocal samples, like something out of a Chemical Brothers song. Kevin Abstract comes out swinging, rapping on par with guest Danny Brown with both dropping haymakers bound to demand a rewind to make sure you heard that right. "CHAIN ON" follows with another bass-laden beat, beeping synth flourishes and JPEGMAFIA and Don McLennon delivering aggressive lyrics about fighting back against the system, before closing out with a sample from the Wu-Tang Clan's hit "C.R.E.A.M."
"COUNT ON ME" begins with a whistled melody backed with light keyboard notes before transitioning into a heavy bass-laden trap instrumental with an acoustic guitar melody. The song explores how change can drive wedges between people; in particular, how people perceive change in others. Oddly, the opening verse is delivered by A$AP Rocky, yet he isn't listed until the next song, "BANKROLL," alongside fellow A$AP Mob member A$AP Ferg. The former provides the chorus to the song.
"BANKROLL" features a similar acoustic guitar and trap-infused arrangement, with a closing verse (delivered by Jabari Manwa) that shakes things up through its harmonized, attuned and rapid-fire delivery alongside an equally unexpected twist at the end with a chopped-and-screwed version of the chorus.
Things take a more somber turn on "THE LIGHT," which opens with a dial tone and the digitized vocals of Joba discussing his father's suicide. He's emotionally pouring out as he describes vividly the psychological turmoil that comes with losing a loved one in this way. His verse is followed by Kevin Abstract exploring his own troubled past with his family dynamic—between depending on his friends for help and being alienated from his religious family and their intolerance of his sexuality. It's a poignant moment that will give listeners significant pause from the wild energy that kicked off the album.
"WINDOWS" features a warping electronic beat paired with prominent snare. A braggadocios track, the standout verse easily goes to Merlyn Wood as he raps, "Respect my Tribe, I'm a Dawg like Phife/ You love me like a checkout my name not Nike."
We then return to the politically charged with "DON'T SHOOT UP THE PARTY," where Kevin Abstract primarily focuses his criticism at American culture's Eurocentric and heteronormative tendencies that have led to a culture of alienation for people of color and the LGBTQ communities—compounded with the tendency of white America to then appropriate Black culture when it's profitable.
The closing track, "THE LIGHT PT. II," revisits the same themes as "THE LIGHT." Abstract gets more direct in addressing his childhood trauma and how it shaped him, followed by Joba directly addressing and forgiving his father for his suicide.
Roadrunner: New Light, New Machine is exemplary of BROCKHAMPTON's versatile appeal of bucking norms, while also maintaining the core strengths of hip-hop as a genre. The album is both wild and woeful, yet it never feels like a jarring clash of tones. As the group wraps up its final release, one can only wonder if the next album will seek to build off of this one as a sequel, or if will it stand as its own.
Follow editor Tim Hoffman at Twitter.com/hipsterp0tamus.