ALBUM REVIEW: Camila Cabello channels reality to record on 'Romance'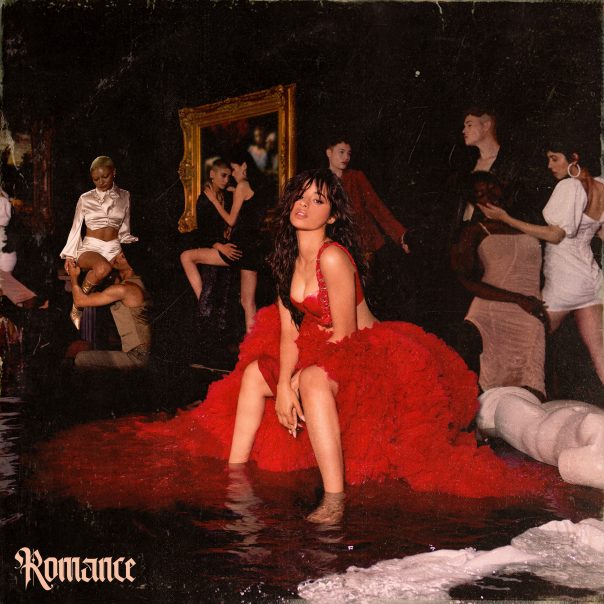 Camila Cabello is no stranger to romance. The Cuban-born pop songstress found herself in one of the most public and high-profile pop culture romances of 2019 with fellow pop phenom Shawn Mendes. Whether they are performing on stage together at awards shows or showing affection court-side at a Lakers game, the "are they or aren't they?" public scrutiny quickly developed into "oh yes, they most definitely are." The two burgeoning superstars came together to collaborate on the ballad "Señorita," a track that would go on to be one of the biggest songs of the year.
Romance
Camila Cabello
Epic Records, Dec. 7
It was with this relationship in mind that Camila Cabello returns with her sophomore album, Romance, an ode to the spectrum of emotions that comes from new love. Cabello sings of passion, nerves and heartache all under the umbrella of romantic attraction. Sonically, the album turns everything up a few notches from her 2017 debut, Camila. It does so much to establish the 22-year-old's solo career that you might forget that Cabello was once a member of pop group Fifth Harmony.
Romance starts in more of an alt-pop space with "Shameless." Cabello delivers the opening chorus over a building clean guitar line. The song then crescendos into a fleshy bass synth and beat-heavy stomp. Lyrically, the song is a fitting introduction to the loose theme of the album, with Cabello singing about being overcome by the desires of newfound love. "Living Proof" follows up with a tripped-out loop and acoustic guitar with Cabello pushing her range to its highest reaches.
One of the things that made Camila Cabello a breath of fresh air on her debut was her Cuban influence. Most notably on the megahit "Havana," it added an extra ingredient that separated her from contemporaries. Some of that recipe is evident on "Should've Said It," an understated pop jam that showcases the best Cabello's stylistic roots. The addition of a closing electric guitar solo echoes Santana's "Spanish Harlem," in the most unexpected way. The song serves as somewhat of a kiss-off to her past loves: "So you want me now, that's fine… Come back around, so sorry/ 'Cause there's no room in my bed and I'm all caught up."
There's not much to add about "Señorita," the song that has already exploded into Top 40 radio with no signs of slowing down. The song's subtle sensuality makes it shine bright. Cabello and Mendes' obvious chemistry only elevates the track that much more. "Liar" is supplemented by a horn section that drives the rhythm on the beat of this Latin-meets-ska track. It also features some of the album's most infectious choruses.
"Bad Kind of Butterflies" leans more experimental than one might expect for a pop record. Much of the instrumentation is built on Cabello's haunting layered vocals. Her occasional left turns become a recurring benefit to the album while still seeming to make sense in the greater context. "What do I lose if I don't choose him/ Keep it to myself/ I've got bad kind of butterflies," she sings, putting a negative twist on a romantic cliché.
Atmospheric ballad "Easy" begins to slow the pace of the album slightly. The track has more of a traditional pop sound, driven by a heavy backbeat and involved behind-the-beat vocals. "Feel It Twice" and "Dream of You" continue down the same road, allowing Cabello's vocal delivery to shine through. Her vocal chops are impressive and often take you by surprise, with her delivery on "Dream of You" featuring particular passion.
As for the more upbeat pop tracks, "Cry For Me" stands tall as the album's pinnacle. Co-penned with OneRepublic frontman Ryan Tedder, the song is effortless cool, featuring an insanely memorable chorus that sets up shop in the listener's head. Tedder's keen ability to extract the best performances out of his collaborators is fully on display, with a solid beat that drives the track that never gets in the way of the vocalist.
Cabello occasionally taps into more retro inoculations. Ballad "This Love" leaning on more of a classic soul ballad vibe with staccato guitar chords and a swaying rhythm. In contrast, "Used to This" provides more of a modern, atmospheric synth sound. "It's gonna take me a minute, but I could get used to this/ That feeling of your fingertips/ That feeling of another kiss," Cabello sings, starting to find a comfort and confidence about her new relationship.
The album's best moment comes at the end, with personal ballad "First Man." The tearjerker is a must-listen, a beautiful track written to Camila Cabello's father. Each verse describes the development of her new relationship and offers reassurance.
"Can you say bye to mom for me/ You'll like him he's really kind/ And he's funny like you sometimes," Cabello sings in lyrical conversation with her father. The humanizing coming-of-age track closes out the album predominantly concerned with its namesake.
With tabloids ready to exploit Cabello's every move, Romance remains as classy as it is youthful. By exploring the many experiences that led her to this point, she uses personal and universal stories to tell the love story she's currently living out.
Follow writer Mike DeWald at Twitter.com/mike_dewald.