REVIEW: Charli XCX shares a future pop diary while sheltering in place on 'How I'm Feeling Now'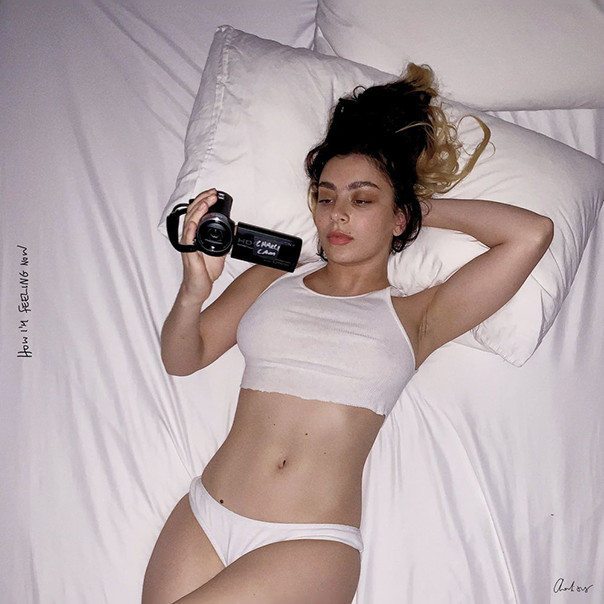 Charli XCX and her band of collaborators have been leading the charge of pushing pop music headlong into new territories over the last few years, using the latest and greatest in PC Music (aka bubblegum bass) production techniques. However, it was a bit of a surprise to hear she was planning on creating a new album only months after releasing Charli just last year.
How I'm Feeling Now
Charli XCX
Atlantic Records/Asylum Records, May 15
While the world shelters in place during a pandemic, Charli XCX declared that she was documenting all her thoughts and feelings during these unprecedented times by writing, recording and releasing her next album—from home. Would an album made so quickly and under such circumstances live up to the high standard that she's set for herself thus far?
It sounds like Charli XCX herself was interested in asking this question. During the whole process of creating  How I'm Feeling Now, she crowdsourced certain decisions on Twitter, asking fans for input on everything from album art to lyrical content and even created the video for "Forever" out of submitted clips. In addition to the obvious benefit of helping her fans feel more connected to her, the collaborative process added a collective dimension to an album with a main theme of isolation.
The album drops us right into the abrasive "Pink Diamond," which is a departure from Charli XCX's normal tendencies. Big beat hoovers squeak overhead while she repeats the mantra "I just wanna go real hard," eventually devolving into a minimal industrial breakdown. Is this Charli XCX railing against the shelter in place order? Or maybe she just can't contain her basic desire to party any longer? Next up is "Forever," where she wastes poetic over a vocoder about all the memories and friends she's missing. The buoyant beat found here is reminiscent of many tracks on her previous album.
The following "Claws" is one of the most directly catchy moments on the album. Charli XCX outsourced production duties on this one to Dylan Brady of experimental duo 100 gecs.Brady's touch is very clear, stitching plinking synth tones against a jagged metal clank, while she rapid-fires a string of "I like, I like, I like, everything about yous" at us with a vengeance.
On "7 Years," Charli XCX yelps at the top end of her range, for a song that she may have created during her Sucker days, while "Detonate" conjures back the soft kaleidoscopic tones many fell in love with during her 2013 debut album, True Romance, eventually evolving into a trippy collection of dancing vocals and textured beats. On "Enemy" she flips the script on the old adage "keep your friends close, but your enemies closer" in front of a choir of buzzing and twisting synth chirps.
"I Finally Understand" is one of the most poignant shelter-in-place tunes, built out of a drum-and-bass loop. The song chronicles a myriad of feelings that are likely coming up for many of us—insecurity, depression and anxiety—as well as the potential we all have to break through those feelings to heal by tapping into some personal reflection and growth.
"C.20" revisits Charli's "Click." While the original was synth-laden, rap-like number, this one is even more detached and abstract, a repeating vocoder voice draped over top of A.G. Cook's fascinatingly fuzzy percussive production. The way this tune references one of her previous songs is a nice touchpoint for fans while still pushing forward her sound into new territory.
"Party 4 U" comes through as exactly the type of evolution we would want and expect from Charli XCX at this point, perfectly existing within the space between her past and future. Her vocoder-masked voice is a second skin while she layers it on top of itself in multiple ways to build a cathartic moment of listlessness and longing. She isn't just lamenting the loss of all the parties right now, but the very essence of what makes her feel alive.
After a majority of the album floats along through introspective and vibrational directions, it's a slightly harsh transition when Charli XCX drops into the final two songs, rave-up "Anthems" and twisted house cut "Visions." She's back to lamenting the loss of her social life to a jarring filling of electric bass and rave hoovers, and some four-on-the-floor kicks, but not without a touch of hope and faith for the future.
Throughout How I'm Feeling Now, Charli XCX doesn't exactly match the quality or sheen of a record written and produced over the course of months or years. Then again, this one only took 38 days. Considering the constraints she put on herself and where she's been evolving as an artist, it's a logical place for her to be right now. She took her natural instinct for future pop sensibility and put it to terrific use on this time capsule of an important batch of feelings. It's not only a diary of the loneliness, insecurity and uneasiness that we're all going through, but delivers glimmers of warmth, optimism and anticipation needed to make it to the other side.
Follow writer Josiah Skallerup at Twitter.com/josiahskallerup and what-else-is-there.tumblr.com.