ALBUM REVIEW: Code Orange epitomizes industrial hardcore with 'Underneath'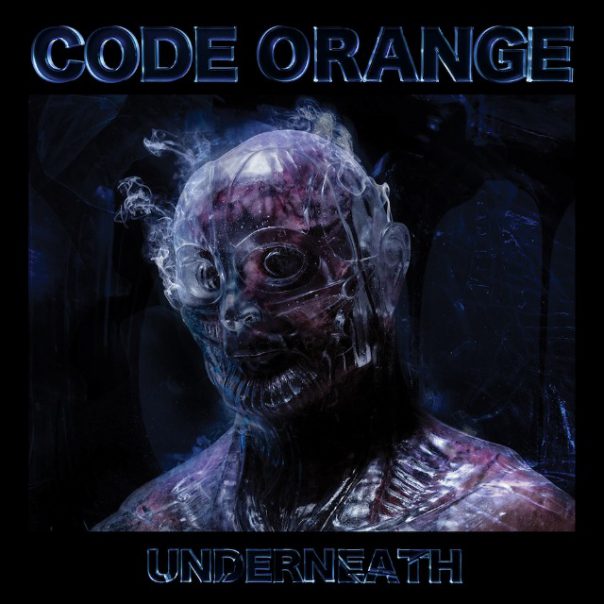 At the very least, no one can say Pennsylvania's Code Orange hasn't earned its success. Since forming 12 years ago as Code Orange Kids, the band rose from basement shows to Grammy nominations, which has coincided with daring stylistic shifts. I Am King (2014) brutalized the band's sound for the This Is Hardcore crowd, but only hinted at what 2017's Forever accomplished. The band's interest in nu-metal, post-grunge and industrial sounds brought it to the forefront of cutting edge heavy music. The subsequent EP, The Hurt Will Go On, provided more experimentation, but Underneath dials in Code Orange's eccentricities to a terrific effect.
Underneath
Code Orange
Roadrunner Records, March 13
First single and album closer "Underneath" makes this album's mission statement all too clear. It emphasizes Reba Meyers' grungy singing, a la Forever's "Bleeding Through The Fur," but increases the electronic textures of Eric Balderose. The concluding breakdown display is an unwavering dedication to pushing boundaries.
"Swallowing The Rabbit Whole" shows how this doesn't imply a loss of heaviness. Following the chilling noises of "(deeperthanbefore)," its punishing riffs coincide perfectly with the added effects. Through jarring post-production cuts, noisy blasts and atmospheric keyboards, the song embodies the Resident Evil vibes of its music video.
The increased industrial elements of Underneath succeed both in quality and seamlessness. The presence of Nine Inch Nails luminary Chris Vrenna on the programing is only the tip of the iceberg. "In Fear" and "You and You Alone" feel like a logical next step rather than a gimmicky pine for relevance.
The former contrasts some of Code Orange's dirtiest mosh parts with haunting melodic verses and volume-clipped noises, while the latter's clattering percussion and whispered vocal sample bridge the gap between chunky riffs and futuristic alt-rock. The real difference here is that the hardcore sections remain saturated in electronic texture. The synthetic crescendos and unorthodox effects enhance Jami Morgan's feral vocals and primal beats along with the face-breaking chug-fests of guitarists Meyers and Dominic Landolina, and bassist Joe Goldman. These more aggressive songs remain lethal, calculated and immensely satisfying.
Like Slipknot's Iowa, Underneath is more melodic than one might realize on first listen. "Autumn and Carbine" does stray uncomfortably close to "Bleeding Through The Fur," but "Who I Am" inventively feeds that radio-friendly side through an electro-acoustic wormhole. "Sulfur Surrounding" takes several steps further, putting Bullet-For-My-Valentine-esque acoustic guitar and dramatic leads against a sci-fi synth solo. Even the heavier parts distinguish themselves from Code Orange's wheelhouse with Maralyn-Manson-tinged moodiness, a fleeting four-on-the-floor mosh riff lands it in more familiarity. It shouldn't work, but it does.
The anthemic chorus of "The Easy Way" evokes the chart-toppers of the New Wave of American Metal, punctuated by detailed, lumbering industrial beats on the verses and a jarring dynamic switch-up during the bridge. What could have been a lazy cash-grab is all of a sudden one of the stranger cuts on the album, by way of inventive production and memorable riffs. Code Orange's experimentation is far from a crutch. It's a genuine byproduct of a meticulously executed vision. The simple half-time drumming and dream-like vocals of "A Sliver" come adorned with early drones, building tension until the noisy finish where the whole arrangement gets shoved into a woodchipper. 
For every moment of reprieve, another beatdown stakes its flame. For all of the album's twists and turns, it can still lock into blistering metalcore numbers like "Cold Metal Place" and "Erasure Scan." The band's chaotic tempo changes and unrelenting anger work alongside the layers of synthetic noise and samples, whether it's the former's pinch-harmonic-laden downtempo groove or the latter's mosh riff obliteration. In both cases, the primitive anger remains as palpable as the angular riffs. Unlike a lot of industrial metal acts, who hide their lack of songwriting chops behind extended sonics, Code Orange is as tight and intense as ever.
Perhaps most importantly, each band member can still play comfortably together within new contexts. The addictive grooves and violent rage of "Last Ones Left" and "Back Inside The Glass" combine elements of "The New Reality" and "Kill The Creator" from Forever, showing how many simple, yet compelling ideas Code Orange can throw into two or three minutes. As you're being jerked back and forth from one slugfest to the next, it's clear that this band hasn't lost sight of its core identity.
Underneath is the sound of a band doing the opposite of what longtime fans and label execs alike would want—and creating something vital in the process. It's a solid achievement in Code Orange's ongoing endeavor to carve out its own niche in aggressive music. One can only hope this creative spirit carries them far into the coming decade.
Follow writer Max Heilman at Twitter.com/madmaxx1995 and Instagram.com/maxlikessound.