ALBUM REVIEW: Cypress Hill visits the zoo on 'Elephants on Acid'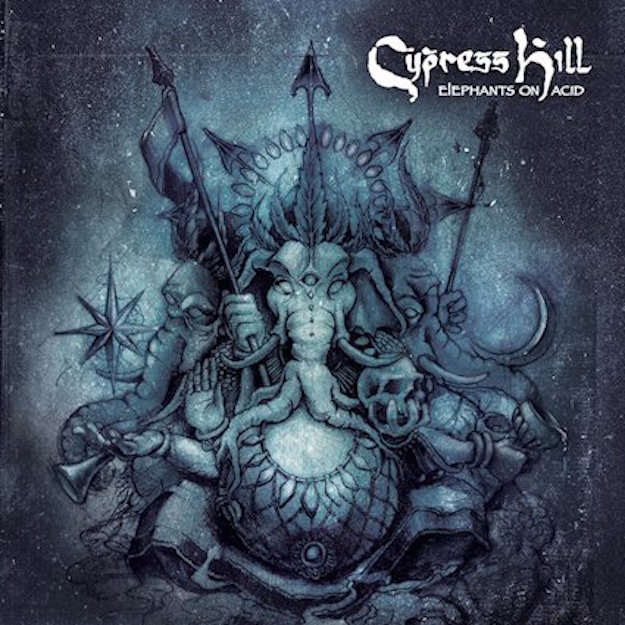 Visionary West Coast hip-hop group Cypress Hill has returned from an eight-year recording hiatus with an impressive album that more than makes up for their prolonged silence.
Elephants on Acid
Cypress Hill
Sept. 28
Cypress Hill makes no compromises on Elephants on Acid, its ninth album. From the musical style to the subject matter, the group remains true to the house it built its career on. The album's gripping start sets the tone for the amount of thought that went into in every track.
The first track, "Tusko," references an elephant that in 1962 was infamously given a lethal dose of LSD in a failed science experiment. This acknowledgment of Tusko's unceremonious death is far from the only mention of elephants on the album. The record's artwork of an ominous Ganesh-inspired mural makes sense in context of the minute-long sitar intro on "Tusko." These musical and thematic elements carry over into the next song, "Band of Gypsies," which features an obscure monologue. The word "hashish" is repeated, introducing Cypress Hill's first vocals on the album.
Of the 21 tracks on the album, seven are either interludes or instrumentals. The short interruptions between songs help the album's story maintain a coherent flow, providing incremental breaks to digest some of the more poignant songs.
While it has been a while since the last Cypress Hill LP, the group hasn't lost touch with the subject matter that has always been so ingrained in its culture. In true Cypress Hill fashion (and as no surprise to anyone who follows B-Real or his exploits in hip-hop and rock supergroup Prophets of Rage on Instagram), these songs are not without the occasional enthusiastic marijuana reference. "Oh Na Na," "Jesus Was a Stoner" and "Reefer Man" are just some of the tracks her to center around his favorite leafy plant.
"Insane OG" offers insight into the reputation Cypress Hill knows it has. The album's most bass-heavy track, it comes out of the gate quickly with an aggressive and loud beat that sets the tone for the piece's blunt (pun!) yet smooth (another pun!) lyrics. The smooth flow and hard-hitting production remains consistent throughout. Lyrics like "Heavy hitter, got you stressing/ Got your blessing in my weapon/ Looking to my Smith & Wesson" can make the song feel intimidating by design. It serves as a powerful and energizing anthem.
DJ Muggs showcases his contributions on "Muggs is Dead," a song that leaves much up to the listener for interpretation. With a beat that seems more suited to a children's television show than a Cypress Hill album, circus-style music and a militant beat accompany copious cartoon-like voices repeating the words "Muggs is Dead."
The song doesn't develop or build up very much, but it's enchanting in its own right. Its Alice in Wonderland-esque style replicates the feeling of falling down the rabbit hole for the duration of the song. Seemingly out of place, it raises more questions than it answers late in the album.
Elephants on Acid ends with  "Stairway to Heaven." No; not that "Stairway to Heaven." A gloomier cut, it starts softly with a lackadaisical aura inexplicably similar to old-school Legend of Zelda video game soundtrack. A distorted woman's voice appears to sing the lyrics, "I'm building my stairway to heaven/ Though I keep finding my way back down." She repeats the line several times intermittently throughout the song.
Cypress Hill's vocals are sparse and appear for only one verse, leaving the woman's voice alone to take the musical lead. Make no mistake, Cypress Hill's lyricism has hardly lost its steam: "When I die, I probably won't make it to heaven/ No singing no sad songs," adds a grim layer to the already piece. The song ends with the same tune that the piece started with, followed by about 15 seconds of crickets chirping to play the album off. The outro gives listeners time to decompress and reflect on what the collection means foe Cypress Hill's legacy. This seminal collective remains as praiseworthy as it was at its beginning.
Follow writer Nick Gumas at Twitter.com/NickGGumas.