ALBUM REVIEW: Dan Deacon shares another psychedelic walkabout with 'Mystic Familiar'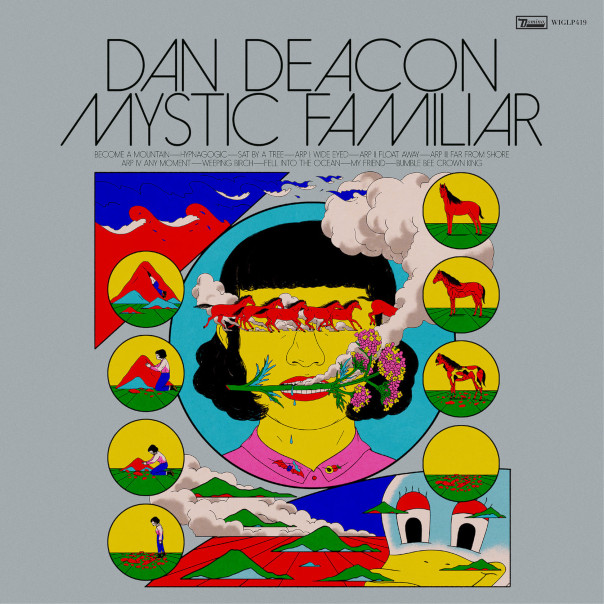 Dan Deacon came up in the indietronica scene in the late '00s, and by the mid-'10s he had established himself within a fairly unique niche. His hallmark songs use pitched-up vocals, offbeat instrumentation and percussive timbres to craft layers of cascading sonic textures and psychedelic frolicking. By his fourth album, Gliss Riffer, in 2015, he partnered with Adult Swim to create an incredible animated music video for his best song yet—"When I Was Done Dying."
Mystic Familiar
Dan Deacon
Domino, Jan. 31
Where does Dan Deacon go for his fifth album Mystic Familiar after reaching his most creative peak? Well, it's clear that he hasn't reinvented the wheel, as the tunes still lay within his usual style of punctuating rhythms and fluttering kaleidoscopic trances. But luckily, even his business as usual is pretty fascinating, and it's still worth taking a trip through his newest hallucinatory walkabout.
The album kicks off with an acoustic piano intro that eventually bursts into a majestic flurry full of orchestral celebration on "Become A Mountain." Deacon wants to make it clear that while he may be interested in introspection, his main goal remains finding the joy in life.
Following a short interlude, we're guided into the album's first single, "Sat By A Tree." Here, Deacon gets right down to doing what he does best by floating his modulated vocals over a driving beat and some dancing strings and synths. From this space, he asks us to consider mortality not as something to be afraid of, but something that can be embraced in order to live a better life. It ends up being the first highlight of the album.
The centerpiece of Mystic Familiar is a four-part sequence called "Arp." This isn't Deacon's first time attempting such a feat. America (2012) also had a similar arc called "USA."
This sequence begins with "Wide Eyed," where Deacon attempts to overcome some of his fears to a building cascade of persuasion that leads right into "Float Away." The same flurry of rapid-fire percussion combines with 8-bit noises to produce a textured rushing sound that could be equally appropriate scoring a scene of a spaceship racing through a new dimension as it could a troupe of dolls coming to life and dancing on their own.
Eventually a jubilant toy piano solo brings everything to a peak before we're floated back down to earth. "Far From The Shore" and "Any Moment" use a sax solo, vocoder crooning and some glitchy electronic feedback to provide a cool-down after the highs of "Float Away."
The second half of the album finds Deacon needing to coax energy back out of the ground. He does so on "Weeping Birch" by using more orchestral textures to evoke the feelings of a tree using pools of sunlight to grow and sway in the wind.
This serves as an intro to the most immediately compelling track on the album, "Fell Into The Ocean." The song reaches the same heights that Deacon has occasionally risen to on previous releases, like "When I Was Done Dying." Here he trades vocal verses with a higher pitched alter ego encouraging us to believe in ourselves and trust the fires burning within while pulsing synths and accordions decorate the periphery.
Finally, some 8-bit arpeggios and backing vocal tracks set to an electric bass to declare that he's still alive on "My Friend," before closing things out with "Bumble Bee Crown King."
Most of the songs on Mystic Familiar use the joyful glee inherent in Dan Deacon's music, as well as themes of natural growth and beauty, to provide some fairly inspirational and empowering feelings. Losing oneself in the inherent oscillating vibrations within his songs is not unlike being in a restorative or meditative state. And while it doesn't beat out Gliss Riffer and may not convert legions of new fans, Mystic Familiar is still a worthy addition to the discography of one of the most unique indietronica artists.
Follow writer Josiah Skallerup at Twitter.com/josiahskallerup.