REVIEW: David Crosby experiences another bright day on 'For Free'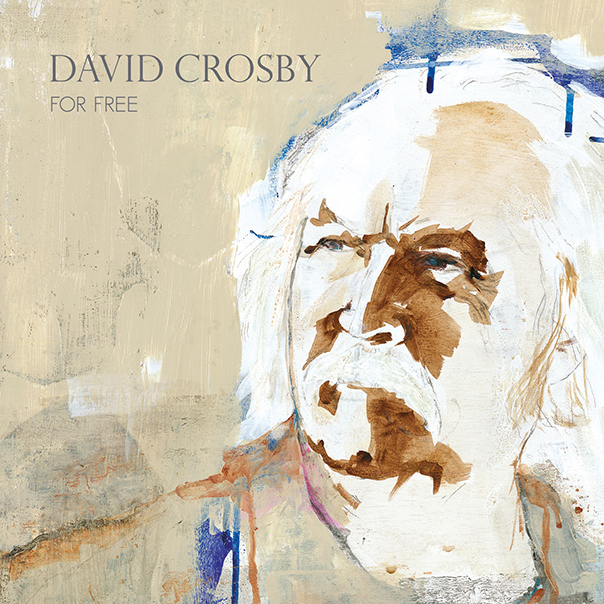 The singular career of folksinger David Crosby is, by and large, defined by his hippie coterie. Coming up and partying with many of the biggest names in the West Coast folk scene—such as Joni Mitchell, Neil Young, Grace Slick, and Jerry Garcia, to name a few—Crosby seemed to belong. The liner notes of his first solo album, a meta-collaboration from 1971, read like a who's-who of 1960s folk and psych-rock. His latest album features cover art painted by Joan freakin' Baez.
For Free
David Crosby
BMG, July 23
7/10
But despite many high-profile partnerships with the greats, his music and lyrics hint at a cloaked essence. Behind his twinkling, genial stage persona lies the irascible and remote truth of a seriously damaged personal life. His foibles and failures, extensively chronicled in Cameron Crowe's documentary "Remember My Name," have come to define him as much as his success.
In the 2010s, stoking a renewed commitment to his craft, David Crosby became prolific for the first time. For Free is his fifth solo album in a string of excellent recordings, all made in his 70s. There are no great departures here, stylistically. Crosby displays his usual knack for lush chordal swells and gradual dynamics. On single "River Rise," he layers vocal harmonies on top of counterintuitive chord changes. The song happily avoids facile resolution, emphasizing suspended thirds and a sense of excitement.
But Crosby has more tricks up his sleeve. Stylistically, the songs land between soft rock and new-age vocal jazz, ripe for boutique coffeehouses and gem shops. As anemic as that may sound, he uncannily pulls it off. Neat guitar work adds flavor to oddity "The Other Side Of Midnight" and the reflective "Boxes." Best of all, Crosby always brings some swagger. Donald Fagen of Steely Dan guests on "Rodriguez For A Night," a funk-infused tale of vicarious flirtation. Meanwhile the confident "Ships In The Night" fits together like a stoic jigsaw puzzle.
This respectable range suggests mere coincidence does not explain Crosby's string of iconic roles. Having jangled with The Byrds during their chart-trotting years, Crosby is still best known as the C in CSN(Y), who remain a household name for the Woodstock generation. His songs, such as "Almost Cut My Hair" and "Guinnevere," still rank among the toughest and most definitive of the electrified folk era's wayward renegade ethos. Subsequently, as that scene was falling apart, Crosby masterminded the quintessential record for Marin County, the boho-bourgeois anomaly If I Could Only Remember My Name.
A true troubled torchbearer for the defiant ethos of 1960s counterculture, Crosby still carries a piece of it with him over a half-century later. This is clear from the title track, a Mitchell cover, which gets an update as a duet with Sarah Jarosz. Perhaps a tad less cloistered than the original, Crosby and Jarosz's arrangement is slightly stripped down with rich acoustics. On more kinetically charged songs, his rebellious counterculture spirit still burns. "Let the river rise," he sings on the opener, digging in for the long haul. Crosby assures us he is "not gonna wash away."
Not as balanced as 2016's exquisite Lighthouse, For Free nevertheless surpasses his last album. Where the too-slick Here If You Listen felt somewhat subdued, For Free sounds assured and quite joyful. While David Crosby typically excels in his introspective mode, here, oddly, the sentimental tracks are among the album's weakest. Above all, this results in a strangely uplifting listening experience. His voice remains clear, strong and versatile. Even as he approaches his 80th birthday, he embraces the future and the struggle that carries us to it.
The final track, "Won't Stay Long," begins as an uncharacteristic dirge. Crosby's voice sounds thin and resigned as he exhales a lifetime filled with regrets. Against an evening wind and the gathering dark, he is no match for the mysteries of time. Yet the song takes a more resolute turn in its second half. Crosby musters a bit of anguished passion for one more noble push. "I just need to be close today," he sings, longing again for togetherness. Yet in the next breath, he portrays man's abiding solitude in stark, silent images: "There's a sliver of air between the water and the ice, it's where I live, where I breathe." A need to be close and a resolve to remain unknowable; it's the taut and stirring message he has been sharing all along.