Dayglow builds a stylized, summer sanctuary on 'Harmony House'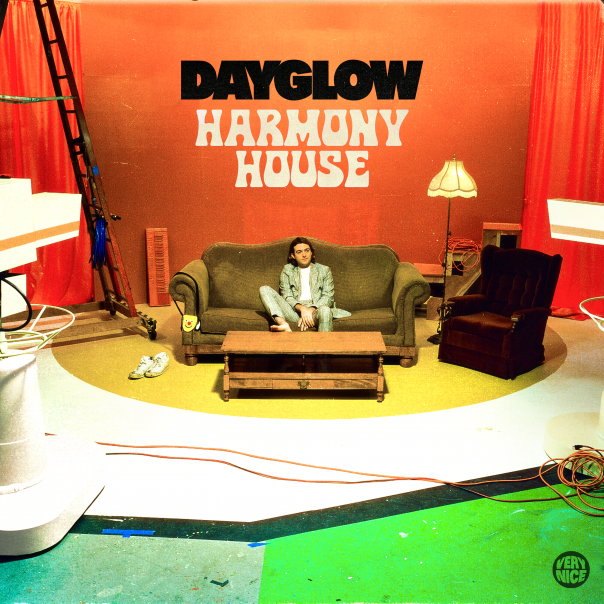 Some activities I can picture myself indulging in while listening to the new Dayglow album, Harmony House: Sitting with my morning coffee, the sun warming my skin. Weeding the patches of dirt between a sprouting garden. Peeling a peach as the juice drip down my forearms. Harmony House is a summery bedroom pop collection for long, low-key days.
Harmony House
Dayglow
Very Nice, May 21
7/10
Twenty-one-year-old Sloan Struble has been crafting songs for the album since he was still living in college dorms. He began writing shortly after finishing his 2018's debut, Fuzzybrain, and before he officially quit school to pursue a full-time music career. On Harmony House, there are still fragments of his college days on songs like "Medicine," a funky rock track where he reminds himself that he's best suited for himself, not as someone's antidote. Written in dorms, the drums and wonky guitars create the piece that encapsulates the overall themes of growth and learning most succinctly.
Dayglow drew inspiration for the album while listening to '70s and '80s soft rock and binging on "Cheers," whose intimate format helped created a sense of community and friendliness he tried to incorporate into the project. The retro styles of the show show inspired him to compose songs on the piano, an attempt to give them independence and a change from his debut, where he wrote on guitar.
The album was preceded by singles "Something," "Close to You" and "Woah Man," each introducing the project's styles inspired by retro fashion, colors and dancing. On "Something" he questions his identity and the part of him that makes him special over an easy melody that reoccurs through the album. It starts here in the opening and quietly runs 'til the end.
The video to "Close to You" features the singer vibing in a powder-blue suit while he dances between various blocks and colored backgrounds, singing about choking up when he's around the person he's crushing on. And on "Woah Man," a sunny, glowing beat helps Dayglow discover that change really only happens when you accept it's coming.
Soon after leaving college, Struble came across a book of poetry with a lyric that later found its way onto Harmony House's "December," about seasonal depression, pacing the room and wondering when life is going to get exciting again.
"So my friend, just remember every year has a December," he sings over synths, a keyboard and light trumpet playing. "That's what seasons do, they change." It's a simple but all too important fact in life.
"Crying on the Dancefloor" is an album highlight, similar in emotion and style to LANY's Malibu Nights, with additional trumpets blended in. With a fuller sound, the song is emotional and pure lo-fi pop in lyrics like, "I thought that I could keep myself together/ But I fell apart when you walked through the door/ Now my eyes are looking like the weather/ I'm crying on the dance floor."
There are elements of Troye Sivan's deeply saturated Blue Neighborhood aesthetic on "Into Blue," with a visceral, twinkling and shimmering beat. It features a dreamlike echoing chorus about getting over a relationship where the two people had very different intentions. "Moving Out" picks things up again for a groovy, upbeat song about discovering someone's true colors.
"No one's perfect/ So let go of that burden/ That's got you working all night," he sings, the music blending into a long, flute-led outro.
Harmony House ends with "Like Ivy," where Dayglow wonders if he's really living life for himself or if he's in some strange simulation. He leans toward the simulation, forever growing like the ivy creeping and latching itself to buildings and structures around him. Growing up is a process, and he's clearly not done yet.
Follow Domenic Strazzabosco at Twitter.com/domenicstrazz and Instagram.com/domenicstrazz.