ALBUM REVIEW: Deafheaven uproots with Ordinary Corrupt Human Love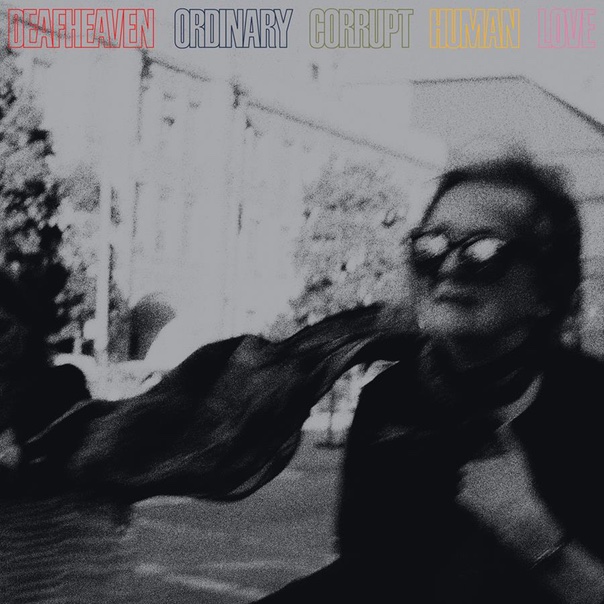 Sunbather made Deafheaven the Metallica of post-black metal in 2013, bringing mainstream awareness to the trend of melding black metal, post-rock and shoegaze. The Bay Area quintet has found acclaim by assuaging strangled shrieks and wall-of-sound riffs with pleasant chord values and melancholy more akin to screamo and indie-rock.
Ordinary Corrupt Human Love
Deafheaven
July 13
If the visceral anger of 2015's New Bermuda sent metalheads running for the nearest Marduk album with its palatability, then its fourth LP will further their polarizing nature. Ordinary Corrupt Human Love is one of Deafheaven's most daring works.
"You Without End" subverts expectations right out the gate. It extends a vibe similar to that of Sunbather's interlude "Irresistible" into the band's most unabashedly poppy song to date. While it does hold to the moody crescendos and big reverb fans expect, the song's uplifting piano chords bring Coldplay to mind more than anything remotely aggressive.
Vocalist George Clarke's screams almost feel out of place within such a euphonic soundscape, but find their place within the intimate scenario created by female spoken word passages as guitarist Kerry McCoy's twangy guitar lines an oddly enticing classic rock guitar solos. Though not particularly technical, and certainly not heavy, this track is a vital stepping stone in Deafheaven's usage of extreme music as a stepping stone into heartfelt love songs.
Singles "Honeycomb" and "Canary Yellow" fall closer in line with Deafheaven's staple. The former's warm atmosphere and bodacious intent augment speedy tremolo-picked melodies, voracious drumming and a whacking backbeat with McCoy's almost post-grunge guitar solo and lackadaisical strummed progressions. The band's less-is-more songwriting takes center stage in the song's angelic outro, in which guitarist Shiv Mehra's inventive chord changes continually contextualize McCoy's dreamy four-note melodic line.
An emergent choral drone transitions into the latter track. "Canary Yellow" begins with proximal sonics driving celestial math rock instead of metallic brutality. Even Daniel Tracy's exacerbated blast beats and Clark's demonic snarls impart passion rather than anger as ominous descending tremolo guitar lines resolve into major chords. Deafheaven's first use of clean vocals carries the into the abysmal dawn, monotonically repeating, "On and on and on we choke on/ An everlasting, handsome night."
Clarke's caterwauling "My lover's blood" at the end of each sung line encapsulates the album's dichotomous joy and sadness. The bright single-note guitar leads and energetic beats on both these cuts already merit comparisons to Smashing Pumpkins rather than any Scandinavian black metal bands. But the album's deep cuts stray far from expectations.
Deafheaven's foray into straight-up shoegaze beckons listeners into a placid cocoon of buoyant guitar ambience and vocal choruses. Bassist Chris Johnson takes more precedence on this track, as does Tracy's nuanced beat, providing a harmonic and rhythmic backbone to a fleshed-out presentation of components the band until now limited to interludes. Not to be outdone, the romantic ballad "Night People" takes a quantum leap via Chelsea Wolfe's haunting voice spiraling alongside Clarke's lower octave into a strangely harmonious cross section of death gospel and gothic folk. These two cuts break Deafheaven out of its stylistic boundaries, creating a ripple effect heard even in the album's most familiar offerings.
Deafheaven revels in its breakout sound in "Glint," as Tracy's ride cymbal trickery and glistening guitar strains give way to pounding double bass drum rolls and tremolo, before inevitably tumbling into a triumphant surge of overwrought intensity. Though the band can compete with the satanic metal elite in sheer magnitude, it always keeps one foot in lighter sounds. Tight execution evidences each member's mutual understanding of what should go where, allowing Ordinary Corrupt Human Love to continue Deafheaven's conceptual exploration of love at its most wonderful and its most broken.
"When a fawn stumbles into the raids/ honeydew high and deep in afterglow/ Mind swarming on purple sand verbena/ I forgive its delusion," Clarke screams on the closing track, "Worthless Animal." He's mourning the transience of life and the loss of innocence in poetic soliloquy. Contrasting drifting modulations and gurgling ambience with harmonized leads and power chords, its final passage even borders on U2-style arena rock. But it doesn't lose sight of the consistently compelling vision.
Deafheaven has no problem with leaving its stylistic tropes behind, because its confidence in the craft smoothens even the strangest turns. For all the uncharted territory it traverses, Ordinary Corrupt Human Love forms into a cohesive, powerful and memorable outpost in Deafheaven's quest to reinvent itself.
Follow editor Max Heilman at Twitter.com/madmaxx1995.