REVIEW: Deap Lips (Flaming Lips and Deap Vally) swear by collaboration on debut LP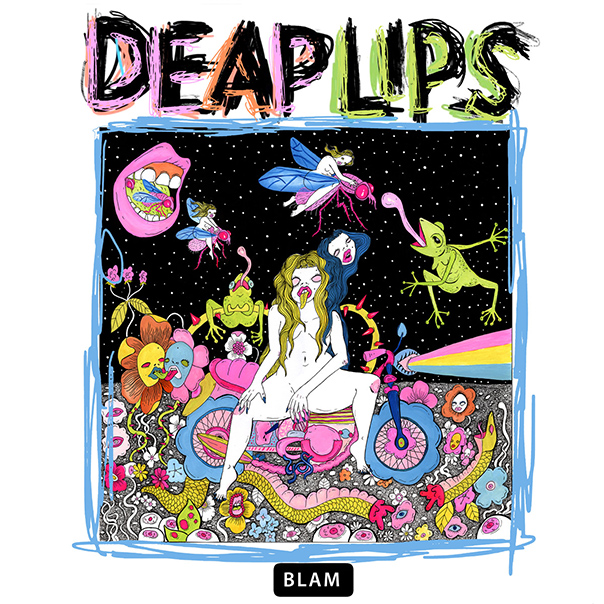 The morning after Donald Trump was elected president, I cried in my car like many others with a knowledge of history and a functioning ability to empathize, listening to The Flaming Lips "Waiting for Superman." I was sad and, looking back, probably a little naive, wondering how the political situation in America could have gotten so heavy so quickly. Three years later, older, wiser and quite a bit angrier, I'm loving Deap Lips, a collaboration between The Flaming Lips and the L.A. rock duo Deap Vally.
Deap Lips
Deap Lips
Cooking Vinyl, March 13
The eponymous album is the perfect listening material as we approach this year's election, with its razor-sharp songwriting and liberal use of the F-word.
Perhaps the best example of this profanity-laden electoral commentary is found on the two-minutes-long "The Motherfuckers Got to Go," during which Deap Vally's Lindsey Troy repeats the song's title several times against a Flaming-Lips-sounding backdrop composed of Steven Drozd's immense drum beats and the bleeps and boops common to the Lips' synthesized mayhem.
The project between the mutual fans was a long time coming. No strangers to collaboration, Deap Vally's Troy and Julie Edwards have worked with everyone from Canadian performance artist Peaches to Warpaint's Jenny Lee Lindberg, French singer-songwriter Soko and Savages' Ayse Hassan. After meeting The Flaming Lips in 2016, Troy and Edwards made a pilgrimage to Oklahoma City to record with the band at its Pink Floor Studios.
But Troy and Edwards arrived in Oklahoma City without any material prepared. So Flaming Lips members Wayne Coyne and Drozd set to work, dusting off some unused songs from other projects and composing new ones, including the album's opener, the overdriven and syncopated "Home Through Hell." The artists were committed to shoehorning both bands' names into the lyrics. Mission accomplished: The song includes the lyrics: "Riding along through the deep valley where the dragons of madness roam" along with, "Now I think I tried too hard to shut the mouth of doom..taking all my wisdom from the flaming lips of youth."
On the album's first single, "Hope, Hell, High," Troy lends her distinctive voice, which sounds more than a little like "Ex's and Oh's" singer Elle King, to a silky acoustic ballad that grows forceful during the hard-hitting chorus with Edwards singing, "It's a motherfucker, it's a motherfucker, blam, blam, blam, blam blam, blam, blam, blam, blam, blam!"
Originally envisioned for a Flaming Lips collaboration with Miley Cyrus that never happened, the album's cover of Steppenwolf's "The Pusher" synthesizes the original's overdriven grit, transforming it into an airy, bleepy, and Auto-Tuned sci-fi soundscape. Ironically, the anti-drug anthem sounds pretty doped-up, and Troy can't resist adding an Oedipal element to the line, "Lord, he'll leave your motherfucking mind to scream."
Gone for the most part are Deap Vally's lo-fi Sabbath-like power chords, supplanted by The Flaming Lips' sci-fi hippy vibe from their Yoshimi Battles the Pink Robots era. The album's music splits its personality between strummed acoustic guitars and psychedelic synthesizers, usually at the same time. The juxtaposition is on full display for "Love is a Mind Control," a song The Flaming Lips originally worked up for singer-songwriter Kesha.
The album tempers Deap Vally's foul-mouthed passion with The Flaming Lips' experience and sonic sorcery. The resulting album somehow manages to sound both brash and mannered. With the next presidential election still seven months away, there will be plenty of opportunities for colorful language. Luckily, with the new Deap Lips album you'll be able to replenish the supply of F-bombs you've "got left to give."
Follow writer David Gill at Twitter.com/songotaku and Instagram/songotaku.