ALBUM REVIEW: Deerhunter paints bleakly modern picture on latest LP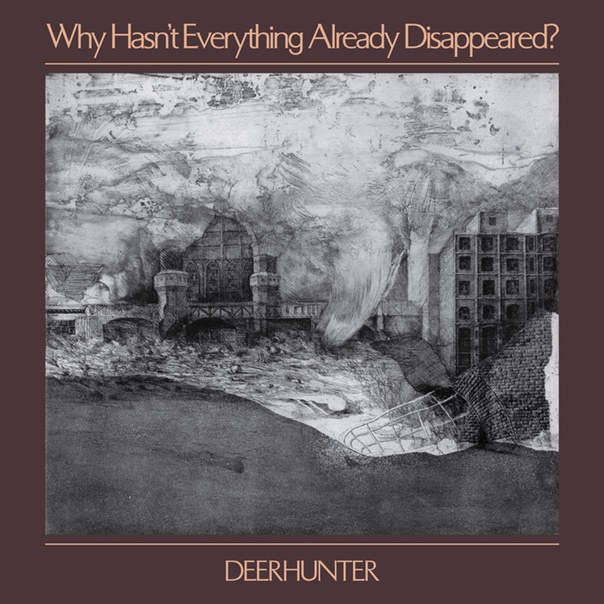 Deerhunter's latest offering, Why Hasn't Everything Already Disappeared?, provides a refreshingly cohesive narrative by the Atlanta indie rock band for current times. The record not only tackles the struggle of fading individualism in Western society due to oversharing on social media (and the media in general), but discusses the prospect of eternity in a haunting yet optimistic way. By illustrating its perspective on the modern world, building on a variety of arrangements and bolstering the record with an impressive guest list, Deerhunter intimately reacquaints listeners with its sound after a few years away.
Why Hasn't Everything Already Disappeared?
Deerhunter
4AD, Jan. 18
Why Hasn't Everything Already Disappeared? is an appropriate title for an album about the state of the world Deerhunter sees. "No One's Sleeping" spotlights America's social unrest and confusion with a directness not often heard from an indie rock band. Deerhunter uses the track to imagine a place where people have found their peace once again. "What Happens To People?" also discusses the ways in which harmful opinions and combative nature affect people. It delves into how people often "quit holding on," succumbing to negativity and hatred while trying to fight it. While there aren't a ton of feel-good moments on the album, Deerhunter's lyrics pointedly tackle relevant issues without beating around the bush.
Despite its bleak subject matter, this album's composition and musical arrangements maintain a pleasant mood. Deerhunter's stylistic staple aquires a number of different experiments, evolving without divorcing the band's old ideals. "Détournement" stands out for its experimentation. Its unique combination of synths and drumming in the background also includes a robotic echoing voice monologuing about the uncertain future of various places on earth.
In contrast, single "Death in Midsummer" is the most familiar with its snares, pianos and steady beat that work alongside the story of a small community. There are songs here that might as well exist in different dimensions, but the veteran band ensures that tracks both accessible and obscure have their place in the intricately woven whole.
Deerhunter manages to pull together a stellar list of contributors to further elevate the sound and composition of the album. Welsh singer-songwriter Cate LeBon appears on two of the tracks, providing harpsichord on "Death in Midsummer" and singing on "Tarnung." Tim Presley of White Fence  offers up his guitar-playing skills on "Futurism." Producer Ben H. Allen III covers synthetic bass drones on "Plains," while Ian Horrocks' contrabass rounds out "Nocturne." Not only do these features provide a certain level of depth to the sound of the album, they also show that Deerhunter is not afraid to consult others in pursuit of a vision.
After eight albums, Deerhunter continues to push its sonic storytelling into uncharted territory. Why Hasn't Everything Already Disappeared? is a unique snapshot into where the band currently stands both in the musical landscape and the world around it through a combination of compelling narrative, unique composition and all-star guests.