ALBUM REVIEW: Dinosaur Jr. turns the yearning up to 11 on 'Sweep It Into Space'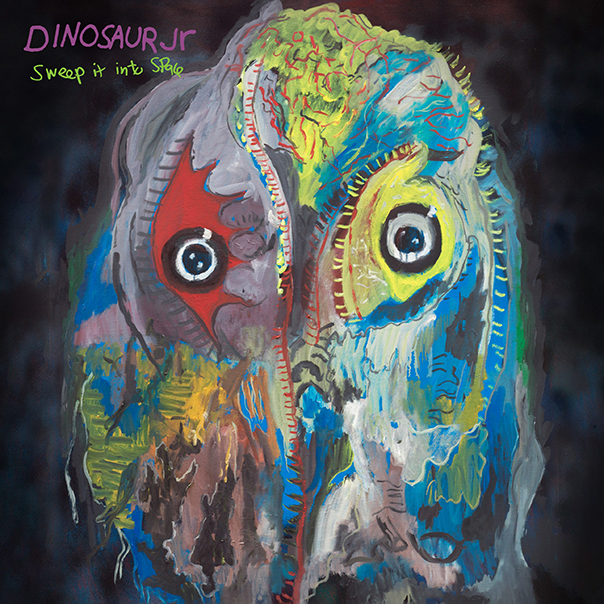 In the world of rock and roll, desire comes in two forms. First, in raunchy songs like Def Leppard's "Pour Some Sugar on Me," desire is instinctual, libidinous, and destined to be fulfilled. But among bleaker artists like The Cure and The Killers, desire is elusive, born out of absence and longing. They sing with a nostalgic passion for what could've been, rather than what is about to be. J Mascis, the singer-guitarist of Dinosaur Jr., has learned to distill his adorably mopey brand of overdriven teenage ennui with chemical precision, probably because he's been doing it for more than 35 years.
Sweep It Into Space
Dinosaur Jr.
Jagjaguwar, April 23
8/10
That's five times longer than anybody spends actually being an adorably mopey teenager.
Sweep It Into Space, Dinosaur Jr.'s 12 studio album, finds the band still has plenty to be winsome about but shows no signs of turning down its amps anytime soon.
The album's opener, "I Ain't," swirls with Sonic-Youth-sounding chords punctuated by drummer Murph's tubby snare. Mascis delivers the lyrics with his signature flanneled lilt, singing, "I won't break it/ No mistake/ I just can't go in alone/ I can't find a space inside you/ I can't leave it alone." Like Hemingway, Mascis uses vague language to suggest an emotional intensity that's difficult to put into words.
But Mascis isn't just a brokenhearted whiner; he clearly spent his disaffected and misunderstood teenage years locked in his room learning to absolutely shred an electric guitar. Sweep It Into Space features a scorching, fuzzed-out guitar solo on almost every song. His' exuberant fretboard acrobatics provide an effective counterpoint to the sullen vocals. "I Met the Stones" begins with razor-sharp power chords that harken back to the hairspray and leather of '80s metal before drifting off into wandering, fuzzed-out guitar noodling.
The frontman is joined on the album by fellow post-rock guitar hero Kurt Vile, who provides some dueling lead work with Mascis on "I Ran Away," apparently inspired by the harmonized guitar work of Thin Lizzy. While the album runs the gambit from the poppy, tinkling piano and distorted guitar on "Take It Back" to the country-ish acoustic strumming on " I Ran Away" and the earworm syncopation of "Hide Another Round," every single song could successfully be identified in under five seconds as Dinosaur Jr. by anyone who wore a flannel shirt between the years of 1993 and 1996.
Even the two songs with vocals by bassist (and Sebadoh founder) Lou Barlow, bear the band's unmistakable psychedelic swirl. The throbbing, bass-heavy and angular "Garden" ignites with a powerful chorus as Barlow sings, "Don't make it harder/ Hand me your hand, no time to wait/ Where is the garden?/ And when do we move?/ Love how you move with me." The song's wall of sound manages to sit equidistant between trashy grunge and celestial shoegaze.
It's a testament to the band's vision that nearly 40 years into its career, Dinosaur Jr.'s music still sounds fresh and vibrant. Even stranger, these old graying souls haven't become a parody of themselves. Sweep It Into Space crackles with youthful exuberance, perhaps tempered by time a bit, but still more than the amplifiers can handle.
Follow writer David Gill at Twitter.com/songotaku and Instagram/songotaku.