ALBUM REVIEW: Dirty Heads bring force of gravity with 'Super Moon'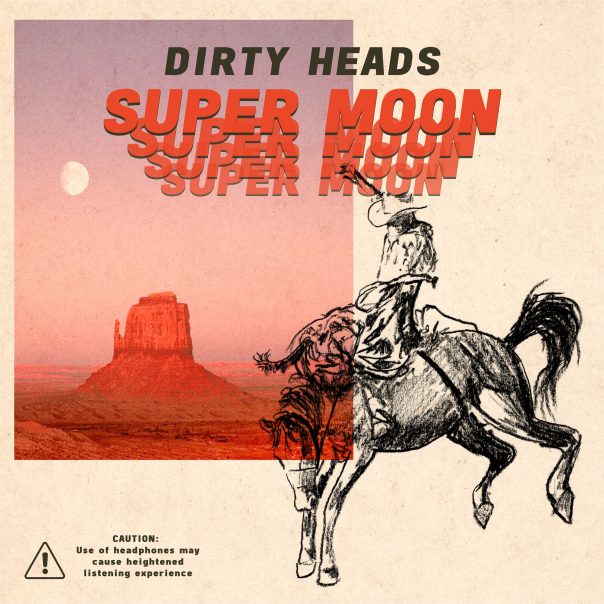 Dirty Heads' will take you on a journey out of this world with their newest album, Super Moon. The band's seventh album charges a familiar combination of ska and hip-hop and with a compelling thematic backdrop. The message remains universal: that life is precious even in the dimmest hours. This message appears numerous times throughout the album and in a plethora of ways.
Super Moon
Dirty Heads
Five Seven Records, Aug. 9
The opening, title track rides in on a stallion with resonant trumpets akin to spaghetti Western movies. A blend of 2000s reggae and alternative rap takes over with a powerful pull, becoming a source of gravity for high-flying melodies.
Singer Jared Watson has compared Super Moon to the soundtrack of a "'70s sci-fi Western car chase movie." There is probably no better way to depict it. Many passages elicit the sensation of racing down a desert interstate in the DMC DeLorean from Back to the Future.
"Lift Me Up" transitions from the sci-fi Western sound with the band's more familiar pop-reggae vibe, but shifts over to an ethereal hip-hop beat of "Tender Boy." This third track's relaxed, minimalist melodies center on pushing forward through the hardest of times, appreciating life for what it is: "The world outside is ending/ We go on and on and on."
Deeper cuts like "Horsefly" simmer the energy down with somber piano chords and acoustic guitars,  but the more heavy-hitting vibes quickly return. Watson chants "I love my life/ I love to live" over a half-time shuffle beat. He imparts a contagiously positive sensation as he bounces through this cut with the upbeat motif, "I feel like I could fly."
"Fear and Love" stands out for not only keeping up the hard-grooving beats and dynamic bars, but skewing away from the album's main theme to address how complicated love and relationships have come to be in modern society. As Watson sings, "In the end it's only fear and love," it's simpler than it may seem. In this way, Dirty Heads preserve reggae's history as easy-going, yet resolute protest music. Its swaying, slow-moving vibe rises above its increasingly disconnected, agitated surroundings.
A fantastical Western vibe returns on "Cloudlifter," as Watson vividly describes an encounter with a unicorn that eventually takes him to a mystical place that is "soft, fresh, so full of love." The ballad presents a metaphorical depiction of how he imagines life in utopia. The song's reverb-laden guitar ambiance and psychedelic vocals contribute to its otherworldly aesthetic.
After the heartbreak-centered lyrics and rock and hip-hop combination of "Come Back Around," the band finds strength within a similar style during "Lighthouse." One of Super Moon's more tranquil tunes, its warm ambience carries over into "Crow Bar Hotel."
Closer "Slow Down" lands the album with a final affirmation of life with lyrics like "We're only here for a minute/ So everybody slow down … Life is beautiful/ Let's just try to breathe it in." Dirty Heads draw from the most empowering elements of its genre amalgamation to end Super Moon on a high note. It ends with the initial trumpet fanfare to bring the album full circle.
Super Moon is enriches Dirty Heads' reggae, hip-hop and alt-rock aspects with a well-defined scenery, pushing themselves as songwriters and storytellers while highlighting a palatable message of hope.
Follow writer Amelia Parreira at Twitter.com/AmeliaParreira.