ALBUM REVIEW: Dizzee Rascal bombards with bars on 'E3 AF'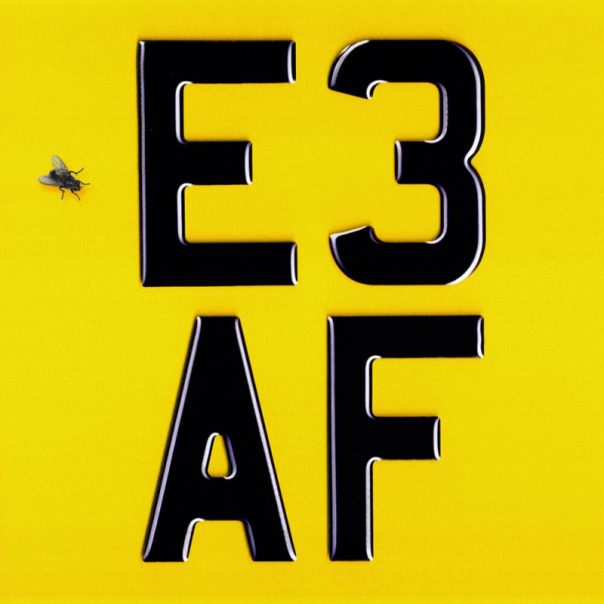 Legendary London grime-rapper Dizzee Rascal returns to add yet another gem to his ongoing critically acclaimed discography with E3 AF. For those outside of the U.K. hip-hop scene, Dizzee Rascal is known as one of the formative influences of the sub-genre, having been mentored by fellow grime-godfather Wiley. Dizzee has been influenced by a wide array of American artists like Lil Jon, Three 6 Mafia and Timbaland. He's even partnered with the now-defunct underground hip-hop label Definitive Jux on 2007's Maths + English.
E3 AF
Dizzee Rascal
Island Records, Oct. 30
7/10
E3 AF opens strong with "Happy Accident/God Knows" as plunking bells transition into warping, pounding synths, and Dizzee gives insight on his pursuit of success. This transitions into the high energy track "What's That" and its pinging synthetic strings with heavy clanging, reverb-laden percussion. Single "L.L.L.L. (Love Life Live Long)" takes production notes from the likes of Kid Cudi's early work, with fuzzy a synth melody paired with flutes in the background.
It's a braggadocios track with infectious energy that's certain to get listeners' blood pumping. "I don't need gang, I'll back myself/ Dippin' and whippin' in black, I'm stealth/ Fly off the handle, fly off the shelf/ Bury myself with stacks and wealth/ If I die now, what's the cards I'm dealt?" he spits.
"Body Loose" brings back the high plucked strings from "What's That," paired with a deep and grand bass line that screams for b-boys to throw down the cardboard and spin out to this absolute gem of a track. "You Don't Know" opens with a high-pitch soulful vocal sample before transitioning to a house beat carried by what can only be described as "Axel-F-Theme"-adjacent in terms of its melody.
"Niona/Energies + Powers," featuring Steel Banglez and Alicia Harley, opens with fuzzed-out 8-bit synths. It's an emotional piece, which, accompanied by Harley's vocals on the chorus, makes for a very sentimental and longing song.
It's at this point the album takes on a more noticeably aggressive demeanor in terms of sound and lyrical content, starting with "Eastside" and its ominous synths with the occasional blaring sirens. As the song's low bass line begins, it kicks into high gear alongside the heavy percussion and Dizzee's breakneck rapping speed. The following track, "Act Like U Know," features Smoke Boys and is also sure to enthrall audiences. It has a warped and chopped melody paired with Dizzee's boastful bars.
This aggressive chapter of the album concludes with the masterful "Don't Be Dumb," featuring Ocean Wisdom. The ominous piano opening and subsequent beat has an anxiety-inducing quality, as Dizzee Rascal and Ocean Wisdom trade verses back and forth at increasingly faster and faster speeds, while still delivering sharp lyrics that are sure to produce some notable quotes.
The final track, "Moon Ting," returns to the somber quality of "Niona/Energies + Powers." The soulful intro vocals serve as a cool-down to close out this high-octane album.
Follow editor Tim Hoffman at Twitter.com/hipsterp0tamus.