ALBUM REVIEW: Kool Keith and co. satisfy nostalgia with new Dr. Octagon LP Moosebumps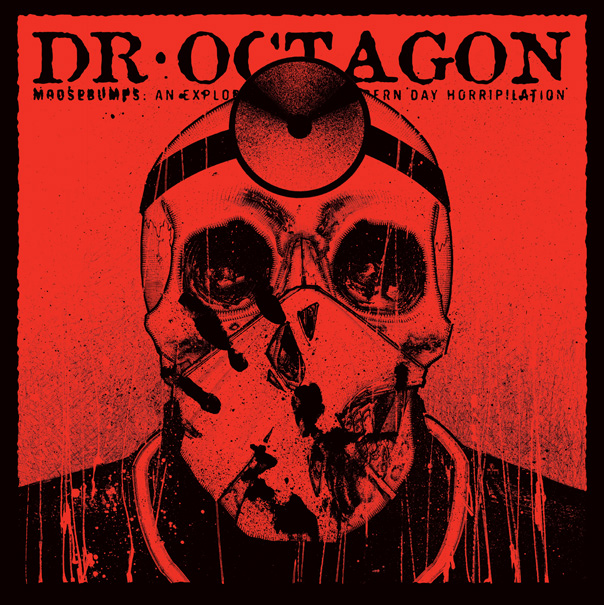 In the late '90s, word about Dr. Octagon was passed from person to person, on burned CDs and dubbed tapes. He was a larger-than-life cult figure, with a following of hip-hoppers and punks alike. He was a new Screamin' Jay Hawkins, a new Captain Beefheart; an avant-garde rapper whose songs were so offbeat and brilliant that rumors circulated as if to rationalize their existence. I remember hearing that he'd been given shock treatment at Bellevue and had the world's largest collection of porn. Later I learned that Dr. Octagon was only one of the many personas of prolific rapper Kool Keith, one that he donned when collaborating with the eminent producer "Dan the Automator" Nakamura and scratching legend Qbert.
Moosebumps: an exploration into modern day horripilation
Dr. Octagon
April 6
More than 20 years after its first album—1996's seminal Dr. Octagynecologist—was recorded in Nakamura's basement studio in San Francisco, the trio has reunited to release a new record: Moosebumps: an exploration into modern day horripilation. It's an album that satisfies nostalgia in the same way as a reverent sequel to a cult film.
In this mature age of hip-hop where experimental sounds and shifting personas, from Kendrick Lamar and Odd Future to some of the weirder trap and emo-rap, are widespread—a musical era Dr. Octagon had no small part in innovating into being—it's impossible for a Dr. Octagon record to be as ground-breaking as it was. The trio solves this by remaining grounded in the classic sounds of '90s underground while bringing in elements; not from after its predecessor in an attempt to be "up to date," but from parallel styles and genres. The result is a retro-futuristic vision of a long-lost studio album from, say, 1999.
Single "Flying Waterbed" is an example of this forward-to-the-past approach, featuring lush, reverb-soaked 1960s pop sounds to evoke a psychedelic mood. It's pure, timeless ear candy, crafted for countless listens, and Kool Keith's canvas is as gritty and cosmic as ever, "snorting stardust" with the "keys to flying trucks." "Area 54" is another track that manages to sound both fresh and timeless, with squonk-jazz saxophone, jagged piano and analog drums bouncing under Keith's elastic flow and surreal scene painting.
The album opener, "Octagon Octagon" is like a trip through Philip K. Dick's surreal, paranoid novel "Ubik"—an omnipotent brand endlessly reproduces itself, a strange circumstance reported dryly as ever by Keith. Just the facts: a straight report from the unconscious—the William S. Burroughs of rap.
Not every moment on Moosebumps is riveting. "End of Polka Dots" has some far-out sonic experimentation at the end, but otherwise feels a bit too familiar; "3030 Meets the Doc" has Deltron guesting in a joint effort that feels a little obligatory. And "Power of the World" feels retro in a way I didn't expect: With its references to the Obamas and Lady Gaga, it feels like Dr. Octagon is lagging just a little behind. Kool Keith's over-the-top pervdom also feels like a different gamble these days, but on this album it's mild compared to prior efforts like 1997's Sex Style. Like always, it treads the line between shameless kink and spoof on rap's commercialization of sex.
Overall, Moosebumps is a worthy follow-up to a hugely influential record, with many moments of the unpredictable and the musically accomplished. You get the sense that Kool Keith, Dan the Automator and Qbert, now in their 50s or close to it, were having fun revisiting their collaboration by taking plenty of moments to just throw paint at the wall and see what sticks. "Bear Witness IV" has such a long instrumental stretch it starts to feel like a DJ Shadow album. "Karma Sutra" chugs along in a heavy metal mood that's sure to please the rocker crowd that loved "Dr. Octagynecologist."
The album ends with a stellar offbeat thumper that's one of its best: "Hollywood Tailswinging," with a melange of new styles and sounds: a heavy rock bassline strung under eerie loops, a throbbing beat and sinister hi-hats, interrupted by underwater analog bleeps. Keith takes us on a tour of a hallucinatory Los Angeles populated by cops and art cars, dinosaurs and gas stations, extraterrestrials and cartoon animals. It's great. You might even break out in moosebumps.
Follow reporter Justin Allen at Twitter.com/_justinallen_ and justinallen.us.