ALBUM REVIEW: Echosmith perseveres and grows on personal 'Lonely Generation'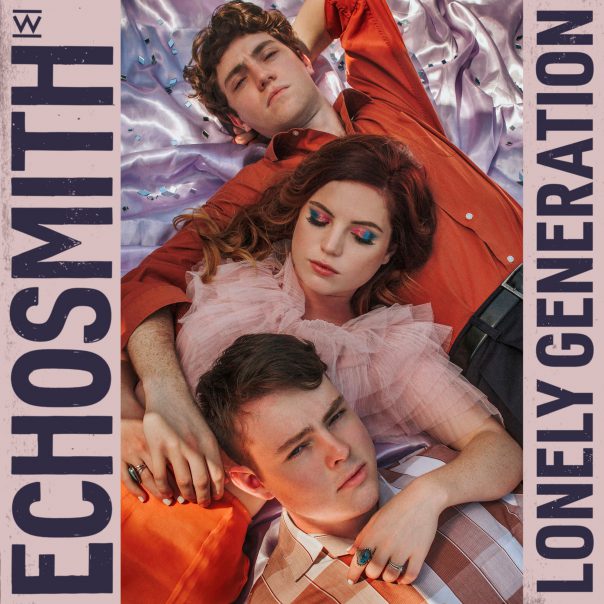 Patience pays off for Southern California indie pop trio Echosmith. Seven years following breakout debut Talking Dreams, the Sierota siblings return with sophomore LP Lonely Generation. The passing years weren't spent idly. An attempt at a full-length follow-up turned into 2017 EP Inside a Dream. Echosmith has also found success collaborating with Audien and For King & Country while vocalist Sydney Sierota popped up from time to time as a contributor on other musicians' work.
Lonely Generation
Echosmith
Echosmith Music/ADA, Jan. 10
In 2018, the group launched its own imprint label through a deal with Warner Music. That independent spirit became the foundation of Lonely Generation. This 12-track album gets back to what Echosmith does best: well crafted and infectious alt-pop.
While not attempting to reinvent the wheel, Echosmith also doesn't fall into the typical pitfalls that come with writing independently. The band didn't spend its energy trying to replicate what other indie artists have been doing or strayed into indulgent experimentation. The songs are well-constructed, catchy and sport a maturity well beyond the members' relatively young age.
The album opens with the title track, a breezy acoustic anthem about addiction to social media and mobile devices. "We're the lonely generation/A pixelated version of ourselves/ Empty conversations/ I've disconnected, now I'm by myself," Sierota sings with a gang chorus melody. Sierota's sining also shines on the more danceable track "Diamonds," amid sparkling synths.
The group opted to record the album in a home studio on vintage analog and acoustic instruments. The results are noticeable. Even the most upbeat tracks remain understated and full-bodied, allowing Sierota's voice to cut through. "I may be cracked/ At least I let the light in," Sierota sings on the funky stomper "Cracked."
Generation resides somewhere between Foster the People and late-era Paramore. It's synth-heavy alt-pop but has a personal message. The bass-driven dance song "Shut Up and Kiss Me" provides a spacious atmosphere, with the singer's upper register carrying the infectious chorus.
The percussive "Stuck Inside this Roller Coaster" features expressive rolling loops with bright electric guitar riffs. Lyrically, the band remains effectively mixes personal, human messages with with earworm hooks. The chemistry of the singer and brothers Graham (drums) and Noah (bass) Sierota—guitarist Jamie Sierota left the group in 2016 to start a family—is evident, resulting from having grown together as musicians and family. It goes to show why "Last Forever" succeeds as a moody ballad, but also wouldn't sound out of place on Taylor Swift's Lover.
The group shows surprising vulnerability on piano ballad "Everyone Cries." It's a tender bounce-back anthem that doubles as a duet with Noah. Heavy beats and acoustic guitars carry the dark but upbeat "Scared to Be Alone," a track that carries a slight '90s pop flare with a modern alternative rock sheen.
Upbeat bop "Lost Somebody" features a layered and melodic chorus, with Sierota repeating the refrain, "Have you ever used somebody?/ That's how you lost somebody." The song provides some of the most memorable and infectious hooks on the record, assuredly destined to become a staple of Echosmith's live set.
A vintage synth-pop energy rears its head on "Love You Better." Its bouncy piano and electric guitar lick plays tag-team between the verse and chorus. Cuts like this showcase the band's maturity beyond creating contemporary dance numbers.
The album closes on a quiet note with pair of calm and breezy ballads. The first, "Follow You," is a simple acoustic love letter to Sierota's husband. The couple wed in mid 2019, but this song could have served as the soundtrack to a first dance. The sentiment carries over onto closer "I Don't Wanna Lose My Love," a vocal-driven track with a slight synth backdrop.
Lonely Generation is a fitting re-entry of Echosmith into the pop landscape after finding its musical voice on the band's own terms.
Follow writer Mike DeWald at Twitter.com/mike_dewald.