ALBUM REVIEW: Ethan Gruska gets intimate and ambitious with 'En Garde'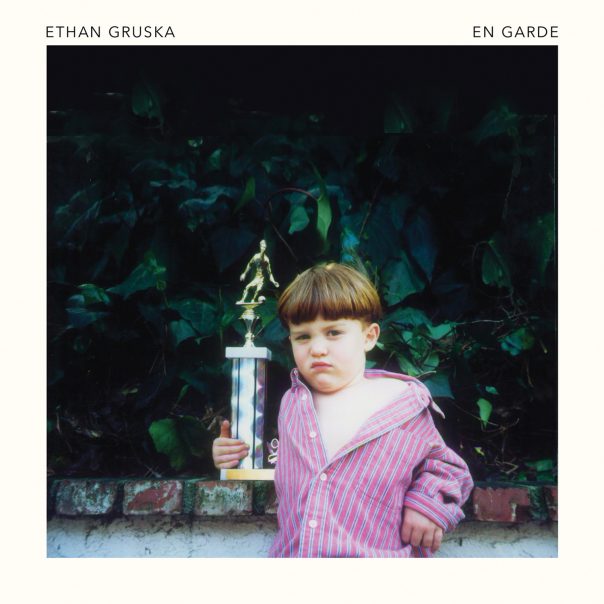 Ethan Gruska spent his teen years as one half of The Belle Brigade. After that he built an impressive reservoir of behind-the-scenes work. Oh, and his grandfather is the John Williams. Since then, Gruska's been bulking up his solo discography, first with 2017 album Slowmotionary, and now with its follow-up. En Garde comes as musically dense, melodically subdued and inconspicuous ingenuity. Gruska transverses the intimate vibes of singer-songwriter music and the expansive grandiosity of chamber orchestra music, resulting in a layered, yet accessible experience.
En Garde
Ethan Gruska
Warner Records, Jan. 24
Much like Bon Iver, Gruska seems to view production itself as an instrument. Innumerable textures creep over the horizon on opener "Maybe I'll Go Nowhere." Swelling strings, shimmering synths and nuanced electronics circle around a folksy guitar line. The magic of this record lies in its ability to dive down multiple sonic rabbit holes without forsaking the core of its arrangement. It's how "Event Horizon" springs from jazzy beat changes and complex piano chords rise to an orchestral take on Blood Orange. Gruska can still zero in on a tasty vocal melody in the midst of a burgeoning blanket of sound.
"On the Outside" and "Enough For Now" contain the most overtly pop structures on the record. The first song's muted, rustic electric guitar chugging commingled with kalimba plucking and echoing percussion, while the second feels more like protracted new wave music. In both cases, Gruska flexes his knack for letting his multifaceted arrangements support his singing (and that of  Phoebe Bridgersrather on the latter) rather than overshadowing it.
The switches in atmosphere and timbre simultaneously fascinate and hang back like a gorgeous vista through which Gruska can travel. It's what makes a relatively straightforward indie-folk cut like "Crash Cart" no less immersive. Gruska's intuition allows him to fill in the sonic space with immaculate ambiance.
The regal nu-jazz ballad "Dialing Drunk" and the alt-R&B groove of "Haiku 4 U" reveal this his raw chops. His authentically robust vocal range skyrockets the emotional impact of the former, while the latter enlists the help of Lianne La Havas amid a tasty beat and melodic bass work. In both cases, a vulnerable atmosphere takes hold. Whether it's inebriated longing for a past flame or flippantly falling into an unhealthy relationship, the human emotion is palpable. La Havas also gets extra points for well-played phallic humor.
For all its dynamic shifts, the overarching feel of En Garde remains lackadaisical. The synthetic rumble found in the mid-tempo beat of "Another Animal" retains vibiness instead of the overblown melodrama often associated with its big synth leads and stirring crescendos. The down-tempo, Beatles-esque indie pop number "Attacker" very much sums up the core of this album's atmosphere: a steady beat, some inventive chords and expressive vocal motifs.
In contrast, the ethereal "Blood In Rain" represents the outreaches of Gruska's sound. Forsaking locked rhythm to emphasize the chemistry between him and Moses Sumney. It's tracks like these where his attention to detail allows him to buck traditional structure for an ever-evolving, improvisational approach. Even the sparse indietronica instrumental "Nervous System" feels necessary to the album's concise 36 minutes.
"Teenage Drug" closes out this album with a strange combination of country-like guitar strains with a tight soul groove. Gruska once again becomes the bridge between the two styles, creating synergy where there might have been discord. His songwriting not only defies expectations, but inflates simple ideas with taste and tact. En Garde succeeds both as a singer-songwriter album and as a mad-scientist arranger's test to see what he can get away with.
Follow editor Max Heilman at Twitter.com/madmaxx1995 and Instagram.com/maxlikessound.