ALBUM REVIEW: False rolls with unrelenting, therapeutic black metal on 'Portent'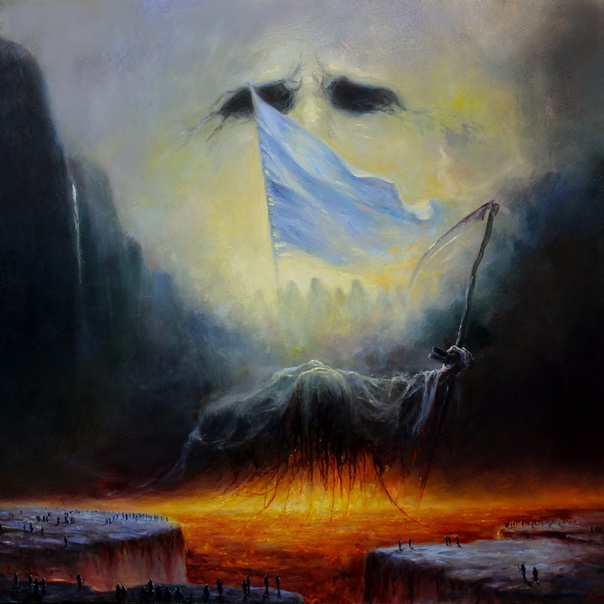 It becomes clear while listening to Minneapolis black metal band False's second album that the members recently struggled with some sort of tragedy or despair. Portent is a statement of perseverance as well as artistry. Black metal goes hand in hand with emotional catharsis, and False makes that emotive potential the core of their exhilarating musicianship. Portent channels the raw, cold ferocity of the Norwegian legends into a personal, vibrant and engrossing listen.
Portent
False
Gilead Media, July 12
From the moment single "A Victual to Our Dead Selves" kicks off, False's melodic harshness immediately steals the show. Drums, guitar and bass charge with a frenetic, yet chemistry-driven energy. The way synths blend seamlessly into this wall of sound is rarely heard in modern black metal—especially in America.
Over triumphant tremolo guitar leads and breakneck blast beats, wraithlike croaks and snarls emerge like echoes from a frigid cavern. Rather than divulge in high fantasy or occultism, these hair-raising vocals instead speak to the damaged soul choosing to press on. Themes of camaraderie, existentialism and inner strife permeate the album, giving the harrowing instrumentation a more direct emotional impact.
While it wasn't necessarily recorded live like the band's debut, Portent maintains that controlled chaos within a slightly cleaner filter. The explosive introduction to "Rime on the Song of Returning" teeters on the edge of disjointed chaos. And yet, False's Emperor-meets-Krallice approach remains as organized as it is jagged. These musicians take what would already have been solid black metal songs and give them a healthy dose of organic, spontaneous intensity.
This player-to-player cohesion allows False to push and pull tempos and kiss regular song structure goodbye. The drums take on an almost jazzy quality, playing with a sense of freedom and dynamism while maintaining air-tight technicality—even adding some well-placed timpani hits into the mix. The riffs follow suit, combining regal modulations and dissonant arpeggios and blizzards of tremolo picking.
The diversity deepens at the midpoint of "Rime," which drops into an eerie doom passage similar to Mayhem's "Freezing Moon" or Funeral's Tragedies. It's here where the vocals become truly wretched, yet oddly relatable. To hear mournful lines like "Send the new moon/ The moment when your hand slipped from mine in the darkness and you howled" delivered so ghastly is both disconcerting and touching—especially during the culminating crescendo of harmonious, melancholic extremity.
There are points like the staggered guitar and bass strains of "The Serpent Sting, the Smell of Goat" that emphasize the human imperfections inherent in a no-frills approach. False relies on musicality rather than cleanliness. The results have a surging, unrelenting quality to them, like a frigid gale over a frostbitten valley. In spite of hailing far from the style's place of origin, the band embodies that sense of beautiful dread that captured the imagination of the metal underground more than 20 years ago. The band eventually lands on a battle-hardened three-count groove. With keyboards generating an underlying choral quality, rhythm changes guide the melodic structure to its final blast.
"To touch is to be touched/ Any denial of this is self-mockery/ To change is to be changed/ Passive receipt of change/ Is betrayal of self"—these final utterances perfectly coincide with the hyperspeed conclusion. This is ultimately an album of victory, but also a warning against taking the difficult times lightly. Portent aptly ends with the meditative, dungeon-synth-esque epilogue "Postlude"—providing time for listeners to ruminate on those weighty subjects. False has not only captured the musical essence of black metal, but molded that tour de force into a strikingly intimate statement.
Follow editor Max Heilman at Twitter.com/madmaxx1995 and Instagram.com/maxlikessound.