REVIEW: 'Have You Lost Your Mind Yet?' advances Fantastic Negrito's legacy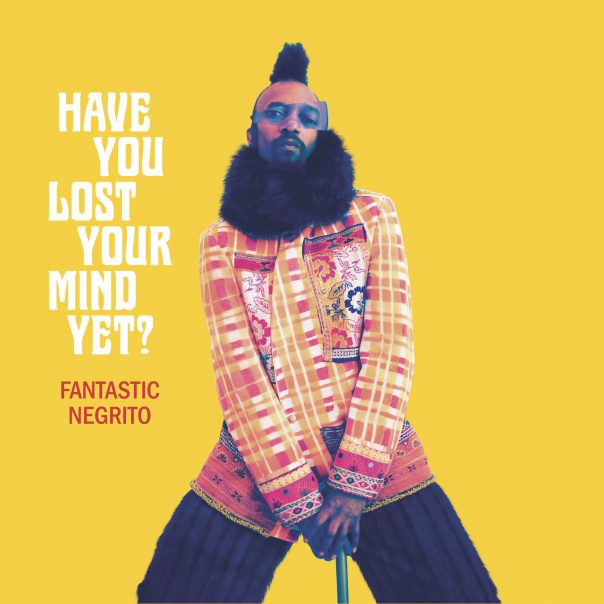 Xavier "Fantastic Negrito" Dphrepaulezz first confirmed the title of his third album Have You Lost Your Mind Yet? on Nov. 21, 2019, just four days after the first COVID-19 case was confirmed in Hubei, China.
Have You Lost Your Mind Yet?
Fantastic Negrito
Blackball Universe x Cooking Vinyl
Aug. 14
10/10
The multiple-Grammy-winning Oakland musician has said that the title referred to his friends, who were victims of mental illness, as well as himself. But in the 10 months since he first teased the name, a long lockdown amid an even longer year have given the title a whole new significance. What was symbolism is now a valid question for most of America.
Though precognition comes as a new twist, relevant music isn't uncommon from Fantastic Negrito. His debut album, 2017's Grammy-winning The Last Days of Oakland, is the definitive exploration of the City of Oakland's transformation and gentrification in the early 21st century. His Grammy-winning follow-up, 2018's Please Don't Be Dead, referred both to his 1999 car crash and subsequent coma as well as America in general, serving as epitaph and pep talk for a country struggling through the Trump era.
Instant Grammy frontrunner Have You Lost Your Mind Yet? is a worthy successor to that lineage. While Please Don't Be Dead expanded his focus outward, Have You Lost Your Mind Yet? directs it inward, with the spotlight not just on his own mind, but also the struggles of others; and he does it with exactly as much success. The underrated depth to his lyrics comes through in full force, impactful in normal times, but doubly so now, when everyone has a much deeper conceptual understanding of mental health.
Musically the album is just as triumphant as his previous works. It may not be as uniformly flawless as Last Days of Oakland, but few things are, and holding him to that standard is essentially punishing him for success. Negrito's unique and powerful fusion of Black roots music, blues, rock, soul, pop and about a dozen other genres shines here as it has on all his albums. He goes beyond blending elements of genres within a song to blending genres within each element; the vocals on "All Up In My Space," for example, manage to be decidedly bluesy—but with a soul singer's aesthetic, creating a new sound from the two.
The album opens with the first single, "Chocolate Samurai," released with a crowdsourced video in May, and "I'm So Happy I Cry," a collaboration with Tank of Tank and the Bangas from June. For new listeners unfamiliar with his sound, they're excellent introductions; the former an example of his more uptempo music and the latter an introduction to his slower, bluesier side.
Next track "How Long" brings the pace down even further for the verses, with a vocally powerful chorus punctuating the emotion of the song. More than most of his songs, it's evocative of a small lounge or blues club, which these days is both nostalgic and wistful, and features a guitar solo reminiscent of Carlos Santana in the '70s.
"Searching for Captain Save a Hoe" references legendary Vallejo rapper E-40's 1994 song "Captain Save a Hoe." E-40 himself lays down a verse. This is a somewhat surprising guest appearance, not because it's unlikely—it's impossible that they haven't run across each other multiple times in multiple situations, possibly even just walking down the street—but because hip-hop is one of the few genres Negrito hasn't really delved into yet. He should do it more, there are a lot more rappers in Oakland, as well as the larger Bay Area, who need a verse here or there.
The highlight of "Your Sex is Overrated," and one of the highlights of the album as a whole, is the two-minute blues guitar solo by Masa Kohama that makes up the second half of the song. The beauty of blues guitar—and what separates it from other styles—is that it can evoke emotion and even tell stories by itself without anyone singing or saying a word. This solo absolutely does that. Coming right around the halfway point of the album it's both an emotional rollercoaster and a palate cleanser.
After that are two songs in "These Are My Friends" and "All Up in My Space" that are as close to true blues songs as Fantastic Negrito gets. It may not be close enough for purists, but nobody likes purists anyway. These songs are powerful and heartfelt modern takes on the genre that weave Negrito's influences and history through the formula.
Closing out the album are "Platypus Dipster," a song that puts funk a bit farther to the front without losing the balance his mix of styles and influences always manages to strike; and "King Frustration," which has the same basic vibe as "A Cold November Street" from his previous album but with a quicker pace.
It's hard to find any down sides. The interludes don't have as much to say as the ones on Last Days of Oakland and don't add much to the end product, but they also don't really hurt anything by being there.
If you've lost your mind, listen to Have You Lost Your Mind Yet? at your earliest convenience. Listen while you're working, while you're looking for work or just as a break from the barrage of bad news. Like Fantastic Negrito's prior work, it speaks directly to the heart and the soul, and no matter your mood, there's usually a song that conveys what you're feeling better than you could. We're going to have a ways to go until we reach the light at the end of the tunnel, so take this opportunity to give your mind a break and give it the energy to keep pushing.
Follow editor Daniel J. Willis at Twitter.com/BayAreaData.