ALBUM REVIEW: Flying Lotus crafts a grand Afro-futurist saga on 'Flamagra'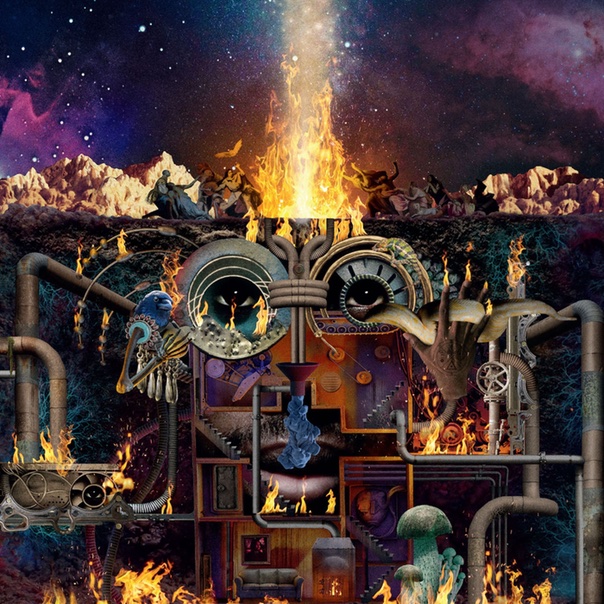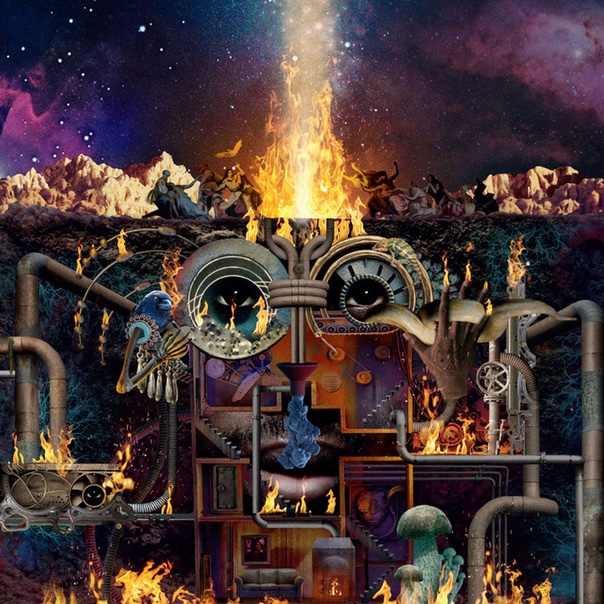 Steven Ellison's legacy far predates his role in Kendrick Lamar's 2015 landmark album, To Pimp a Butterfly. As Flying Lotus, his glitchy, abstract production has continually pushed hip-hop's artistic boundaries. In 2006, Los Angeles set a new standard for L.A. beat music, while 2010's Cosmograma transcended genre boundaries as a nu-jazz space odyssey.
Flamagra
Flying Lotus
Warp Records, May 24
The psychedelic minimalism of 2012's Until the Quiet Comes and the boisterous jazz rap of 2014's You're Dead! remain interesting, but Ellison's discography lacked a well-defined concept—until now. Flamagra succeeds where its predecessors failed, corrals Flying Lotus' esoteric adventurousness into a compelling narrative.
It's fitting that Flying Lotus first teased Flamagra with David Lynch's spoken-word piece. The ominous poetry on "Fire Is Coming" traces back to a chance conversation, but from those words comes a framework for the album's eclectic sonics. Lynch's vivid storytelling complement eerie soundscapes to foretell unavoidable pandemonium—made especially haunting after the California firestorms last year—but the theme expands on opening track "Heroes."
"You're different now," the monologue carries over smoldering field recordings, encompassing the life-bringing and destructive aspects of fire as an agent of change. From there, space-age breakbeat and oscillated vocal samples propel the album into its lush palette.
Ellison's compositional creativity is great, but his constant evolution makes him truly remarkable. The technical bass on "Post Requisite" and the gothic piano playing on "Capillaries" bring on his staggered beats and synthetic space travel, but "Heroes In A Half Shell" breaks new ground with a midi-jazz chamber orchestra.
From the acoustic Victorian waltz of "Say Something" to the intellectual dance music (IDM) fusion-funk of "Takashi," Flamagra sports a healthy balance of conspicuous and nuanced deviation. The latter actually elaborates on the musical ideas introduced in "Spontaneous," spotlighting this album's unpresidented instrumental cohesion.
This natural flow carries over to Flamagra's 10 features, all of which were assimilated at Flying Lotus' home studio. Anderson .Paak's melodious, sensual flow on "More" and Little Dragon singer Yukimi Nagano's pixie-like singing on "Spontaneous" set a tone of natural collaboration.
Meticulous arrangements and strong vocal performances play roles of equal importance, pushing the artistic chops of both parties. Parliament-Funkadelic's George Clinton enhances the Afro-futurist vibe of "Burning Down The House" with expressive affectations, just like Thundercat's silky voice blends into the electro-acoustic neo-soul number "The Climb." This symbiotic approach is deeply woven into Flamagra, down to its very conception.
A compelling paradox of accessibility and density permeates the album, a followable train of thought. The glitched-out avant-soul on "Yellow Belly" contrasts with the G-funk swagger of "Black Balloons Reprise," as does the tough-as-nails bars by Denzel Curry and Tierra Whack's expressive diatribe. What ties it all together is a structure as open-ended as it is calculated.
Both Curry's discontented venom and Whack's seering call-out to hypocrisy point toward Lynch's chilling warning: "Fire Is Coming." Similarly, "Find Your Own Way Home" and "Land of Money" achieve incredible weight in spite of their fleeting length as heartfelt tributes to the late Mac Miller. Whether it's the illustrious ambiance or a nu-jazz bass feature, Flamagra beautifully elaborates on themes of resilience and empowerment in the face of impending upheaval.
There's a noticeable need for Flamagra to justify its 68-minute runtime. Amazingly, it's Ellison's most consistently compelling work. The shorter interludes deepen the atmosphere, at the very least, but succeed in developing their own idea. Thundercat interweaves his bass virtuosity into all the right places, while bite-sized cuts like the deliciously cheesy "All Spies" and the immersive trip-hop of "Remind U" subvert expectations with evolving sonics and potent musicality.
Ellison's adaptable production leaves room for glo-fi mainstays Toro y Mois and Solange's angelic neo-soul to flourish on "9 Carrots" and "Land Of Honey." His meticulous soundscapes are tailored perfectly to both singers, using the former's lo-fi layerings and latter's bombastic modulation to intensify both singers' expression with impressive detail and evocative emotion. Flamagra's ambition more than pays off, resulting in an achievement unlike anything from Flying Lotus.
Returning to the opening monologue, "Hot Oct." hints at renewal after a destructive blaze. Flamagra articulates a desire to reach beyond the broken norm and prepare for change, no matter how dire. Its music is astoundingly diverse, and its lyrics remain unique while hinting back to this central theme. Ellison had the perfect foundation this time—a defined canvas with which to articulate his Afro-futurist vision. It's a panoramic view of mankind's push to rid itself of a broken status quo and find a new, better path. Flying Lotus has finally reached his apex—his very own To Pimp a Butterfly.
Follow editor Max Heilman at Twitter.com/madmaxx1995 and Instagram.com/maxlikessound.