ALBUM REVIEW: Fontaines D.C. let the dogs out on 'A Hero's Death'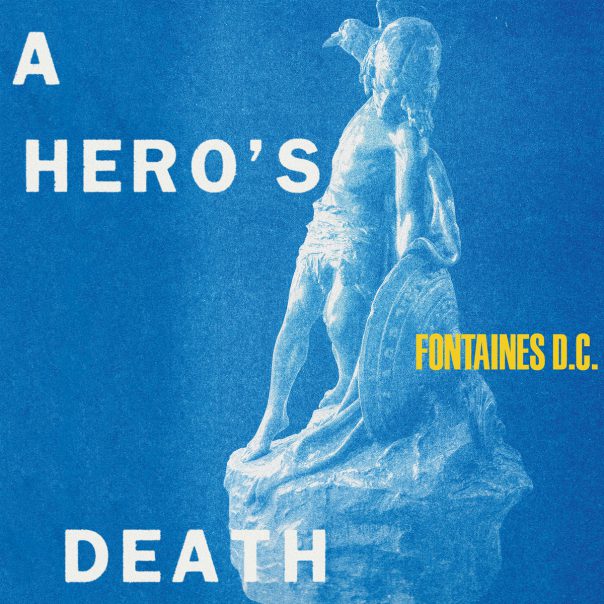 A Hero's Death, the sophomore album from Fontaines D.C. simmers with quiet defiance. The follow-up to the critically acclaimed and Mercury-Prize-nominated debut, Dogrel, it was initially recorded in Los Angeles before being scrapped and rerecorded in London. Helmed by Dogrel producer Dan Carey, the album expands on the sonic palette of Fontaines D.C.'s first album, bringing additional range, melody and optimism to the Dublin band's sound while staying true to its post-punk roots. The album never steers far from the band's Irish upbringing. Even the cover art features an image of the mythological Cú Chulainn—Culann's Hound—and singer Grian Chatten's flat, North Dublin brogue is a feature, not a bug.
A Hero's Death
Fontaines D.C.
Partisan/Rough Trade, July 31
8/10
The album opens with "I Don't Belong," with sulking post-punk guitar playing and singer Grian Chatten declaring, "I don't belong to anyone." It feels like a statement of intention to set a new Fontaines D.C. agenda from the get-go.
"Love is the Main Thing" builds on the nuance of the opener, introducing a range to the band's sound that's reminiscent of Lou Reed. The tempo picks up on "Televised Mind," with Chatten's manic vocals getting dragged through a sonic landscape of lumbering bass, drumming and reverb-drenched surf guitars.
By the time we reach the crescendo-decrescendo track that is "A Lucid Dream," it's clear that Fontaines D.C. have no intention of living in the past. Chatten's wailing delivery is reminiscent of John Lydon circa Public Image Ltd. Carlos O'Connell and Conor Curley's angular guitar playing are strongly highlighted, creating a lurching, dissonant toolbox that's quickly becoming Fontaines D.C.'s aural calling card.
"You Said" and "Oh Such a Spring" bring a slower mid-tempo vibe to proceedings. Title track "A Hero's Death" is probably the most reminiscent of the "Dogrel" vibe. The song is a clattering, Libertines-esque treatise of rules by which to live, drilling home the message with rhythmic repetition. There's a contradiction between the message and the delivery—the "Fontaines Paradox"—like a stern teacher dispensing good advice but in an unsympathetic voice. Chatten wears his Dublin accent with pride, spitting life advice in wide vowels and vague threats. The tongue-in-cheek video for "A Hero's Death" stars Irish actor Aiden Gillen, known for his performances in "The Wire" and "Game of Thrones."
"Living in America" is dark and morose, a single minor chord framing ominous vocals. On "I Was Not Born," Chatten reiterates Fontaines D.C.'s defiance, declaring "I was not born into this world/ To another man's bidding." The track opens á la Joy Division's "Love Will Tear Us Apart" before getting booted unceremoniously into top gear, with Tom Coll's drumming and Conor Deegan's bass driving the sonic train forward.
"Sunny" is three minutes of acid-tinged, Kinks-influenced harmonies. And there's that off-kilter, David Lynch discordance again. The album closes with the standout "No," a track in the vein of 1979-era U2, on which Chatten's vocals and songwriting shine. Overall, A Hero's Death brings additional range, melody and optimism to the Fontaines sound and is a worthy follow-up to the remarkable Dogrel.
Follow Martin Lacey at Facebook.com/martinlaceyphotography and Instagram.com/martinlaceyphotography.