ALBUM REVIEW: Madgibbs score once more with 'Bandana'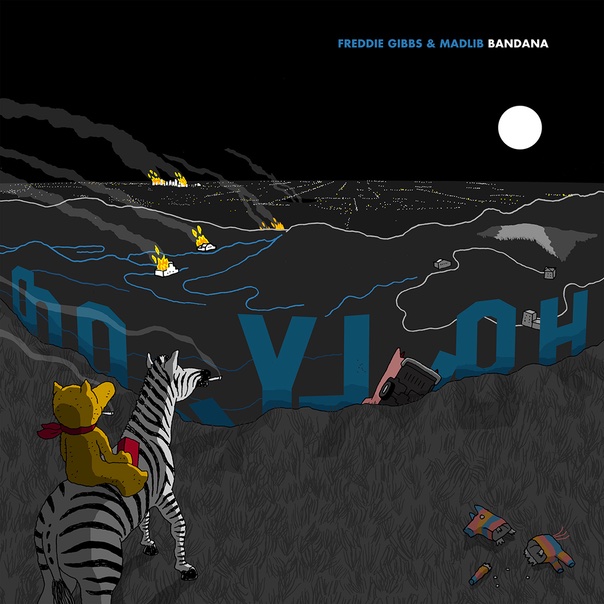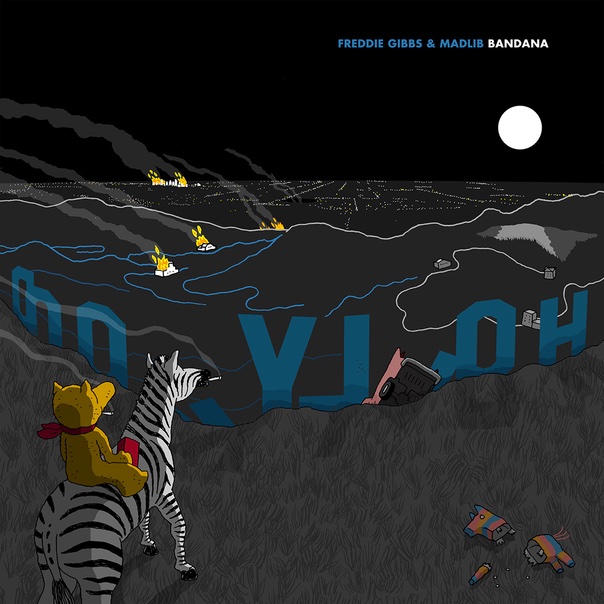 Few rap groups have more follow-up pressure than Madgibbs. With the decade drawing to a close, the first collaborative LP between Freddie Gibbs and Madlib remains one of its best hip-hop albums. Piñata proved to be as unexpected as it was successful, charging true-to-life gangsta rap with cinematic production. It goes without saying that Bandana has a lot to live up to. While it doesn't necessarily top its predecessor, this two-man army has by no means lost its touch. Bandana's conceptual flow, dark sense of humor and distinct beats uphold a high standard.
Bandana
Freddie Gibbs & Madlib
RCA Records, June 28
"Obrigado" reintroduces this dynamic duo. Following his run-ins with the law, Gibbs is back in full effect. "Freestyle Shit" finds him pitting the toughest bars over what's essentially brassy soul music. He sets the album where the last one left off, in the unforgiving, unpredictable throes of street hustling: "That's when this music shit wasn't movin'/ Man, I said I might as well be movin' thangs." He raps to survive, not to be famous.
Madlib hasn't lost ground as one of hip-hop's best beat makers. "Half Manne Half Cocaine" bisects into a trap and abstract intensity, nodding to the mainstream before jumping off the deep end. No one but Gibbs could sound hard while referencing Snuffleupagus in relation to snorting cocaine, but that's the world he understands. He's lived this life in the truest sense, so he can take shots at it while maintaining an overarching somber tone.
Gibbs' view on his past is clear on "Crime Pays," in which he compares the material gain from selling drugs to the unavoidable consequences. Suave electric piano chords and and old-school soul band hits reflect the hook's sample from "Free Spirits," the 1979 cut by musician Walt Barr. It's fascinating how Madlib can counteract grimy bars with beautiful sonics. The soulful vocal samples and tribal percussion of "Massage Seats" carry a fiery call-out to the rap community. Growing up in Gary, Indiana, Gibbs wasn't surrounded by the glamorous Hollywood life many rappers aspire to get. He insists that people find respect in their work instead of their material gain.
Madlib knows when to pull back and let the rappers take over. Killer Mike's hook solidifies "Palmolive" in the struggle to maintain stability while making dirty cash: "Play low, I mean low like no money." Pusha T fits the mood perfectly, comparing his own drug-dealing in relation to other rappers, the government and ultimately his own sense of self-worth. To drive the point home, the outro skit reflects the deadpan cynicism of those with nothing to lose, with one layer of depravity revealed after another.
Nimble keyboard notes drifting over glitchy drums on "Giannis" make it the perfect environment for Anderson .Paak's infectious hook. He and Gibbs take a realistic look at how people lose sight of their values while focusing only on making money: "Keep the dead oppressors on green paper/ Fuck bein' famous… Power, love and loyalty/ Wash me clean today." Similarly, "Education" finds Yasiin Bey and Black Thought spotlighting the long-term results of hard living. As Madlib juggles spooky dissonance and swirling beauty, all three artists lock into the groove while providing their own individual flair.
"Situations" contains the most unrelenting bars on the album. Over a spacious but gut-punching beat, Gibbs goes into detail about how he hustled out of necessity, not for the clout: "Obama got elected today/ And I got arrested." He sees the struggle of the black community as ongoing. The outro skit facetiously calls for a holiday to officially cast off societal constrictions and follow one's desires.
"Practice" shows Madlib's true diversity, making what could easily pass as a solid soul song for Gibbs to rap over. The rapper frets about how to be there for his family in the midst of the trap game, hating the toll it takes on him but never fully kicking his old lifestyle. The romantic tones only increase the anti-love song's impact. These two artists play off each other like no one else. The beat changes on "Cataracts" are as surprising as they are natural. The track maintains an evolving backdrop for Gibbs to deliver his barrage of thoughtful but ferocious lyrics.
Though he's known for his bulletproof bars, Gibbs often leans into R&B—like on the suave funkiness of "Gat Damn." In this way, Gibbs elevates these deep cuts above the mundane trappings so many long-winded artists fall into.
"Soul Right" ends the record with a bit of hope. "I pray the Lord'll get my soul right," Gibbs reveals over Madlib's muted jazz rap bliss. In some ways, this cut brings the record full circle. Gibbs may have made mistakes, but he's made them in pursuit of breaking the mold. And break the mold he certainly does with the musical scope provided by his partner. While it's easy to see this as more of the same from Madgibbs, it's hard not to want exactly that from such a powerful meeting of minds.
Follow editor Max Heilman at Twitter.com/madmaxx1995 and Instagram.com/maxlikessound.