ALBUM REVIEW: Glass Animals take advantage of technology on 'Dreamland'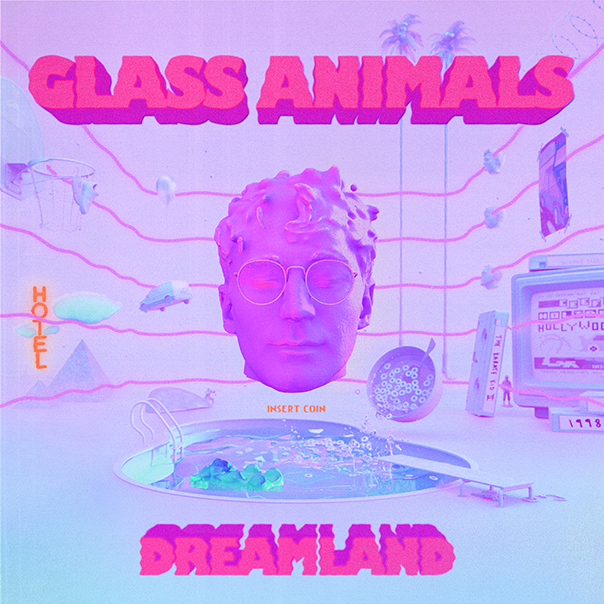 Over the last 75 years, the role of music producer has evolved from a cigar-chomping session boss who corralled musicians, wrote arrangements and ran the soundboard to a musician who often uses the recording studio—often with little more than a laptop—as a musical instrument, creating whole songs and albums entirely 'in the box' without having to deal with the fuss and muss of other musicians and mountains of gear.
Dreamland
Glass Animals
Polydor Records, Aug. 7
8/10
Dreamland, the latest album from British studiophiles Glass Animals, feels like it was created entirely within the boundless cyberspace of the microchip. But like the proverbial ghost in the machine, the digitized musical emanations created by the band's singer, songwriter and producer, Dave Bayley, along with his childhood friends Joe Seaward, Ed Irwin-Singer and Drew MacFarlane, pop with an Auto-Tuned vitality that transcends their disembodied composition.
Dreamland updates an old-school soul and hip-hop aesthetic with all the bells and whistles available to 21st century beatmakers, including bone-rattling bass sounds, lots of Auto-Tune and pristine sound quality.
The title track serves as a table of contents, previewing some of the topics to be covered on the record. Bayley's falsetto floats over mellow keyboard sounds. In the song's final verse, Bayley sings, "You float in the pool where the soundtrack is canned/ You go ask your questions like, 'What makes a man?'/ Oh, it's 2020, so it's time to change that/ So you go make an album and call it Dreamland."
"Tangerine" uses airy puffs of keyboard and re-pitched voices over heavy bass and programmed drumming to set the song's serious summertime vibe. Lyrically, it laments changes in a longtime companion. "I wish I could show you more of yourself/ I wish I could make you somebody else/ But I think I'm way too late/ Are you stuck in your old ways?" Bayley sings. The song gets bonus points for referencing Mr. Miyagi from the classic 1984 film "The Karate Kid."
Many of the album's songs sound like a lot of work went into providing a casual quality. On "Space Ghost Coast to Coast," Ed Irwin-Singer's bass riffs thud over understated percussion. The simplistic vocal melody gathers momentum as Bayley shoehorns more and more verbiage into the lines. The complex rhyming evokes comparisons to Childish Gambino. Bayley sings: "Gotta be all that coco ayyy?/ Playin' too much of that GTA/ Playin' too much of that Dr. Dre/ Doom, Quake, where'd you get the gun from eh?"
"Jetsons" car sounds and spacey keyboard washes set the atmospherics for "Hot Sugar." The laid-back beat and summertime vibe create a musical bed for Bayley's surrealist rapping: "Long black tulips/ Born in your blue tints/ Lemongrass eyelids/ Smoke in your slick lips."
There are a number of short interludes on the album, each a variation on the title "Home Movie." Some of these short pieces feature snippets of conversation, washes of sound and samples. These interludes add to the cinematic feeling of the album, inviting odd, disjunctive moments into the album that incorporate variety to the tracklist.
One of the album's standout moments is "Melon and the Coconut," which begins with psychedelic, warbling guitar and keys. The song manages to brilliantly blend retro-psychedelia of The Beatles and Pink Floyd, with  21st century hip-hop. It almost sounds like a collaboration between The Flaming Lips and Childish Gambino.
While the limitless possibilities of the modern recording studio can induce progress-halting option paralysis for many musicians, Glass Animals' Dave Bayley proves himself to be precisely the type of visionary who can wrest his creation from the digital playground of his computer. Dreamland is an ambitious and deftly crafted feather in his cap.
Follow writer David Gill at Twitter.com/songotaku and Instagram/songotaku.