ALBUM REVIEW: Green Day glams up its sound on 'Father of All Motherfuckers'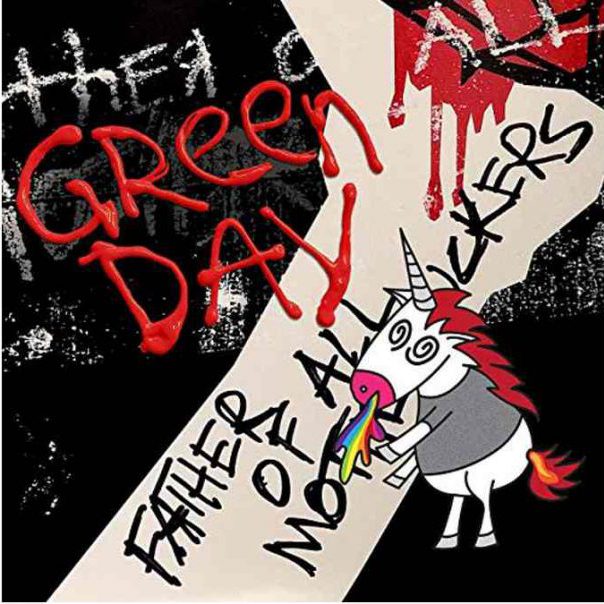 Halfway through Bay Area pop-punk heroes Green Day's 13th album, Father Of All Motherfuckers, frontman Billie Joe Armstrong declares "I was a teenage teenager/ Full of piss and vinegar." It's a sentiment that aptly describes the band's latest release, a no-nonsense amps-to-11 showcase of raw, old-school rock. Looking for a reenergized sound and a new voice in the room, the band enlisted Butch Walker to take the producing helm. Walker, who's worked with Fall Out Boy, Weezer and Panic At the Disco, has a keen ability at revitalizing a band's identity and refreshing its sound.
Father of All Motherfuckers
Green Day
Warner Bros, Feb. 7
Father of All Motherfuckers thrives on immediacy. The record is frenetic, and it's clear that Billie Joe Armstrong, Tre Cool and Mike Dirnt had some magic as they played down tracks together in one room.
It's vintage riff-based rock with a stadium bombast. The songs play like they were written with the live environment in mind. As Armstrong described the album prior to it's unveiling, the band channeled glam rock, Motown and soul through the lens of three-chord punk rock. The band also injected the lo-fi energy of its Foxboro Hot Tubs alter ego side project.
The title track, which opens the album, packs everything this collection of songs aims to be in a tight 2:30-minute package that spits fire from the opening notes. Armstrong is nearly unrecognizable at first, singing the first verse almost entirely in falsetto. This song, as well as second track "Fire, Ready, Aim," features fuzz-tone riffs and Armstrong leading with way with his throaty call and response sing-along choruses.
In the past, Green Day albums have delved into the political sphere, but Father of All Motherfuckers aims to cut to the more personal and primal urges. The manic nature of the songwriting is purposeful, representing the chaos of the "riot" of culture and society.
"Oh Yeah!" harkens back to a sound closer to the band's more experimental ¡Uno!, ¡Dos!, ¡Tres! trilogy, a glam rock jam built through the rhythms of drummer Tre Cool and bassist Mike Dirnt. "Meet Me On The Roof" taps deeper into the Motown sound to an almost danceable punk rock track. Claps, tambourines, harmonized backing vocals and the return of Armstrong's falsetto drive this song.
Dirnt's low-end opens "I Was a Teenage Teenager," a track that recalls an earlier punk Green Day sound. Fans waiting for the band to return to pure punk or pop-punk may have to wait a bit longer, but for those fans there is still much to dig into on this album. "Stab You In The Heart" brings out some of the rawest rock and roll here, mixing in some rockabilly with classic rock overtones. Walker, the producer, even makes a brief appearance providing the backing vocals.
"Sugar Youth" is the musical equivalent of a sugar rush, an all-out rocker clocking in at a tight one minute and 54 seconds, with Armstrong declaring "I got the shakes/ And I'm on fire/ I've the feeling/ And it's dangerous." Midway through the song, Armstrong references "all hell breaking loose," which is which is the best way to describe the pacing. "Junkies On High" is one of the only mid-tempo moments. The track has a bass-driven half-time swagger that builds into the electric chorus.
"Take The Money And Crawl" is another hard rocker that makes no apologies for its in-your-face attitude. It has some of Armstrong's best guitar playing on the album, which keeps pace with his doubled verse vocal. Closer "Graffitia" mixes everything from riffs to keys and additional vocals by Walker, which wouldn't have sounded foreign being performed by a young Elton John.
There's a lot to like from Father of All Motherfuckers. It's lean, raucous and makes as big a mess as it can along the way.
Follow writer Mike DeWald at Twitter.com/mike_dewald.