Album Review: Haim has 'Something to Tell You,' really wants your love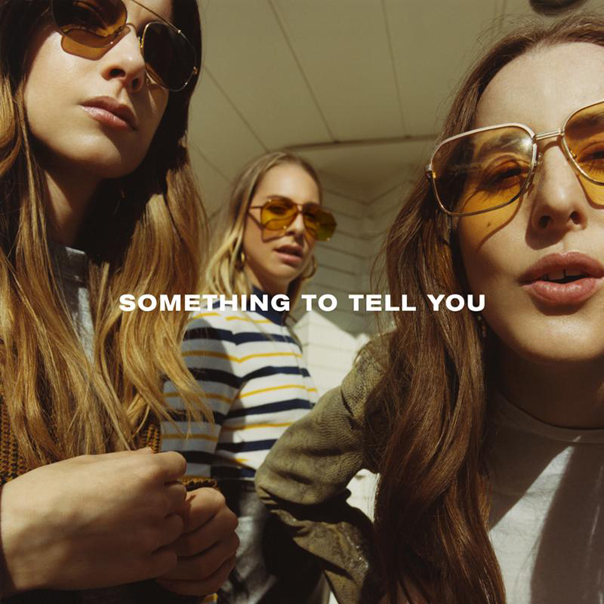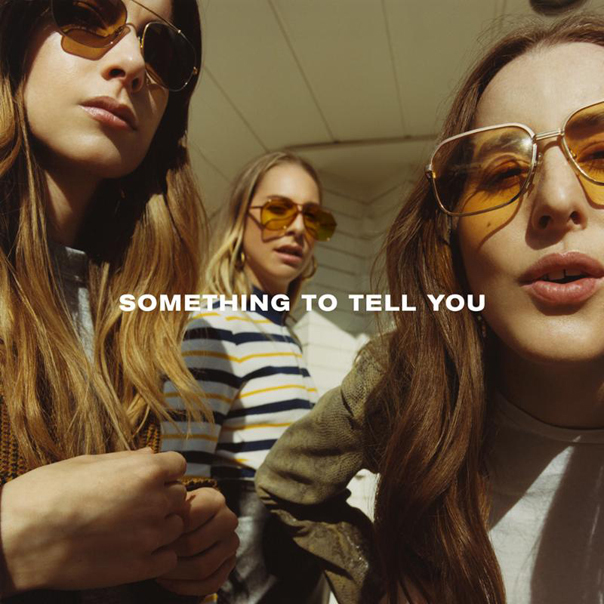 Who would have thought that the Haim sisters' sophomore release would be a concept album? It's true; on Something To Tell You, the story picks up with a breakup. Danielle Haim is heartbroken on "I Want You Back," begging for a second chance. She, bassist Este Haim and guitarist Alana Haim sing in unison, but with a subtle high-pitched background vocal from one of the sisters. The trio's poppy, stuttering rhythms, punctuated with handclaps, drive the story forward.
Something to Tell You
Haim
July 7
Over the next 11 tracks, Haim will go through the stages of grief, including denial, anger, acceptance and a bit of remorse.
"Nothing's Wrong" starts with an '80s rhythm—simply guitar plucking and quiet synths—before the percussion kicks the song into a higher gear. "Thinking about the other night/ Was it all in my mind/ I was so foolish, baby," the Haim sisters sing. "Tell me nothing's wrong."
Welcome to denial. But mid-song, there's a sample created of inhaled breathing noises, indicating a shift in mood; a sense of despair makes its entrance. Haim both resent and long to believe there's nothing wrong.
There's more harmonizing on "Little Of Your Love," as Danielle Haim proclaims, "Don't let me down" and "You gotta give me just a little of your love, baby!" The song features distinct choral background vocals, some saxophone and, toward the end, it picks up steam with a Motown-like breakdown. The beat picks up a step for the grand finale.
"Ready For You" recalls Prince at times, with trebly percussion and quick bursts of bass. Haim sings "I wasn't ready for you!" On the following track, "Something To Tell You," she's still pleading for reconciliation: "Tell me how you feel/ Because I've got something to tell you" and "I want to live in this moment/ And never say goodbye."
Finally, the story reaches its tipping point on "You Never Knew Me," a '70s easy listening throwback.
"I need to hear you say it/ Was my love too much for you to take/ I guess you never knew what was good for you." The song is a closer parallel to Fleetwood Mac—to whom Haim draws the most comparisons—than anything on debut album Days Gone By.
"Kept Me Crying" sees the band fully enter the grief stage. "When you sleep/ Are you dreaming of me/Let's just say I'm always awake," Danielle Haim sings. "I was your lover/ I was your friend/ Now I'm only someone you call when it's late enough to forget." The track is Haim at its wittiest and the instrumentation takes a back seat, making the lyrics stand out.
Acceptance comes in "Found It In Silence," a choppy track made warmer with the presence of violins. This is the sound of the Haim sisters discovering freedom in isolation, and it will be a powerful anthem when performed live. "You told me not to walk away," sings Haim. "There's no turning back/ I know it's good for me."
The next song is literally called "Walking Away." "I thought I'd found an honest man," she sings. "You don't want to talk/ Don't want to work it out/ If you were gonna face it, you would have by now." By the following song, "Right Now," the tables are completely turned with the album's antagonist in a position of weakness. "And now you're saying that you need me baby/ Now you're saying that you love me."
The song is Haim's "It's too late, dude," track, with the sparse piano and synths indicating there's not much left to say on the matter. Except there is; an outro titled "Night So Long" sees Haim with a pang of regret. "Until your memory is gone/ Night so long."
Haim have turned heartbreak into a hero's journey.
Follow Roman Gokhman at Twitter.com/RomiTheWriter.