ALBUM REVIEW: Halsey reveals her bruised heart on 'Manic'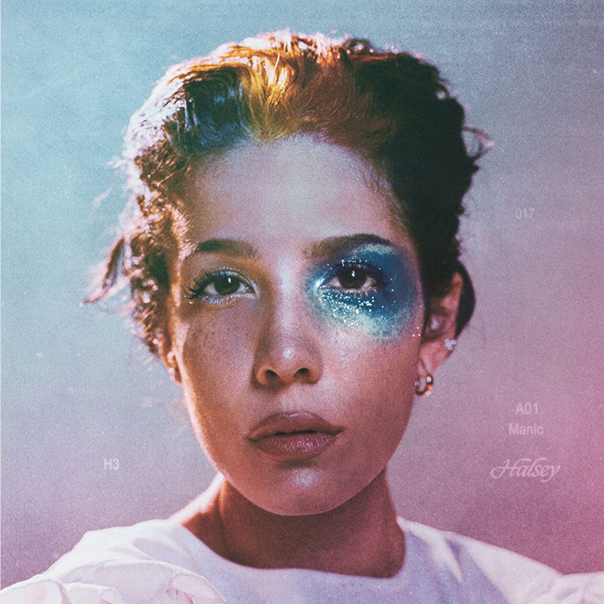 In many ways, Ashley Frangipane—much better known as Halsey—has come a long way from her days of posting videos to Tumblr under the username se7enteenblack. After her song "Ghost" caught the ears of not only listeners but of record labels in 2014, Halsey has steadily been climbing into higher stratospheres of pop. And she's got the platinum to prove it, too, with both her 2015 debut, Badlands, and her 2017 sophomore release, Hopeless Fountain Kingdom, soaring onto and eventually dominating the music charts.
Manic
Halsey
Capitol Records, Jan. 17
While the status of Halsey's success has certainly changed since she was a 17-year-old, the complex play of emotions found on her songs hasn't been lost along the way. On Halsey's third album, Manic, we find the singer-songwriter going much deeper than before to reveal all the varied reflections of herself.
Manic opens with "Ashley," where Halsey uses a powerful soundbite from the film "Eternal Sunshine of the Spotless Mind" to underscore the singer's own struggles with finding acceptance and peace in an increasingly harsh world. As her voice goes from cool to anguished, Halsey knows that her heart is a muscle, but "…it's still not strong enough to carry the weight of the choices I've made." That's the level of openness that winds its way throughout Manic. But there is a diversity to how Halsey dives into these explorations of self.
On the stripped-back "Clementine," it's just Halsey and an echoing piano to back up her juvenile cry of "I don't need anyone/ I just need everyone and then some." She's like Peter Pan, proud but ultimately alone, left to crow in vain. Then you have the more familiar electro-pop and R&B beats of "Without Me," with that catchy-yet-heartbreaking chorus: "Tell me how's it feel sittin' up there/ Feeling so high but too far away to hold me/ You know I'm the one who put you up there, name in the sky/ Does it ever get lonely?"
That diversity carries on beyond Halsey's own vocal deliveries and lyrical choices, though. She brings in elements of pop-rock on "3am," where a dial-tone turns into a wail of guitars as the night spins out and Halsey's insecurities get the best of her as she is "…calling everyone she knows," desperate to feel good again. There's even a connection made to K-pop with "SUGA's Interlude," where Halsey and Suga of BTS fame come together in a blend of airy soulfulness and smooth Korean rap stylings. It's a lovely and sonically pleasing pause, touching on the heaviness and the wonderfulness of "having it all, giving it all."
On an album full of emotional breakthroughs and breakdowns, one of the most significant tracks is the one that closes Manic. The bookend to "Ashley," "929" is a soft overview of Halsey's life so far. It deals with the past, with parental longings ("I've stared at the sky in Milwaukee and hoped that my father would finally call me") and lovers lost to drug use, among many other heartbreaks. It deals with the present, too, with revelations that only come with time: "And I wasn't in love then and I'm still not now/ And I'm so happy that I figured that out."
Manic ends as it begins, as a raw and honest look into Halsey's head and heart. It is a collection of regrets and wounds, of hopes and dreams as well. There's strength to be found in vulnerability, even with all the angst that comes with being a 20-something in this world, and on her latest album, Halsey stands stronger than we've ever seen her.
Follow reporter Mary Hughes at Twitter.com/spheeris1.