ALBUM REVIEW: Harry Styles gets fully monetized on 'Fine Line'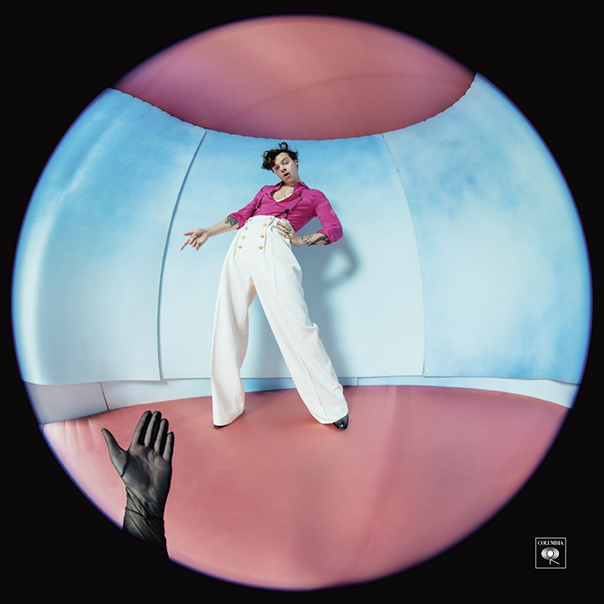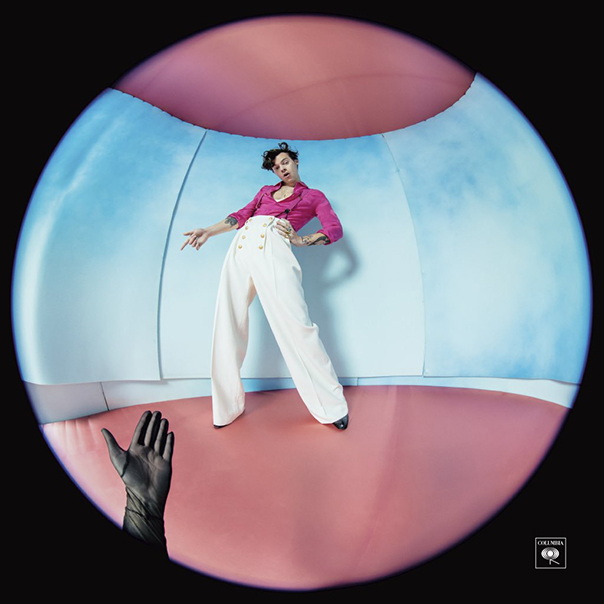 "Watermelon Sugar," the second song on Harry Styles' latest album, begins with the former One Direction heartthrob singing, "Tastes like strawberries on a summer evening/ And it sounds like a song/ I want more berries/ And that summer feeling/ It's so wonderful and warm." 
Fine Line
Harry Styles
Columbia, Dec. 13
Putting aside Styles' seasonal disjunction, releasing a soulful album full of summer imagery right before Christmas, the fascinating thing about these lyrics is the lack of a proper subject. What is it that tastes like strawberries on a summer night? What is it that sounds like a song? Styles' vagueness allows the song to apply to anyone or anything the listener cares to remember fondly. More than just romantic, the song's fragmentary predication enables a kind of universal relatability, and this translates into album sales and record company profits. In fact, Fine Line reflects the capitalist culture that produced it, both internally in terms of the album's content, and externally in the methods of its creation.
In the middle of the last century, philosopher Theodor Adorno coined the term "The Culture Industry" to refer to the way capitalism perverts the production of art. Any profit motive in the creation of art, Adorno asserted, would stifle individual creativity. Instead of following the unique vision of the artist, the businesses involved in creating and distributing art would produce an endless series of variations on earlier products that had proven successful (the Marvel movies, for example). 
Harry Styles' career provides ample support for Adorno's theories, and Fine Line presents even more evidence. Styles rose to stardom at the intersection of commerce and creation, appearing on The X Factor. Though he was eliminated early from the contest, the British heartthrob was teamed up with four other participants and styled by Simon Cowell to become the lucrative musical sensation One Direction.
One Direction wasn't formed by its members, following their own artistic vision; the band was crafted and groomed by music industry tycoons in order to make money. The Boy Band is a familiar commodity. The marketing and packaging of these vaguely sexualized adolescents has been refined to an economic science. Styles' departure from One Direction follows a similarly well-worn narrative, that of the group member searching for his own voice. 
Styles' latest album arrived as part of a multimedia juggernaut. Billboards in multiple cities teased the lyrics to the first single with the caption, "Do You Know Who You Are?" Styles announced the single's release on Twitter while simultaneously telling fans he'd be both Saturday Night Live's host and musical guest the following week. On the album's release date, Styles partnered with American Express to play a special show at The Forum in Los Angeles.  
Single "Lights Up" begins with some strummed acoustic guitar and gauzy synths before a heavy R&B beat drops and Styles sings, "What do you mean?/ I'm sorry by the way/ Never going back now/ Be so sweet if things just stayed the same/ La-da-da-da-da." Styles delivers the lyrics in a polished falsetto with a smoldering, albeit poorly defined, intensity. The song's adult contemporary stylings are perfectly suited for just about any public place. Like horoscopes, the song's nostalgia is so hazy and ambiguous as to be nearly universally applicable. This is not necessarily a bad thing. Ultimately, profitability results from people enjoying the product. This record will no doubt be successful both in terms of sales and in terms of fans' expectations. But that makes it a good product, not necessarily good art. 
Styles's talent is evident on ballad "Falling." Backed by gentle piano and anguished strings, Styles sings, "I'm in my bed/ And you're not here/ And there's no one to blame but the drink and my wandering hands/ Forget what I said/ It's not what I meant/ And I can't take it back, I can't unpack the baggage you left." The lyrical specificity is as jarring as Styles's unflinching checking of himself. The emotion of the song feels authentic and real. But the fact that precisely this type of authenticity is so profitable complicates our appreciation of it. Is Styles revealing his true self, or is his confession yet another marketable fantasy?
Acoustic ballad "Cherry," reportedly written about Styles' old love, Camille Rowe, is haunting in its intimacy. "I, I confess I can tell that you are at your best/ I'm selfish so I'm hating it/ I noticed that there's a piece of you in how I dress/ Take it as a compliment," Styles sings. He may be referring here to his provocative appearances in ruffled dresses. The song's quiet, unaccompanied acoustic guitar coupled with the lyrics, which take the form of a conversation, suggest that as listeners we are eavesdropping on two lovers and hearing what one of them says to the other when no one else is around.
But the intimacy evoked in the song, and Styles' new album as a whole, is deployed outwardly. Over and over again, what Styles tells us is his emotional core, the intimate, internal territory from which his emotions arise, is in fact a commodity, a fantasy identity so attractive to people as to be marketable.
Styles is so good at what he does cynical readers can't tell if he's being real.
Follow writer David Gill at Twitter.com/songotaku and Instagram/songotaku.