ALBUM REVIEW: Hayley Williams pushes the edge before blossoming on "Petals For Armor"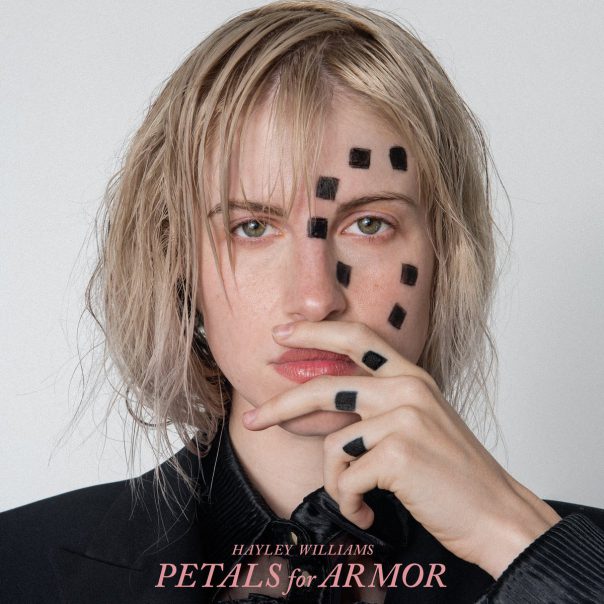 Hayley Williams steps out on her own with her first solo release, the expansive and emotional journey of Petals For Armor. The album is the first time Williams has put out music that's exclusively her own, dropping any reference to Paramore, which is currently on hiatus. That's not to say that she didn't leave her bandmates out of the creative process. Guitarist Taylor York and touring bassist Joey Howard helped write and play on the album. Petals for Armor consists of a three-part series of EPs, forming a chronological narrative of Williams' state of being. It was risky, to say the least, but the strategy ultimately paid creative dividends.
Petals For Armor
Hayley Williams
Atlantic, May 8
Opening track "Simmer" is its darkest moment, an absolutely biting and declarative track on which Haley Williams claims full ownership of these songs. It's clear right off the bat that this is not a Paramore record by any stretch—featuring a bass-laden alt-pop groove, brooding and quiet melodies, and dark intensity.
"And if my child needed protection/ From a fucker like that man/ I'd sooner gut him/ 'Cause nothing cuts like a mother," Williams sings on the second verse, seemingly a reference to her prior relationship. The lyrics are weighty enough on their own, but Williams' delivery conveys the stark message even more. The track is jarring, as it's intended to be, and challenges the listener to continue the album's journey.
The first part of Petals For Armor continues to draw on Williams' own self-doubt and emotional isolation. "Leave It Alone" rolls along with a jazz-like instrumental feel, on which Williams sings about the loneliness of losing friends and interpersonal relationships. "Becoming friends with a noose that I made and I keep tryin' to untie it/ Make it into something useful or maybe hang it through a window pane/ Turn it into a fire escape," she sings.
The upbeat "Cinnamon" is a tripped-out danceable track that features Williams singing of the comforts of home, though still isolated from the world outside. "Creepin'" mixes a Talking-Heads-style groove with a pinch of blues guitar, while "Sudden Desire" starts with a quiet bass foundation before slowly building into a heavy drum and synth alt-pop track.
The album's first part has a number of challenging moments given its musical and lyric intensity, but Williams never loses sight of sacrificing the song for the message.
The heavy lyrical themes are still present on the second act, but Williams begins to find her confidence.
The harmonies are bigger, the instrumentals are louder and some of Williams' lyrical personality begins to shine through again. "Dead Horse" is one of the album's best moments, an infectious jam that has her looking back at her relationship but with a little more self-assurance on lines like "When I said goodbye, I hope you cried."
The breezy "My Friend" is an ode to those closest to her and who remained by her side through her hardest times. Its lush, spacious and complex harmonies soar as the song builds to a funk-influenced bridge. The evolution continues into "Over Yet," an '80s-synth-influenced upbeat song about self-doubt and fighting back.
"Rose/Lotus/Violet/Iris" features Williams looking back at her former self, as well as other women going through the same emotional responses. The song is calm, shimmering and cool. The chorus lyric, "Roses show no concern for colors of a violet/ Lotus hopes it won't spark envy in your irises" is simply divine.
On "Why We Ever," Williams begins to separate from her former self and the emotions that weighed her down with a piano-driven mid-tempo track that sits right in the pocket.
The third and final section has Williams blossoming with far more lyrical self-assurance.
"You think you know me?/ Wait 'til I open up to you," she sings on upbeat bop "Pure Love," now seemingly feeling more comfortable to let people back in to her life.
"Taken" is another track that fuses a surprising blues and funk influence with the guitar, bass and keys, all playing in sync over a restrained, driving groove. The percussive "Sugar In the Rim" sees Williams taking some fun musical risks on all kinds of sounds and samples, building into a full-on synth-driven '80s-inspired song with a chopped-up vocal.
The exploration continues on "Watch Me While I Bloom," which has Williams singing a spacey harmonized vocal celebrating her newfound freedom from her own mind. It has throwback influences but still feels fresh. The album closes with "Crystal Clear," an ethereal and atmospheric mid-tempo track that has Williams summing up the clarity of the journey she's undertaken while looking for what comes next.
Petals For Armor, while at times musically challenging, serves as a tremendous artistic endeavor from Williams. It's a throwback to a time when albums were more often looked at as complete works that needed to be listened to in order. It documents a personal journey that is still a work in progress.
Follow writer Mike DeWald at Twitter.com/mike_dewald.