REVIEW: He Is Legend's 'White Bat' clears house with hard-hitting sludge and roll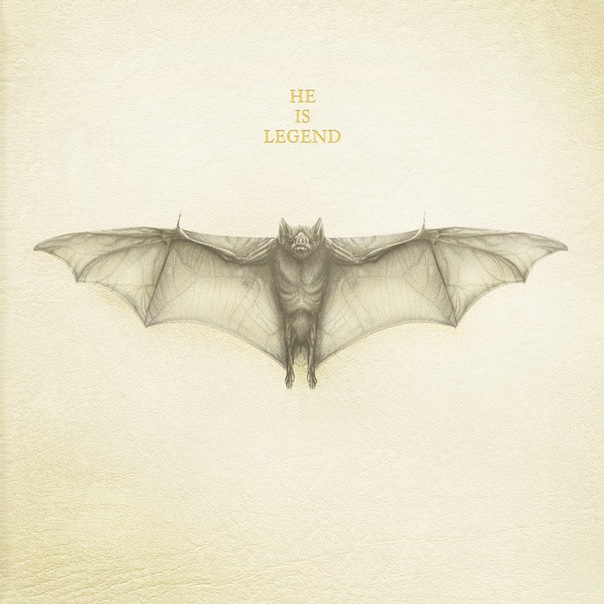 He Is Legend solidified its cult status 15 years ago when 2004's I Am Hollywood not so much arrived on the scene as erupted. The band's combination of Southern rock and metalcore perplexed many, but the people who hopped on board still devour whatever these guys do. Following the matured psychedelia of 2014's Heavy Fruit, 2017's show-stopping Few proved He Is Legend's longevity as unsung heroes of solid songwriting and skull-bashing riffs. It didn't need to reinvent the wheel to be great—and neither does White Bat. With a great balance of moody heaviness and punk rock adrenaline shots, one of metal's best-kept secrets effectively begins its new era.
White Bat
He Is Legend
Spinefarm Records, June 28
Frontman Schuylar Croom cuts no corners when approaching the White Bat concept. From seedy bars to mausoleums, he peered into the dark corners of L.A. life to capture the morbid grit of his tortured, violent character. Beginning with jagged chords and chaotic drums, it immediately brings to mend He Is Legend's savage past more than its recent foray into stoner rock.
"White Bat" turns out to be the pseudonym of the album's protagonist, a nocturnal purveyor of sleaze and violence. He even finds "Mrs. White Bat" during the crushing grooves of closer "Boogiewoman," insofar as he finds someone as dangerous and insatiable as him. These two tracks fittingly bookend White Bat with their respective surging aggression and harrowing sludge and roll, as well as Croom crooning and growling over He Is Legend's most catchy and combative extremes.
In case it wasn't clear before, He Is Legend has no gimmick beyond high-voltage rock and roll—kicking your teeth in until you enjoy it. It's certainly hard to maintain your wits when confronted with the hilariously anarchic lyrics or the head-splitting riffing of "Burn All Your Rock Records." It's literally about a group of fanatical metalheads killing the "tiny little hateful scum" that tells them to turn down the volume.
Close it out with a Pantera-style mosh riff, and you have a certified barn-burner. "Eye Teeth" has a similar jackhammer approach, but He Is Legend's songwriting ability has lost none of its potency. The band punctuates Jesse Shelley's unrelenting drumming, Adam Tanbouz's delicious riffing and Matty Williams' thunderous low end with smart dynamic changes.
In He Is Legend tradition, White Bat consistently balances blues rock swagger and brazen metalcore. The verses of "When the Woods Were Young" pack a blitzkrieg assault, but the chorus brings inventive syncopation, fun licks and classic Southern vocal harmonies. The way "Talking Stalker" and "Bent" progress from their nuanced rhythms and atmospheric soundscapes to a head-banging frenzy is as tasteful as it is chest-pumping.
The anthemic intensity and engrossing musicality elaborates on the band's palpable emotional quotient rather than subverting it. More than head-banging riffs, He Is Legend writes from the heart, and it shows.
"Resister, Resist Her" is essentially a break-up song, as the character frets about his inability to move on: "We've got nothing to lose, except for the rest of our lives." The song's narrative works just as well as its shredding guitar leads and that final dose of gut-punch Pantera worship. The band can even do away with heaviness, as seen on despondent outlaw country ballad "Uncanny Valley." "You were busy being you/ Adorable and carefree… I was busy being me," Croom sings with gravel fervor. The song's title becomes a metaphor for that inexplicable divide between the downtrodden and the fortunate.
Croom flexes his impressive vocal range on "The Interloper," from his harmonizing falsetto to his gravelly snarls. The instrumentation builds from spacious reverb to a seismic culminating riff—an appropriate exorcism after the White Bat struggles with his demons. Similarly, "Skin So Soft" displays the full extent of He Is Legend's musicianship. From an almost proggy intro, soaring vocal melodies and chillingly dissonant guitar leads create a vibe as exhilarating as it is artful. It's hooky enough for the Billboard charts, but the slowed-down breakdown and final blast-beat could knock over a mountain.
White Bat uniquely captures the musical essence of He Is Legend, charged by a compelling narrative and tenacious songwriting. Strip away the scorched-earth metal, and you have some killer rock and roll. Add a healthy dose ruthless brutality, and you have yet another indispensable album to keep He Is Legend in the running for "most underrated band in heavy music."
Follow editor Max Heilman at Twitter.com/madmaxx1995 and Instagram.com/maxlikessound.