ALBUM REVIEW: High on Fire creates heavy metal classic with 'Electric Messiah'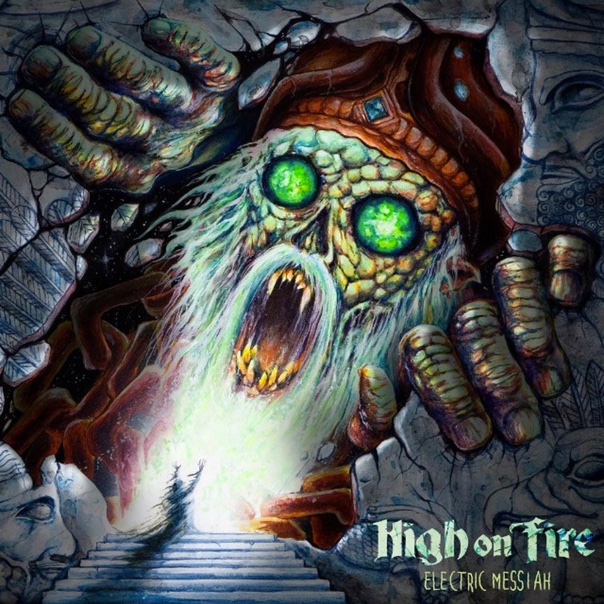 In their tribute to metal god Lemmy Kilmister, Oakland's High on Fire may have discovered the primordial energy that drove Motörhead into the rock and roll annals. Frontman Matt Pike, every metalhead's favorite uncle, recently gushed that Electric Messiah is by far the best record that he has made. This eighth album is an undeniable achievement—an instant classic of honest-to-God heavy metal.
Electric Messiah
High on Fire
Oct. 5
Electric Messiah doesn't discredit High on Fire's past efforts, but it more than holds its own. The album's brutish elegance makes it accessible, but deeply satisfying to explore. It's a metal album for both the uninitiated and the hardened metalheads. Each member brings his own feelings to this cocktail of aggression, mania, melancholy, tribal convictions and raw power.
Take brilliant cut "The Pallid Mask." Its skull-bashing groove evokes sound like the break of dawn, but also a runaway truck barreling toward a cliff's edge. It's so easy to understand as a listener, and it overflows with emotional depth. Jeff Matz's bass wanders to and from the root notes until the guitar smashes into the main riff. Des Kensel's drums constantly escalate, forcing Matt Pike's heavy chords forward. These simple riffs have powerful twists, and it's always by design.
This album connects with listeners like a distant family member. A song like "God of the Godless" might feel like nothing special on first listen, but these songs never get caught up in the trappings of stoner metal. There's always an expressive guitar lick or brilliant drumbeat to elevate the album above the riffraff. The leads and solos don't exist just to maintain metal stereotypes. High on Fire fits an impressive variety of musical ideas into each song. Each instrument and each vocal line is vital to this album's unique aura.
The epic "Steps of the Ziggurat/House of Enlil" starts off heavy and slow, but refuses to fall into straight-up doom metal. The intro recalls "Apex Predator" by Napalm Death. It's not terribly original, but High on Fire plays it too well for that to matter. Pike's guttural barks bristle with angry, vile and villainous intent. Suddenly, the song changes into a melancholic black metal-inspired section. This passage once again proves Kensel's incredible musicianship. Producer Kurt Ballou pushes and pulls the drums in the mix and creates a hypnotic sense of motion. The drums in the right ear move forward and back, while those in the left move side to side.
The ultimate cut of Electric Messiah, "Drowning Dog," is an instant classic that plays like High on Fire's take on Black Sabbath's "Children of the Grave" or Judas Priest's "Hell Patrol." It instantly creates a sense of finale, leading to the crescendo of the entire album. The cymbals vibrate with anticipation until the main riff drops like a depth charge. The song's chorus is iconic—a sure-fire highlight of High on Fire's tour setlist. It represents the band's maturity and chemistry to an engrossing degree. Each member works toward the same goal.
My only one gripe is the first track. "Spewn from the Earth" rips right out of the gate, but the guitar melody leading to the chorus seems to be ripped straight out of Megadeth's "Rust in Peace… Polaris." While still a great song, Dave Mustain's work is simply too recognizable for the similarity to go unnoticed.
Electric Messiah is not hard to understand or enjoy, but it's something to grow into. Lemmy could not have been more proud. High on Fire has released its Painkiller.
— By Josh Rosen