ALBUM REVIEW: Hinds polish their sound and sharpen their wit on 'The Prettiest Curse'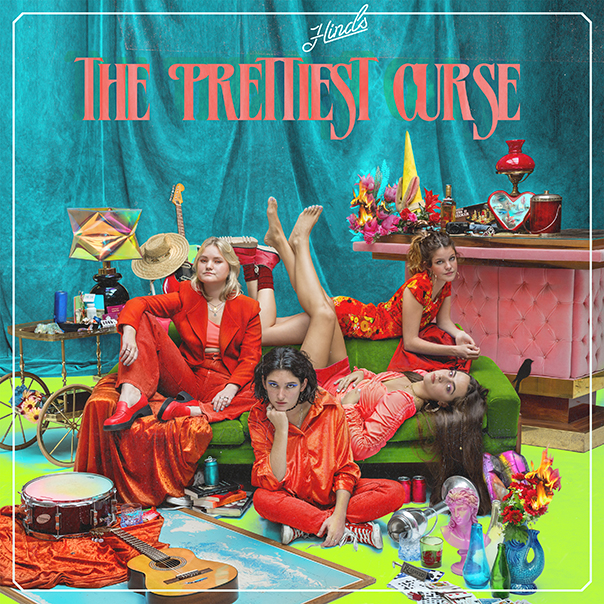 "Good Bad Times," the first song on The Prettiest Curse, features such a polished pop sound that listeners familiar with Madrid quartet Hinds might not recognize the band. The synth-heavy pop intro could very easily score a scene in an '80s after-school TV special about the dangers of premarital sex. Carlotta Cosials' vocals are pure ear candy as she sings, "It's a good day/ With my pretty boy on my arm/ Like in the movies/ We've got a montage and a song."
The Prettiest Curse
Hinds
Mom + Pop Records, June 5
But this fairytale intro is soon revealed to be a false front, as the song turns darker even as the music remains relentlessly cheerful.  "You're turning good times into bad times/ Now that you're no longer sleeping with me/ Bad times are a good sign/ Maybe I'm no longer/ As nice as you think," Cosials sings. The disjunction is masterful, suggesting that even the most loving couples can hide the darker elements in their relationship behind toothy smiles in sunset selfies.
The album soon gets grittier and grows to more closely resemble Hinds' earlier work. While these later songs manage to capture some of the intensity of their live shows, the newfound studio polish allows Hinds to ratchet up their biting mockery that targets mansplainers and pick-up artists with equal aplomb.
"Just Like Kids (Miau)" begins with Ade Martin's bass and Amber Grimbergen's drums locking into a frenetic run before dropping into a sardonic groove behind chintzy piano. The song sounds as cheesy as the come-ons the band has to endure. Singers Cosial and Perrote adopt a kind of derisive and mocking baby talk as they deliver the song's first lines: "Can I tell you something about you and your band?/ 'Cause I'm sure you'd love to listen to my advice/ You're always out of tune and there's no place there for you." An amalgam of the Bay Area's Shannon and the Clams and Devo, the song conveys the absolute agony of these encounters, while somehow also managing to be an earworm that invites repeated listening.
Thanks to the masterful production by Jenn Decilveo, who's worked with The Wombats and Ben Platt, The Prettiest Curse manages to fuse the raw energy and personality of garage rock with a pristine and psychedelic wall of sound. The jangly acoustic guitars and heavy drumbeats on "Riding Solo" and "Boy" recall Yoshimi-Battles-the-Pink-Robots-era Flaming Lips. Hinds match the Lips' anthemic songwriting with the sneering derisiveness of The Violent Femmes.
The band can also conjure breathless sincerity when it want to. "Come Back and Love Me" begins with a flurry of flamenco guitar strums before settling into a smoldering, vaguely retro love song. But the song's message is passionately ambiguous, depicting the emotional crossroads of love and loss.
"Hey, you came at the wrong wrong time with all the problems that I already had/ I looked at you/ Now I'm trapped in you eyes/ Oh yeah, you came at the wrong wrong time/ I'm getting stronger about falling apart/can I have more?" Cosials and Perrote sing, before the song's chorus alternates between English and Spanish: "Come back and love me/ Come and I'll let you win/ Come back and love me/ I hate this way of playing/ Come back to love me/ You avoid me; you excite me more/ Come back to love me/ I swear it hurts if you go."
Hinds' burgeoning success has clearly resulted in their new album's higher production values but without sacrificing the music's emotional rawness, which has grown more nuanced and acerbic. With any luck, The Prettiest Curse will attract the band an even wider audience of listeners to the band's increasingly compelling musical vision.
Follow writer David Gill at Twitter.com/songotaku and Instagram/songotaku.