ALBUM REVIEW: Inter Arma refines aural destruction with 'Sulphur English'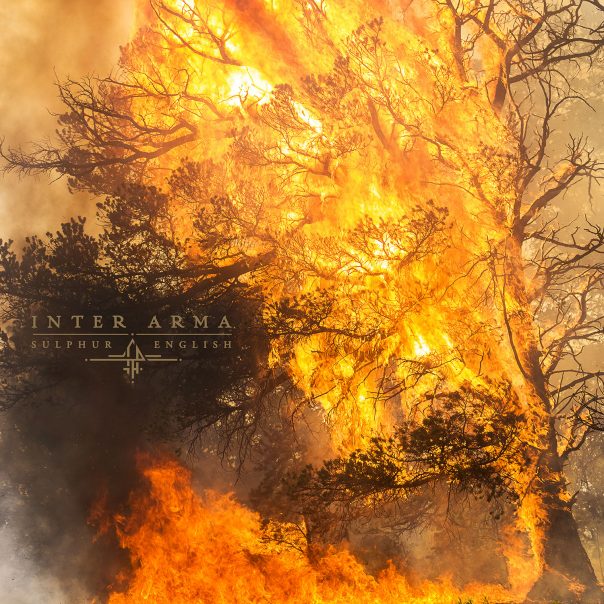 Coming off its 2016 opus, Paradise Gallows, Inter Arma was still getting lumped in with the doom metal troop. It was understandably frustrating, considering the Virginia quintet's unique blend of old-school death metal, psychedelic sludge and avant-garde black metal. Beside the gargantuan riffs of Steven Russell and Trey Dalton, Andrew Lacour's filthy bass tone, Mike Paparo's cavernous vocals and unbelievable drumming by T.J. Childers yield hideous, inexorable compositions. On its fourth album, Sulphur English, Inter Arma doubles down on its most arresting attributes for a harrowing odyssey of thematic poise and unparalleled savagery.
Sulphur English
Inter Arma
Relapse Records, April 12
Although it staggers out of the gate like a drunken cave troll, the planet-flattening riffs and bone-crunching bomb blasts of "Citadel" actually drive empowering lyrics about Paparo's triumph over depression. "I will break free from captivity/ I will weather the storm," he roars atop a steed of hammering grooves and relentless brutality.
This introspection reverts outward during "The Atavist's Meridian," following a soul's arduous journey toward reconciliation with elegant imagery. Childers' blistering drum fills and unpredictable rhythm changes become the current for mutated guitar lines as they crash like tidal waves and crush with insane dissonance. Sluggish guitars and technical drums remain a vital contrast for Inter Arma's sound, serving Sulphur English's intoxicating atmosphere.
Interludes "Bumgardner" and "Observances of the Path" deepen the album's vibe with foreboding low-end piano progressions and eerie soundscapes. Bludgeoning yet nightmarish, Sulphur English imbues viscera and ambiance into a haunting, long-winded excursions. This is what gives "Howling Lands" its Deathspell-Omega-meets-Neurosis feel.
Tribal tom-toms, rumbling drones and spine-chilling shrieks result in apocalyptic hypnosis, reflecting Paparo's despairing narrative. His snarls and groans seer and smolder like the coming pandemonium for the blissfully ignorant: "And they'll pray to their gods/ For a mercy so sweet/ As they dig their way/ To the center of hell."
Inter Arma covers a lot of ground, but Sulphur English retains the band's catastrophic catchiness. Opener "A Waxen Sea" evokes everything from Bolt Thrower to Mastodon, melding unbridled heaviness and riff-happy prog-sludge with evident chemistry. Childer treats blast beats and double-bass with bombastic crescendos and complex cymbal-work, electrifying the guitarists' lumbering distortion and anti-melodic sorcery. Inter Arma's propensity for dynamic nuance opens up a world of possibilities, on which the slow-burner "Stillness" takes full advantage.
Equal parts shamanic fireside chant and rustic Southern gothic, the song uses multilayered vocal harmonies to guide a simple acoustic guitar lead to glacial spirituality. With fervent singing and warped theremin taking the lead, the song's culmination more than justifies its basis on one simple idea—much like the most sprawling cuts on Swans' Soundtracks for the Blind.
Inter Arma's music is remarkably disturbing, but there's still tact in its approach. "Blood on the Lupines" could have gotten lost in a hazy dreamscape, but a striking sonic portrait slowly emerges from the dreary organs and swaying beat. At its midpoint, the song plummets without warning into an ocean of dark texture. The collective weight of atonal keyboards and guitar chords becomes devastating, ornamented by echoing throat singing and gnarled rasps.
Inter Arma's ability to channel suffocating dread into compelling arrangements makes the band an indispensable addition to underground metal. The title track careens between sections with chaotic frenzy. Russell and Dalton explore the bowls of chordal depravity as Childer approaches his battering beats with the expressiveness of a jazz improviser. Every sound hits like a freight train and terrifies beyond belief, but the abject abuse becomes the vehicle for Paparo's condemnation of the eroding rhetoric of corrupt leaders. "Sever the corrupt tongue/ Of the imperious fool/ Silence the gangrenous root/ Of his abhorrent voice," he bellows during final fadeout, revealing the true meaning of the album's title—putrid words from malevolent people.
Sulphur English could have become a disjointed Frankenstein's monster, but it adds up to Inter Arma's most cohesive album to date. Caustic textures find support in impressive musicality and robust lyricism, with head-banging, mind-altering results. By firing on all cylinders and wearing its dark heart on its sleeve, Inter Arma has unleashed its ultimate salvo of extreme metal firepower.
Follow editor Max Heilman at Twitter.com/madmaxx1995 and Instagram.com/maxlikessound.