ALBUM REVIEW: Interpol sinks beneath unnecessary noise with Marauder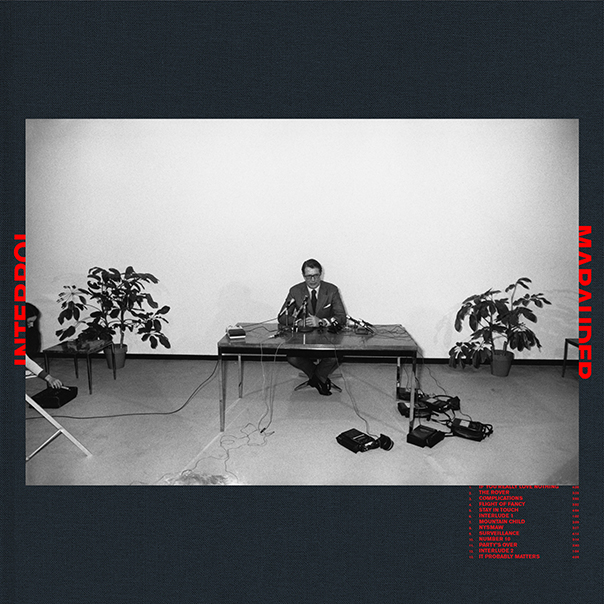 It's impossible to talk about 21st-century rock music without mentioning New York's Interpol and its 2002 debut, Turn On the Bright Lights. Often considered the gold standard for the post-punk rival, Interpol's first record helped salvage alt-rock from the depths of post-grunge. It did this by harkening back to an era where Joy Division and Echo and The Bunnymen championed gloomier sonic realms. The band then released a handful of solid—if unspectacular—records that tried to recreate the success of the debut. Though 2004's Antics is still a great album in its own right, Interpol never fully captured the glory of its first outing. This brings us to 2018, with the band attempting to rekindle the past on Marauder. 
Marauder
Interpol
Aug. 24
Following up 2014's El Pintor, Marauder is Interpol at its moodiest but most mediocre. It tries but fails, and fans may walk away disappointed.
Despite bringing in Mercury Rev and The Flaming Lips producer Dave Fridmann to work through an arduous process of recording and re-recording over prior takes through analog tapes, Interpol's sound doesn't really evolve. The "recording process, which the band has called innovative, only dampens Interpol's beloved urgency and dynamics. Numerous layers of lo-fi pastiche often drown out frontman Paul Banks' signature vocal delivery.
Usually employing nasally yelps and extensive brooding incantations, Banks' voice becomes almost unrecognizable and fails to evoke the raw emotion it once could. Interpol is at its best when the frontman is doing his best Ian Curtis vocal impression, making these new developments rather disheartening.
Nevertheless, a few moments on Marauder feature the frontman's vintage howl playing peekaboo with listeners' ears. On the standout track, "Mountain Child," Paul Banks' voice breaks free of the fuzz and soars over a palmy bass line and into a darkly invigorated and narcotic chorus: "Show me what it is/ What you use it for/ I've seen you so high like a meteor/ Show me what it is/ What you use it for/ I watch it roll by like a cannonball." Then there is the paranoia-filled standout "Surveillance," where Banks' offers a wavering, yet deepening refrain, "Surveillance we've seen it all again" over Daniel Kessler's impenetrable lead guitar.
While several vocal performances embody Interpol's heyday, far more become shrouded in unnecessary distortion and delay. Tracks like" Party's Over" and "Number 10" are cacophonous cuts, with Banks' voice desperately trying to escape the abrasive distortion. Marauder's fuzzed-out perversion of sound may be too much for listeners who've long awaited Turn On the Bright Lights no. 2, but it operates well when Sam Fogarino's deafening percussion is the driving force and the Kessler's lead guitar is jagged and playful.
The album's opening two tracks showcase this formula for success. "If You Really Love Nothing" opens the floodgates to complete dissonance and creates a nihilistic aura of mourning before giving way to the show-stopping single "The Rover." As Kessler's angular guitar loops invade listeners with an invigorating energy, Fogarino bangs his brains out on drums as if he hit a line of Bolivian Marching Powder before recording his demented part. With moments like these, it's easy to understand why the band said in a news release that Fogorino busted his kick drum and why the cops were called during a recording session.
Even with the aforementioned highlights, the rest of Maurader burns out of energy. With the exception of a couple tracks, the band struggles to capitalize on the invigorating opening. Most of the songwriting here is solid, but the production overshadows what could have been a spectacular piece of post-punk.
Negatives aside, Marauder is not a lost cause. The Interpol's chemistry seems rejuvenated and its sound still maintains an edgier, darker tone. But the overwhelming haze distorting the band's sound leaves it lost in a maze of feedback.

Follow writer Kyle Kohner at Twitter.com/kylejkohner.