ALBUM REVIEW: Tim Booth is candid on James' Living in Extraordinary Times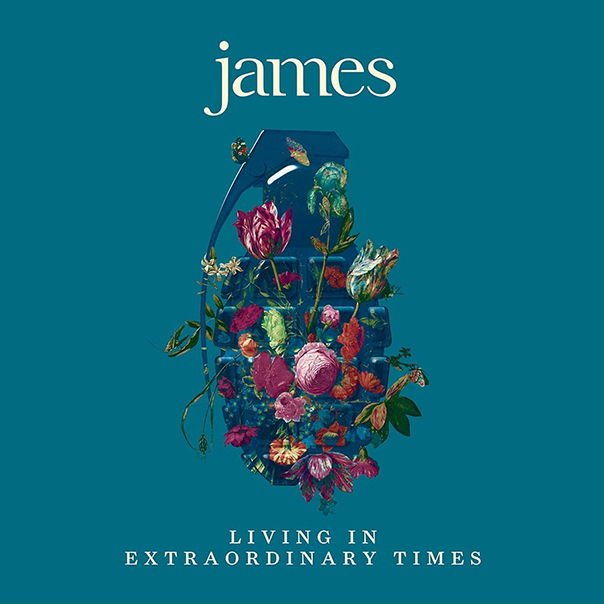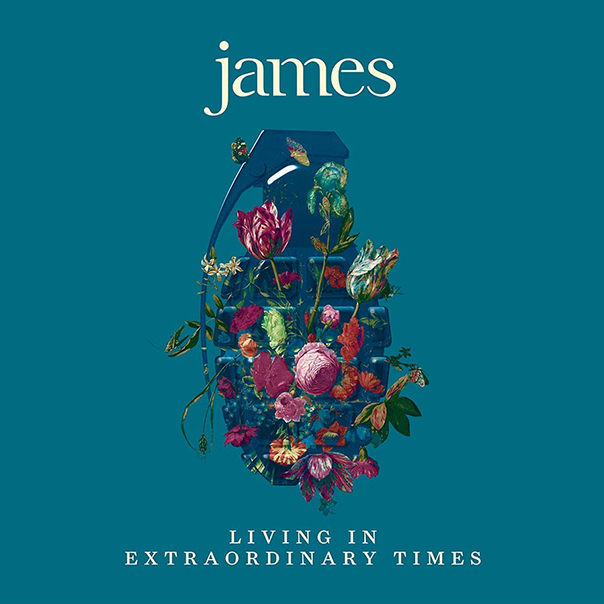 Post-hiatus success can become a challenge for bands when nostalgia for their past successes overshadows their new material. While best known for '90s hits "Sit Down," "Come Home" and "Laid," British rock band James reached new milestones with recent releases, even following a six-year absence. James' impact surged during the '90s Madchester music movement with 1990's Gold Mother. Revelling in the "baggy" sound—a combination of indie-pop, alternative, psychedelia and funk—the U.K. rockers incorporated lovestruck and political lyrics. James disbanded in 2001 when lead singer Tim Booth left to pursue other projects, but reunited six years later with more releases and sold-out tours to follow. The group reached a new high with 2016's Girl at the End of the World, placing second on the U.K. Albums Chart behind Adele's 25.
Living in Extraordinary Times
James
Aug. 3
Now, the septet returns with Living in Extraordinary Times, which preserves the candid spirit of previous work while exploring multifold musical ideas. In true James fashion, the 13-track LP kicks off unabashedly topical. Opening song "Hank" calls out America's political state with outspoken lyrics: "White fascists in the White House/ More beetroot in your Russian stew," Tim Booth sings. The drums roll with vigor and Booth's vocals echo like a megaphone as the chorus calls to action: "Bend your knee/ Stand your ground."
"Many Faces" and "Mask" also touch on sociopolitical issues, but to a different tune. Both include discussions of religion and equality while following a refreshed melody. The former, full of whimsical brass parts and bright chorale chants, leaves listeners with a combined optimist and realist perspective. Sings Tim Booth: "There's only one human race/ Many faces/ Everybody belongs here/ We're alive and then we die." Meanwhile, the latter's folksy spirit is paired with a more personal narrative.
"Coming Home (Pt. 2)" introduces a side of James that valiantly wears its heart on its sleeve. The track, which features keyboard contributions from Brian Eno, juxtaposes a military march soundscape with anecdotal hardships of balancing parenthood and touring. The opposing forces eventually find middle ground during the upbeat refrain, "I'll be coming home."
"Leviathan," "How Hard the Day" and "Hope to Sleep" continue the sentimental expression, this time with softer tones to complement the mood. From the agonies of love to self-defeating musings, James immerses listeners in starry-eyed piano lines and entrancing soundwaves. Titular track "Extraordinary Times" carries the same cosmic splendor, but with a lustful message.
In between political and personal discourse, James revisits its retro sound. Tracks like the antigovernment "Heads" and the endorphin chasing "Picture of This Place" start with hypnotic instrumentals that grow into danceable rock bangers by way of eclectic drums, horns and other trills. "Better Than That" and album closer "What's It All About" break in with edgier riffs that are layered with funky synths, ticking buildups and futuristic vocals, which altogether send listeners into a hypersonic whirl.
Contrary to "What's It All About," bonus track "Backwards Glances" calls out for a lost love, switching the album's conclusion to a crestfallen mood. The special edition of Living in Extraordinary Times also includes three demos of unreleased songs "Moving Car," "Overdose" and "Trouble," all of which take it a bit easier on melody.
Living in Extraordinary Times observes the titular adjective outside of its typically positive context. It illustrates a bewildering reality driven by societal upset and one's own internal battles. James delivers unadulterated dialog as always, embedding urgent matters into challenging melodic expression. It also strips its sound to bare essentials in vulnerable moments, creating an extraordinary sonic dynamic.
Follow editor Chloe Catajan at Instagram.com/riannachloe and Twitter.com/riannachloe.