ALBUM REVIEW: James Taylor meets the 'American Standard' on his 20th LP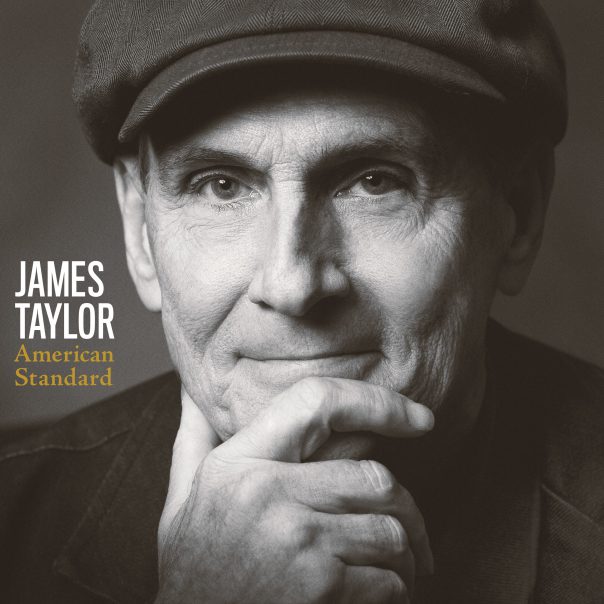 A title like American Standard doesn't hide what James Taylor has in mind this time around. Twenty albums into a storied career, it's hard to think of a way he could further prove himself. With this album of standards, he acknowledges his career stage. Instead of attempting to appeal to new demographics, he sits down with his acoustic guitar to pay tribute to the sacred art of songwriting as it existed when he was growing up. After embodying the songwriting tradition for multiple generations, Taylor harks back to the songs of his own childhood.
American Standard
James Taylor
Fantasy, Feb. 28
Like all of these songs, opener "My Blue Heaven" long outlived its original writer (Walter Donaldson) and lyricist (George Whiting). Written for theater, the song has become a standard in the truest sense—a song that's not really by anyone. You just know it. Taylor's no-nonsense acoustic riffing traverses a sustained intro and a fiddle-laden bounce with an authentic feel for that late 1920s shuffle.
Hand percussion weaves a hint of bossa nova into Taylor's rendition of Gene Paul's "Teach Me Tonight," playing up Sammy Cahn's wholesome rhymes with placid brass accompaniment. The following "As Easy As Rolling Off a Log," by M. K. Jerome and Jack Scholl, locks into a straightforward brush-on-drum swing feel.
Taylor dials back the film-ready composition with his acoustic, living-room sonics, punctuated by a picturesque clarinet solo. And yet, he just as easily pulls off Billie Holiday's "God Bless The Child," with John Pizzarelli laying tuneful licks over arpeggiated, bluesy soul. Taylor clearly loves playing these songs, but a labor of love can still have its drawbacks—mainly in a lack of engaging arrangements.
For the James Taylor fan who just wants more of his soothing voice, any of these cuts will hit the spot. The wholesome folk of "Moon River" or the downtempo swinger "Almost Like Being in Love" certainly capture the unthreatening warmness he has taken with him throughout his career. Even so, Taylor is more than a demure soft-rocker. He's a smart arranger with an ear for tasteful depth. Who else could make a holiday classic out of a one-off Christmas album for Hallmark Cards? American Standards could have used more of Taylor the arranger providing dynamics.
This isn't to say the complex chord progressions, flawless tempo changes and underlying vocal harmonies in Taylor's take on the Broadway number "Sit Down, You're Rockin' The Boat" don't have their own charm. And sure, the return of Latin-esque percussion on Hoagy Carmichael's "The Nearness of You" differs from the usual vocal jazz ballad approach. Taken as a love letter to the American songwriters of the 20th century, it's subtly heartwarming. But what exactly necessitates the existence of Taylor's version? 
Plenty of these renditions do have bells and whistles to move things along, like the regal cello on Richard Rodgers and Oscar Hammerstein's ode to human goodness, "You've Got To Be Carefully Taught," or the organ ornamentation on Johnny Burke and Arthur Johnston's hopeful go-getter "Pennies From Heaven." It bears emphasizing that Taylor is still very much in control of his accessible grooves and inviting melodicism. The fact that none of these songs are poorly executed should go without saying. He knows what he's doing, begging the question of whether what he's doing gratifies anyone but lifelong James Taylor fans.
For those who know and love a cut like "Ol' Man River," it's easy to appreciate Taylor's true-to-form delivery. His folky, yet proficient guitar playing lays the perfect foundation for his baritone range, in line with the song's original popularizer, Paul Robeson. For a song like "It's Only a Paper Moon," played by a host of heavy-hitters like Paul McCartney to Miles Davis, hearing it on such stripped-back terms comes full circle and becomes refreshing.
With closer "The Surrey With The Fringe On Top," the purpose and vitality of American Standard clarifies itself. The melodies Rodgers and Hammerstein wrote for 1943 production Oklahoma have undergone all sorts of changes by a plethora of artists. What Taylor does is distill the essence of the melody that made it so malleable in the first place. Considering Rodgers' open dislike of the creative liberties taken by some jazz renditions of his song, perhaps it's only fitting for Taylor to present it so purely—like he's playing it for friends and family by a crackling fireplace.
It's undeniable that the approach James Taylor takes on American Standard is less and less common in modern music. The album becomes a crash-course in the lexicon of American songwriting, provided by a man who traces his own artistic lineage directly back to these timeless tunes.
Follow editor Max Heilman at Twitter.com/madmaxx1995 and Instagram.com/maxlikessound.