Album Review: Jeff Goldblum and friends continue to find joy in jazz on new LP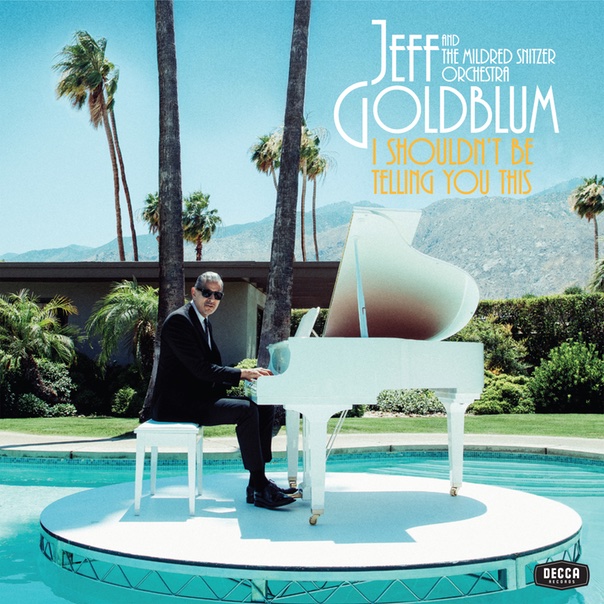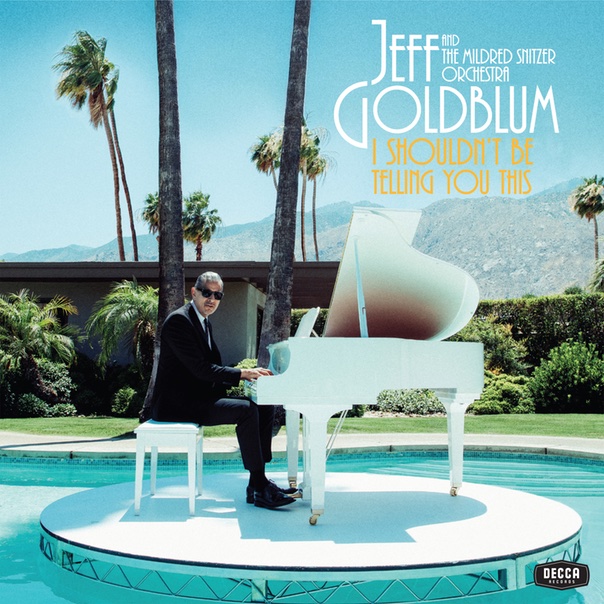 Some might argue that it's impossible for Jeff Goldblum to be boring, and they'd be right. The man's charisma has almost become its own sentient entity. Unlike many actors-turned-musicians, he has the musical chops to back up his entertaining personality. His Capital Studios Sessions debut with the Mildred Snitzer Orchestra justified his musical pursuit. I Shouldn't Be Telling You This comes as an extension of Goldblum's incredible restraint and taste as a bandleader. In fact, he's mostly in the background, pulling strings behind the scenes for the myriad of incredible talent that appears here.
I Shouldn't Be Telling
You This
Jeff Goldblum & The Mildred Snitzer Orchestra
Decca Records, Nov. 1
Like Count Basie did with his big band, Goldblum lays the foundation and lets the music breathe. As he follows Alex Frank's stand-up bass line at the start of "Let's Face The Music And Dance," Sharon Van Etten effortlessly imparts her distinct vocal to Irving Berlin's tune. It's a hell of a start for an album full of compelling guests. The amalgamation of Ray Henderson and Lew Brown's "The Thrill Is Gone" and "Django" by John Lewis features none other Miley Cyrus, who delivers the classiest performance of her entire career amid a straightforward mid-tempo swing—rounded off by Joe Bagg's old-timey organ and timeless brass accompaniment.
A mashup of Wes Montgomery and Marianne Faithful, "Four On Six / Broken English" benefits from Anna Calvi's suave, lackadaisical feel as the Mildred Snitzer Orchestra gets cooking with a driving swing pattern. The straight-eighth, almost bossa nova feel of Lee Morgan's "Sidewinder" and the rock and roll melody of Sonny Bono's "The Beat Goes On" find common ground on Inara George's (of The Bird and the Bee) soothing alto. As she trades bars with trumpeter Gilbert Castellanos, this record's carefree vibe hits the spotlight. More than a show of musicianship or vanity (for possibly the first time in actor-turned-musician history), Goldblum simply wanted these songs to be a fun listen.
"Driftin'" recalls Herbie Hancock's Blue Note era with a hard-grooving mid-tempo swing. After Frank and Bagg divulge in their own tasteful licks, Goldblum trades bars with guitarist John Storie to an effect similar to that of Bill Evans. No, he's not quite on that level of expertise, but the way he serves the song instead of feigning technical ability says a lot about his mindset. It's what allows other instrumental tracks like "The Kicker" to strike a balance between jazz combo and big band jazz. The uptempo number sports excitable united band hits and spirited soloing, using intuitive chemistry to service joyous volume.
Though this album falls under the vocal jazz umbrella, the instrumentation always finds ways to be interesting. When "If I Knew Then" sees Gina Saputo scat along with the rhythm section and saxophone, it's a solid dose of timeless melodicism in under two minutes. The similarly compact "The Cat" brings back straight-eight jazz, packed with Goldblum's lick vocabulary and a dazzling organ solo. The arrangements are well executed and exhilarating, providing much more than a backdrop for the featured singers.
Of course, it wouldn't be vocal jazz without a Frank Sinatra cut. Fiona Apple's take on "Don't Worry 'Bout Me" comes with support from muted tom-tom rhythms and silky sax lines. It's a melancholy ode to the one who got away, but jumps from ballad to bittersweet boogie in an instant.
Gregory Porter takes the lead on "Make Someone Happy," a swaying glorification of romance. His voice has all the heartfelt emotion and deep timbre you could want, playing off dancing sax and regal organ like he's the one with the ensemble. The addition of background call and response vocals adds to its homey, innocent vibe.
Storie's expressive chord progression lays the foundation for closer "Little Man You've Had A Busy Day," on which Goldblum takes his place in the spotlight. It's uncanny to hear his natural charisma exude from his voice. It actually enhances the vibe rather than becoming a distraction. He treats the song's delicate percussion, minimal organ and unwavering walking bass line with respect. His odd, quasi-spoken inflections stand out from the trained voices on previous tracks—but all of a sudden, you understand his passion for this type of music.
Jeff Goldblum doesn't have to do this. I Shouldn't Be Telling You This exists simply because he wanted it to. He loves jazz, and he likes having fun. The fact that rubbed off on so many people only increases the album's charm.
Follow editor Max Heilman at Twitter.com/madmaxx1995 and Instagram.com/maxlikessound.