ALBUM REVIEW: Jeff Goldblum captures big band magic on his debut LP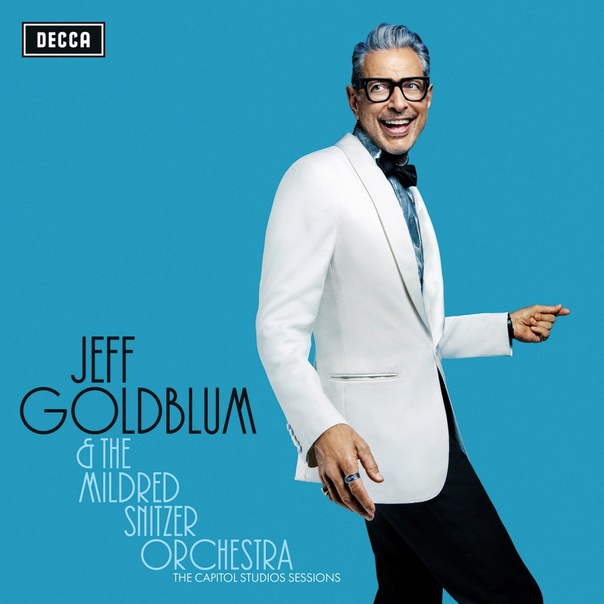 Jeff Goldblum is a dish best served in person, but for anyone unable to attend one of his performances with the Mildred Snitzer Orchestra, his long-in-the-making debut album evokes a comparable front-and-center experience.
The Capital Studio Sessions
Jeff Goldblum
Decca Records, Nov. 9
On The Capitol Studios Sessions, Goldblum turns the studio into a sophisticated club. He captures the warmness and personality of a live big band jazz performance while maintaining studio quality instrumental and vocal performances.
Much in the way Steve Martin has warmed up his audience to the world of bluegrass, Jeff Goldblum has built a not-so-secret second career of making jazz digestible to film fans.
What he and the Mildred Snitzer Orchestra have made here can be appreciated by jazz veterans and casual listeners alike. Much of that has to do with the credibility of performers like singer-songwriter Imelda May and jazz trumpeter Till Brönner.
Goldblum remains in the spotlight, singing from behind the piano. Listeners will get a taste of an authentic concert experience—from the compelling banter he includes with the entertainers he features, such as comedian Sarah Silverman.
Silverman may not have the strongest vocals on the album, but her personality goes toe-to-toe with Goldblum on the duet "Me and My Shadow." The lyrics from the 1927 classic, covered by greats like Frank Sinatra and Sammy Davis Jr., get a modern update from Silverman and Goldblum. They include including references to "The Godfather," Al Gore and, of course, Jurassic Park.
"Me and My Shadow" also highlights Brönner's trumpeting. As he plays his heart out, Silverman provides commentary, comparing the solo work to "cutting butter with a hot knife" as Goldblum asks if it's OK to leave butter out overnight. This smooth mixture of music and comedy permeates the album.
The orchestra's rendition of Miles Davis' instrumental 1940s show tune "It Never Entered My Mind" appropriately features trumpet once more. Supported by the standard combo of piano, guitar, upright bass and drums, this cut captures the classic cool jazz vibe of quiet intensity.
The album's mix of instrumental and singer features balances familiar and obscure covers, deep-diving into American jazz standards.
One of the more straight-ahead swing cuts, Nat King Cole number "Straighten Up and Fly Right," features Imelda May on vocals. May, who has been compared to Billie Holiday, has a convincing vintage appeal in her voice. Laced with bits of scatting and playing to the audience, one could almost picture her performances without actually having to see it.
American Idol finalist Haley Reinhart sits in with the band for a couple tunes, including the intimate brush-on-snare swinger "My Baby Just Cares For Me." On this tune (popularized by Nina Simone in 1958) Reinhart's flirtatious repartee with Goldblum—including lines like, "My Jeffy just cares for me"—sets the mood for the song. Her voice, angelic and sultry at the same time, admirably carries the tune.
After sitting with the hour-long album, listeners can walk away feeling as if they just received a crash course in the essential jazz Real Book—made accessible by that curious quirky attractiveness that can only be supplied by Jeff Goldblum himself.