ALBUM REVIEW: Joan Osborne wanders the AM dial on 'Trouble and Strife'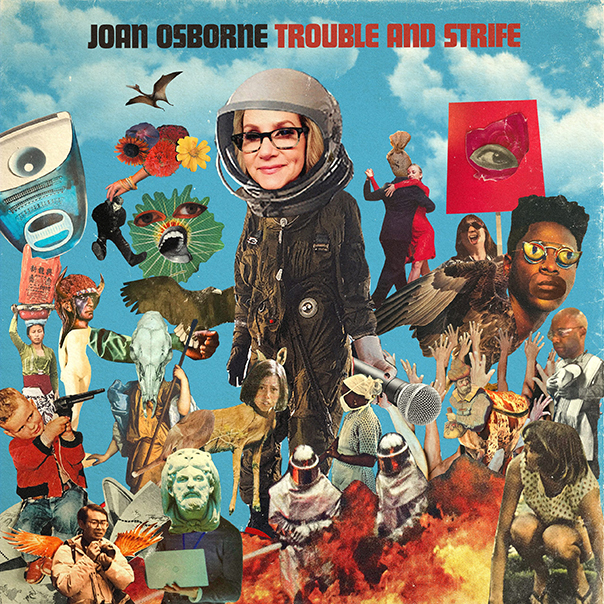 Joan Osborne burst onto the scene 25 years ago singing "One of Us," a song penned by The Hooters' Eric Bazilian. The song's theological speculation about God's smelly bus ride transubstantiated itself into a chart-topping hit and a bunch of Grammys as the first single from Osborne's debut album, 1995's Relish. Since then, Osborne has focused her efforts touring as a singer for the Motown backing band The Funk Brothers, producing a couple albums for her friends The Holmes Brothers and recording an album of Bob Dylan covers in 2017.
Trouble and Strife
Joan Osborne
Womanly Hips, Sept. 18
6/10
Her 12th studio album, Trouble and Strife—set to release under her own Womanly Hips label—is a nostalgia-tinged tour of 1970s AM radio featuring a stew of classic rock, soul, funk and folk tunes performed by Joan Osborne, who's backed by an impressive group of musicians.
The album's first single, "What's That You Say," is an old-school funk celebration of the vibrancy brought to America by its immigrants. Osborne offers an empowering story of a woman from south of the border, and the effect her arrival has on a neighborhood in America.
Sings Osborne during the call and response chorus: "Growing strong just like a tree (What's that you say?)/ Coming now to set you free (What's that you say?)/ Ooh, rising up for all to see (What's that you say?)/ Baby was a refugee (What's that you say?)."
Most of the verses, however, concern themselves with the effect this woman's appearance has on the people around her, which feels a little superficial. Osborne sings, "Captivated by her eyes so brown/ You could make a brand new start/ When she's speakin' you just tumble down/ Watch her walk away with your heart."
Other songs draw from a classic rock vibe. "That Was a Lie," sounds halfway between The Pretenders and Fleetwood Mac, and even features some guitar twang during the choruses. The song chronicles the destruction of a relationship through deception and apathy. Osborne delivers the fantastic couplet, "If every day it gets a little bit worse/ Well, he's just a wallet and she's just a purse." The album's title track features a heavy freight-train-like rhythm and Osborne's Chrissie-Hynde-like delivery—somewhere between a sneer and a smile.
The album also mines both the disco and the Motown sounds. The perky synths on "Never Get Tired (Of Loving You)" call to mind Donna Summer's disco hits, while Osborne's lyrics recapitulate Elizabeth Barrett Browning's famous poem, "How Do I Love Thee." The staccato piano and gritty guitar on "Whole Wide World" imbue the song with a satiny tension reminiscent of The Platters' "Only You" or The Crew Cuts' "Earth Angel."
Closing track "Panama" feels like the freshest and most original song on the album. Osborne's bassy, full voice propels the track's sparse but rumbling rhythm in a way that feels more original than any of the other tracks. "Some folks in the city they be living way too large/ The meek are in the jailhouse/ The wicked are in charge," she sings.
Osborne's latest reveals the singer to be a serious student of the last 75 years of music, as well as a talented musical chef capable of recombining vintage sounds to great effect. Joan Osborne's musical acumen also serves her liberal politics, which focuses on social justice and empowerment. The result is an album that serves both as a time machine, revisiting the sounds of past—and as a lens, focusing on the problems of our time as well as the heart and soul it'll take to solve them.
Follow writer David Gill at Twitter.com/songotaku and Instagram/songotaku.