ALBUM REVIEW: John Legend lifts spirits amid unrest on 'Bigger Love'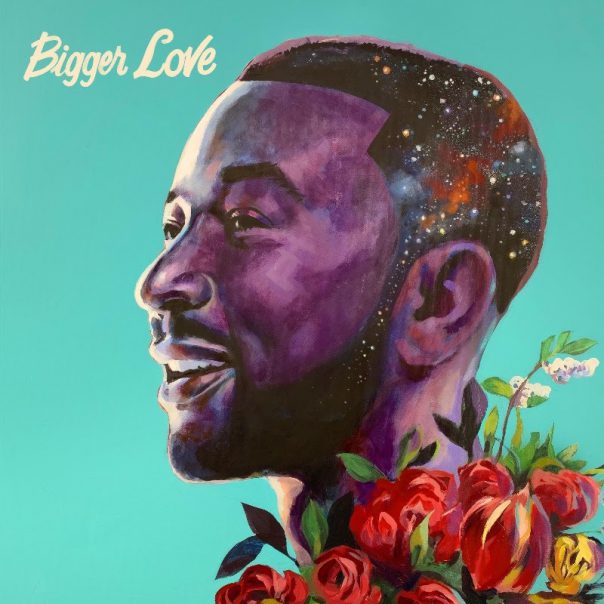 R&B songsmith John Legend found inspiration from a number of places during the creation of his seventh studio album, Bigger Love. Legend drew upon the love of his wife, his family and the rich history of Black music that influenced his development as an artist, also choosing to release the album on Juneteenth as a nod to that history. Bigger Love is an expansive 16-track effort that covers ample ground in fusing old-school throwback soul with modern R&B.
Bigger Love
John Legend
Columbia Records, June 19
The album's formation occurred before the backdrop of a global pandemic or the daily images of societal unrest in the wake of multiple police killings. Rather, Bigger Love provides a reprieve from the chaos and an opportunity to focus on the nuance of love, life and a celebration of the spirit. John Legend has grown into music's A-list, continually delivering some of the smoothest vocals in the business.
The album opens with "Ooh Laa," a doo-wop-inspired track with hip-hop and R&B rhythms. The half-time features Legend's smooth-as-silk falsetto. Remember: this man is one of just 15 artists with an 'EGOT,' or all four of the major awards in entertainment, and it's that kind of range that's put on display over the duration of the record. Legend's sound is sometimes classic, cinematic or avant-garde, but it's always smart and soulful.
R&B tune "Actions" opens with a minimalistic guitar playing over the bass-driven beat. As the song grows to include background singers, brass and strings, it takes on a new life as Legend sings, "Actions speak louder than love songs/ I've been doing it all wrong." The tempo rises on the funky and soulful "I Do," which has Legend offering up a call-and-response cadence in the chorus: "I do/ I hope you do, too."
The sensational "One Life" feels like a union of classic cinema score and throwback funk painted on a modern day canvas. Few singers can emote an uplifting message quite like John Legend, and his message breaks through strikingly clear on this track. He gets an assist from Gary Clark Jr. on the rock-tinged "Wild," a soaring power ballad made even better by Clark's expressive guitar work.
The title track brings a more danceable aesthetic, with an Afro-pop rhythm. There's some additional horns bringing the song home in the final stretch. Jhené Aiko adds a spacious and sensual groove to "U Move, I Move," a love song that has the singers trading verses before coming together for the rousing chorus. "Favorite Place" digs into the sensual intensity of Legend's delivery, mixing orchestral strings with a firm backbeat and layered vocal harmonies.
R&B love song "Slow Cooker" has one of the most traditional arrangements on Bigger Love. Legend's falsetto on the chorus is a showstopper as the track reaches the heights. "Focus" adds some acoustic influences but still manages to leave the instrumentation in the background, letting Legend and his backing harmonies do the heavy lifting. On "Conversations In The Dark," he blends piano-led balladry with orchestral influences. Again, his vocal is stunning and powerful.
Legend brings back the danceable rhythms for "Don't Walk Away," an ode to the strength of love featuring a guest appearance from Jamaican artist Koffee. "Remember Us" is a smooth and suave love song with a sweet sensibility and classic orchestral influences and a verse spit by Rapsody.
"I'm Ready" is a hypnotic slow burn of a ballad, slowly rising to the ultimate crescendo of strings and harmonies. The song offers up some of Legend's most striking, soothing and vulnerable vocal performances on the record.
The album's closing track, striking piano ballad "Never Break," tells a story of the strength of love and echos current events. This connection is impossible to ignore.
"The world is dangerous/ Throw it all at us/ There's nothing that we cannot take/ We will never break," John Legend sings, his words taking on a new meaning. It's as if he's singing to an anxious nation in transition.
Follow writer Mike DeWald at Twitter.com/mike_dewald.