REVIEW: Jon Foreman of Switchfoot 'goes on and on' with 'Departures'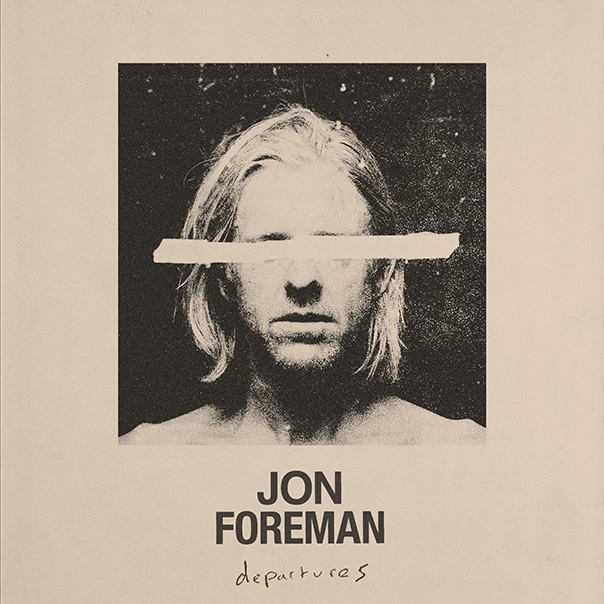 If you were a part of the youth-group, church-basement set, you may fondly remember the rise of alt-rockers Switchfoot from Christian act to a cross-over success. Led by Jon Foreman, Switchfoot sold over 2.7 million copies of its 2003 mainstream debut album. While enjoying the success, Foreman found himself missing the more personal connection with fans, so he independently released a collection of EPs, most recently 2015's The Wonderlands. Departures is his first solo LP.
Departures
Jon Foreman
RE:THINK, Feb. 12
6/10
While Switchfoot has side-stepped the label of "Christian rock," Foreman seems to embrace this label on Departures, with more than half of the album's 12 songs making explicit religious references as Foreman examines his own faith in the wake of all that was 2020.
Jon Foreman set an ambitious goal for this album to be "the soundtrack for the uncertain questions." Opening with the dramatic "The Ocean Beyond the Sea," he seems to keep to this promise, offering a search for an "elixir for all who grieve." Beginning with a solemn and solitary organ, Foreman layers on his lyrics in a whispery voice, tracing an epic journey through forests, meadows and valleys above the sky. Bolstered by orchestral swells, the song would be at home on a "Lord of the Rings" soundtrack and is the most successful in terms of storytelling.
The next track, "Education," whiplashes listeners, turning from the subdued Gregorianesque chant of the opener to a burst of a pop-rock love song. It starts with a twangy harmonica solo, and Foreman, showing off his chameleonic vocals, switches from slow and somber to a high-energy singsong. The upbeat track concerns various kinds of education "that you can't pay for," including "how to get back in a fight" and "how to say goodbye." While some listeners might be troubled by the song's seeming encouragement of codependency––the chorus insists that "You lose yourself/ When you love someone!"––it's quite catchy.
While it doesn't feel particularly aligned with Foreman's stated theme, the pre-chorus does cheerfully acknowledge that "[the pain] goes on and on and on and on and on and on and on."
From "Side to Side" onward, the album begins to segue into faith-based territory, not unlike Switchfoot's early material. More ambiguously religious tracks "Side by Side," "Red and Gold" and "The Gift" contain fleeting theological references that a casual listener may miss. They all feature Foreman's lilting voice over melodic chord loops that are accompanied by guitar, piano and the occasional violin. On "Side By Side" Foreman is joined by Americana singer Madison Cunningham. Her fans may be disappointed that her powerfully clear voice is pretty much lost under Foreman's, it nevertheless, provides a mellow harmony that rounds out the song.
Fortunately, Christian pop superstar Lauren Daigle gets a chance to shine on the following track, "A Place Called Earth," in which she and Foreman trade verses back and forth.
While these more ambiguous tracks are upbeat love songs that don't really address uncertainty, Foreman brings the drama and doubt on the overt cuts. "Jesus, I Have My Doubts" is a slow-paced confessional ballad. While Foreman's sins seem relatively paltry (doubting his faith in the face of an unforgiving year), he uses his vocal range from near-bass to near-falsetto to imbue emotion, even if the song lacks lyrical depth. He atones for his doubt on "Thanks Be To God," a worship song.
The last three tracks of the album return to secular songwriting. "Love Is The Rebel Song" echoes the upbeat and hopeful energy found on "Education," and Foreman also reprises his muffled enunciation, lending some boyish charm.
Despite the title's clear Psalms reference, "The Valley of the Shadow of Planned Obsolescence" is a firmly secular song, and perhaps the album's most lyrically interesting. Foreman adopts a sardonic tone in which he weighs in on feeling "disposable and old," while reminiscing about the bygone days in which he used to hang out with Justin Timberlake. This song could be interpreted as a plaintive crying out by a man confronting middle age. But the plodding tempo accompanied by well-timed horns (recalling the Beach Boys or Beatles), and lyrics like "Yes the internet's just a fad/ I only give it a couple more 1,000 years or so," make it clear that Foreman is in on the joke.
The aptly titled "Last Words" ends the album on its most dissonant note and closes with the somber tone with which Jon Foreman opened. The intro and outro of the song feature the ambulance sirens that have haunted American cities throughout the course of the pandemic, and Foreman makes good use of similarly haunting synths and double-tracked vocals.