ALBUM REVIEW: José González brings his signature sound to 'Local Valley'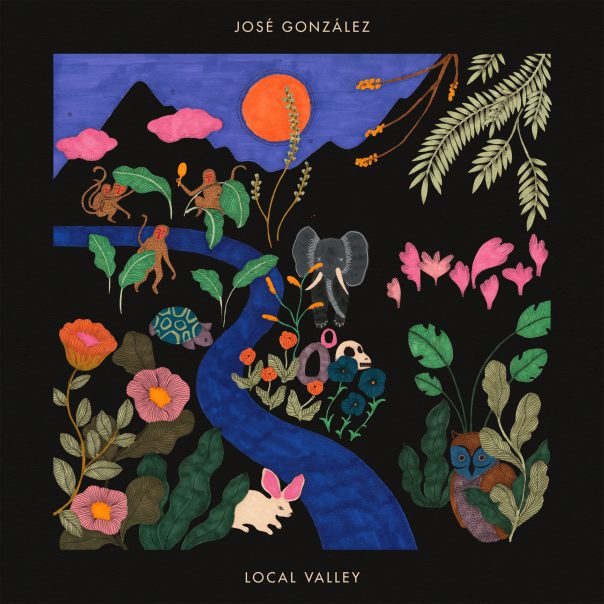 José González has such a distinctive sound. Even though the first song on his fourth album, Local Valley, is in Spanish, which is new for the indie folk artist, the hushed vocals atop the nylon-stringed guitar are unmistakably his. The album, his first since 2015's Vestiges and Claws, finds González in his usual mode: asking the big questions in the most unobjectionable way possible.
Local Valley
José González
Mute, Sept. 17
7/10
"El Invento" is a gentle, almost conversational opener, with a chorus that translates to, "Tell me why is it so/ Tell me where are you headed/ Tell me where are we from." His beautiful fingerpicking is present throughout the album but shines on this song in particular. González sings in all three of his languages for the first time on this album (English, Spanish and Swedish). He's a Swedish son of Argentine immigrants, and it's refreshing to hear him sing in his other tongues. The multilingual concept has the potential to make the album a bit less accessible, but González gracefully sidesteps that by singing each song in his usual warm, tranquil tones.
On "Visions," chirping birds mix with his strumming, creating an ambient atmosphere reminiscent of a new spring morning. Even though we are "Enslaved by the forces of nature," he sounds hopeful, singing, "We can't know for sure what's next/ But that we're in this together." González's mellow and melodic tone is at its best here. His style owes a debt to troubadour Nick Drake, to be sure, but it's especially pronounced on "Voids." When asked about his influences, González is more likely to cite Cuban singer-songwriter Silvio Rodriguez than Nick Drake, but it's unmistakably there on this track and the following one, "Horizons," which is also placid and soothing.
"Head On" is a quintessential José González tune, with a catchy melody buffering a very strong philosophical opinion. González sings about how we must face obstacles, over driving acoustic guitar playing and handclaps, calling out "rent seekers" and "value extractors" like he's just been at an Occupy Wall Street rally. He's acknowledged to reading a lot of Mariana Mazzucato (author of "The Value of Everything: Making & Taking in the Global Economy Economics") during the pandemic, and it shows here. He's no stranger to these kinds of sentiments, yet the idea of referring to his mellow songbook as "protest music" still somehow seems incorrect. González is never as in-your-face as Pete Seeger or Woody Guthrie, but his heart is clearly with the working class.
"Valle Local" is another Spanish-language song, and the sound here is the closest the album gets to González's side project, Junip. He plays a droning bass note over the percussion; the guitar is a little darker and there are a few more beats per minute than elsewhere on the album. With lead lines reminiscent of Rodrigo y Gabriela, his virtuosity as a guitarist is on display.
González wrote "Lilla G" for his daughter. The laidback wisp of a song offers finger snaps and whistling under the ever-present acoustic guitar. "Lasso In" is a gentle encouragement to corral "ruminating thoughts." He advises those with intrusive thoughts to, "Acknowledge, pat them, send them off." The advice is offered so palatably in the song that one might not even take offense when he calls the mind a "meme machine."
The only misstep is the mellow, Caribbean-influenced "Swing," on which González sings, "Swing your bum like seaweed" and "Move your body buddy." It sounds a little like Jack Johnson and isn't terribly danceable for a song about dancing. Along with that and the underdeveloped lyrics, the drum machine is most noticeable here, to its detriment.
Fans of Junip's 2010 album, Fields, will be pleasantly surprised to hear the reworking of "In the Line of Fire" on Local Valley. However, this version lacks the dynamic buildup of the Junip version, and it's unclear what José González was trying to add or improve.
I suspect González tried to lull listeners with sleepy tunes before hitting them hard with the angry lyrics of "Tjomme," but he also hedges his bets by singing quietly and in Swedish. If you don't look up the translation, you won't know he's accusing someone of something egregious.
"Can't dare to think for yourself/ Rely blindly on old text/ What the fuck are you doing now/ Are you completely deranged, have you lost it?" he sings. This lecture would fit right in to a song by a hardcore band at the University of Gothenburg (he actually played in one such band while attending that school), but the music is as soothing as ever here.
Following a cover of Iranian-Swedish artist Laleh's "En Stund På Jorden"—González is known to throw in reworked versions of his favorite songs—we get to album closer "Honey Honey," basically a reworking of his own vocals and melody from 2018 DJ Koze track "Music in My Teeth."
González hasn't changed his sound much since 2003 debut Veneer. His fans won't be disappointed by this new outing and will surely be glad to have new songs  after six years.
Follow Rachel Alm at Twitter.com/thouzenfold.