ALBUM REVIEW: Julien Baker gets loud on 'Little Oblivions'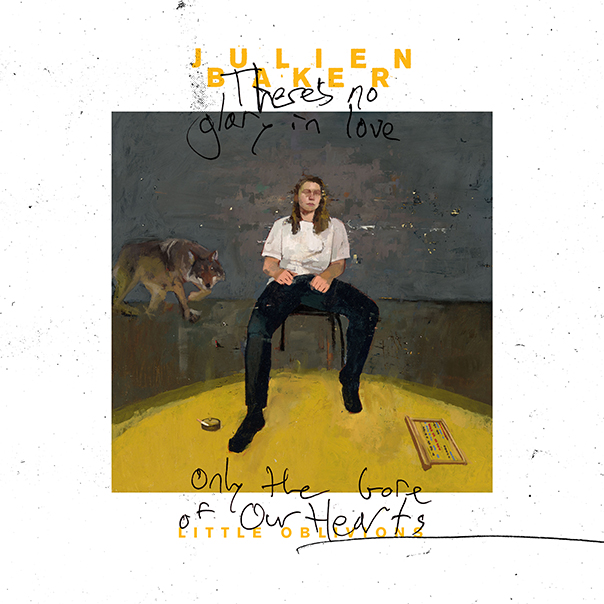 Julien Baker has never been one to shy away from depicting dramatic and intimate parts of life in her music. Since her 2015 debut, Sprained Ankle, her vices, addiction and sexuality have featured heavily into her work and are ever apparent on her new album, Little Oblivions. But unlike the previous work, Baker's newest explores a much louder, sonically wider style, proving to be an outstanding product of both her musical and personal growth.
Little Oblivions
Julien Baker
Matador, Feb. 26
8/10
In the years since her last album, Turn Out the Lights, Baker has been busy. In 2018 she formed Boygenius with Phoebe Bridgers and Lucy Dacus, whose burgeoning careers as both solo artists and a trio have them gunning to be the next big supergroup. The trio toured after releasing a self-titled EP and have been collaborating on each other's solo work. Baker performed vocals for the final tracks of Bridgers' Grammy-nominated Punisher, and both Bridgers' and Dacus' influences on Little Oblivions is undeniable. Both also sing backing vocals on Baker's track "Favor."
From start to finish, the album is loud compared to the quiet and restrained sound of her previous work. Where before her voice would glide sweetly alongside her acoustic guitar-picking, the new songs clash and bang, build and swell. Little Oblivions features bass and drums, banjos and synthesizers, and of course, guitar, resulting in her lyrics and singing at times being absorbed in the passion.
"Hardline" opens the album with a moaning, synthesized beat. Consisting of just two long and epic verses, it sets the tone for the entire collection of songs. "Between medicine and poison/ Take what I can get away with/ While it burns right through my stomach," Baker sings, painting a brutal image of what's to follow. The lyrics on Little Oblivions, penned entirely by Julien Baker, are a signature: beautiful and tragic, filled with themes of addiction, anger and self-disappointment.
"Relative Fiction" revs with melodrama and angst as Baker sings, "I've got no business praying, I'm finished being good/ Now I can finally be OK in not the way I thought I should." And on the standout "Ringside," full of embarrassment over failed second chances: "I'm holding on just like a scratch-off ticket/ How I dig my nails into your skin/ Honey, I'm not stupid, I know no one wins this kind of thing."
Lead single "Faith Healer," released last October, took her two years to write. It uses Christian imagery, but the song is not about her faith. Rather it's about drug addiction and her tumultuous relationship with her "Snake Oil Dealer."
On tracks "Repeat" and "Highlight Reel," Baker continues memorializing her mistakes, painting images of suburban strip malls and blacking out in taxi cabs. They feature choppy, synthesized and repetitious lyrics, excellently pushing the boundaries of what we can expect from her. 
Despite Baker's new sound, elements from her previous work are still evident and as beautiful as they've always been. On "Song in E," restrained and led by a simple piano, her voice is light and raw. That makes it a perfect heartbreaking respite halfway through the album. "Face down in the carpet, I wish you'd hurt me/ It's the mercy I can't take," she sings.
Julien Baker has never been one to shy away from openness and vulnerability. That's why we fell in love with her right away. Her stories are meant to be cathartic and revealing, and fortunately, as her style and fame have grown, this value remains.
Follow Domenic Strazzabosco at Twitter.com/domenicstrazz and Instagram.com/domenicstrazz.