ALBUM REVIEW: Justin Moore melds old with new on 'Late Nights and Longnecks'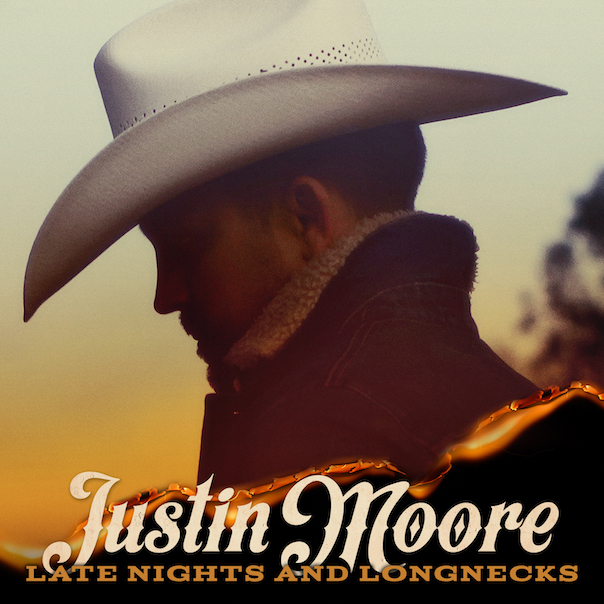 Country singer-songwriter Justin Moore is back with Late Nights and Longnecks—his fifth album—proving that returning to your songwriting roots doesn't always mean treading water. He gained inspiration from the same small Florida beach where he wrote his debut and it paid off. With a couple of good friends and a few long nights, Moore presents an album full of methodical storytelling, combining his influence from old school country with a movement toward the new generation.
Late Nights and Longnecks
Justin Moore
July 26, The Valory Music Co/Big Machine Label Group
Late Nights and Longnecks' 10 tracks peer into Moore's life, showcasing his narrative skills through a number of songs. "That's My Boy" is about his newborn son and what it means for him to now have a life dependent on his own. As the first song Moore has ever written about one of his four children, its heartfelt delivery matches the wholesome twang of the instrumentation.
With lines like "He'll believe that Jesus saves/ He'll always love the Braves/ He's gonna go through that phase where he thinks he knows it all," Moore constructs a vivid picture of his son's life to the point where some wouldn't know the boy isn't yet 4 years old. On the tearjerking, "The Ones That Didn't Make it Back Home," Moore pens a deeply moving tribute to fallen heroes. His ability to generate genuine feelings with his lyrics, elevates the well-trodden musical paths his arrangements take.
Moore is no stranger to taking cues from his his personal past and musical forbearers. By using earthy acoustic chord progressions and familiar strumming, a number of songs present like the second coming of George Strait. "Jesus and Jack Daniels," written to represent Moore's relationship with his parents, leans heavily on a simple but full-bodied uptempo acoustic guitar and works as a nostalgic reminder of mid-1990s balladeers like Alan Jackson.
Ode to rural living "Small Town Street Cred" also shows Moore's knack for giving old melodies a modern twist while keeping the subject matter grounded in the simple life with uncomplicated and reverent strumming.
Deeper cuts give Moore the space to venture into the world of contemporary both instrumentally and vocally. "Airport Bar" introduces pop-country vocal inflections and lyrics about more modern life—a route uncommon to his contemporaries. The song centers on getting drunk at an airport bar to get over an ex-lover. The coping mechanism is common in plenty of country songs, but the airport setting is a far cry from small-town dive bars. The chorus also seems to use a bit of AutoTune as Moore sings the title line.
The cheerful party anthem "Never Gonna Drink Again" also sees Moore divert from his established style. The beat flows more like a heavy-hitting pop song rather than the fat back-beat often associated with traditionally crafted country songs. Moore clearly isn't afraid to try new things to appeal to a generation of country music listeners.
Late Nights and Longnecks provides a consistent dose of fresh country, proving Moore's dynamism and versatility. These 10 tracks capture what Moore has always been about, but it also shows his potential to become one of the genre's game-changers.
Follow writer Piper Westrom at Twitter.com/plwestrom.