ALBUM REVIEW: Kacey Musgraves dulls her sparkle on 'star-crossed'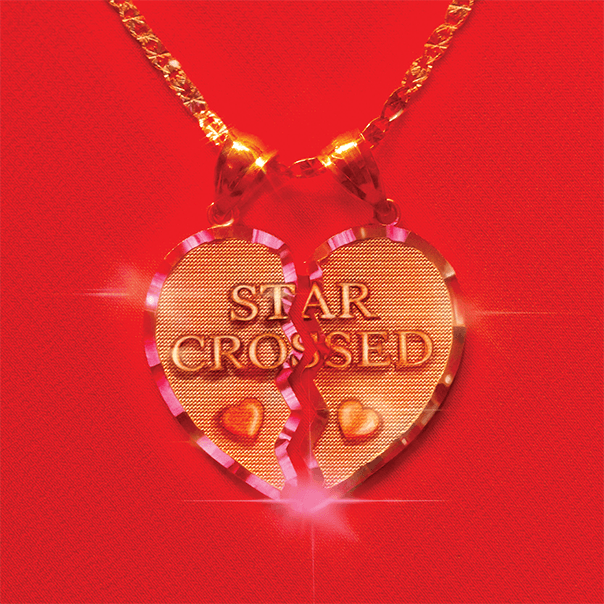 It sure came as a surprise that Troye Sivan and Mark Ronson tapped Kacey Musgraves for a remix of the dance pop nostalgia trip "Easy" in late 2020. What on Earth could the kaleidoscopic country pop (and before that, just country) artist be doing on a high-energy breakup anthem? Wasn't she just basking in the soft glow of the magic hour with love and accolades aplenty?
star-crossed
Kacey Musgraves
Interscope, Sept. 10
6/10
A lot has happened in Musgraves' life since the lauded Golden Hour won Best Album at the 2019 Grammys. She went through a painful divorce and that experience is a driving force of this new body of work. As proclaimed by the artist herself, star-crossed follows the structure of a modern tragedy, starting where the previous LP left off to follow the demise of the relationship at its core.
Musgraves literally sets the scene on the title track, playing narrator briefly before encapsulating this whole chapter of her life in the remaining two minutes. The cinematic cut builds anticipation with pulsating synth, throngs of reverb and choral backing vocals. "Did we fly too high," she wonders, "Just to get burned by the sun?"
The prologue out of the way, "Good Wife" kicks off the narrative by highlighting all the work put in to make the marriage work. Its framing foreshadows what's to come: Musgraves discloses a crippling fear of solitude: "But without him/ This house just wouldn't be a home/ And I don't wanna be alone."
The first act seems to unfold from there to "If This Was A Movie…", a track on which Musgraves plays with hypotheticals. She's dreaming into space, drenched in reverb–taking the galactic pop country of Golden Hour and turning it up several notches.
She then vacillates between bittersweet remembrance and grievances on several tracks, including the scathing "Breadwinner" that takes insecure men to task. "Stay away from a boy like that," she warns listeners, adding to the portrait of narcissism she already drew up on Golden Hour's "High Horse."
"Hookup Scene" alludes to her excursions in the dating world and ensuing doubt. The honest account shows a willingness to share that is slowly becoming a contemporary fixture of mainstream pop–see the recent confessional nature of Billie Eilish's or Olivia Rodrigo's songwriting. 
By the time "There Is A Light" comes on, Musgraves seems hopeful about what's coming next. Her perseverance seems intact after all: "There was a shadow of a doubt," she sings, "But baby it's never going out."
Golden Hour was Kacey Musgraves' crossover into pop. The way she managed to keep her signature wry songwriting and energy intact made the effort all the more impressive. On star-crossed, she's over the bridge on the other side: country is only a distant influence among many others.
Early 2010s EDM and electro-pop are notable sources of inspirations here. Musgraves' brand of country pop on "Justified" skews more Avicii than it does Taylor Swift, and "Breadwinner" wouldn't necessarily stand out in a lineup of Charlie Puth radio hits. The latter instantly sounds dated and, like many others on star-crossed, it's easy to imagine Zedd remixes.
Through experimentation, Musgraves stumbles on watered-down versions of genres and motifs we wouldn't have expected from her back in the Same Trailer Different Park (or even Pageant Material) days. She channels Red-era Taylor Swift while interpolating Bruno Mars' "Locked Out Of Heaven" on "What Doesn't Kill Me." The uninspired arrangements distract from the adroit lyricism: "I've been to hell and back/ Golden hour faded black" might be one of the album's most impactful couple of lines, yet they can easily slip by unnoticed in this context. 
The throwing-stuff-at-the-wall approach does yield a couple of pleasant surprises, including the contemporary R&B–infused "Good Wife." Its laidback groovy chord progression is a refreshing addition to an album whose overall stiffness stands in contrast with this one song.
Ultimately, the album's downfall is its makers' tendency toward overproduction. Daniel Tashian and Ian Fitchuk are back in the studio with Musgraves after collaborating on Golden Hour. They tentatively embraced AutoTune and dance pop production tricks then. Now it would seem they can't do without them.
They skim pastiche with the way the guitar moves incessantly between the back and the front of the composition on "What Doesn't Kill Me." The disco euphoria of "There Is A Light" is all glitter and gold, but Musgraves struggles to keep up with the upbeat atmosphere. She sounds asleep at the wheel while singing about being reinvigorated by life. 
As a result, some of the best moments on the album are the more stripped-down ones. "Angels" is a theatrical slow burn augmented with grumbling storms and romantic strings. The cinematic track evolves from a tormented sky to a brighter sunlit evening when the clouds part.
Also notable is "Hookup Scene," the only acoustic ballad on the album. Kacey Musgraves digs deep in a conversation with a pair of guitars, letting her distinctive tone and innate charisma shine through. The track stands as proof that, more often than not, less is more.
Follow writer Red Dziri at Twitter.com/red_dziri.